Tennessee is home to not one but two music capitals of America. To the southwest of the state, the city Memphis holds both the title of the "Home of the Blues" and the "Birthplace of Rock and Roll". Memphis' Beale Street is where African-American composer W.C. Handy wrote the first commercially-successful blues song "St. Louis Blues" in 1912. Almost right in the center of the state sits Nashville, aka "Music City, U.S.A.", home to the Grand Ole Opry and Music Row. Due to their prominence in American musical tradition and reputations for world-class Southern cuisine and hospitality, both of these cities serve a high-volume of tourists looking for a thematic hospitality experience.
The art advisors at KBAA recently spent some time taking in the history, look and feel of Memphis and Nashville as we worked on the art curation for two redesigned Tennessee properties. For both the Canopy Memphis and the Nashville Marriott at Vanderbilt University, Kevin Barry Art Advisory commissioned talented muralists to create unique, large-scale pieces inspired by the musical surroundings of each property. Take a moment to join us for a virtual walk through two of our recent Tennessee-based mural commissions.
Canopy by Hilton Memphis Downtown
Memphis, TN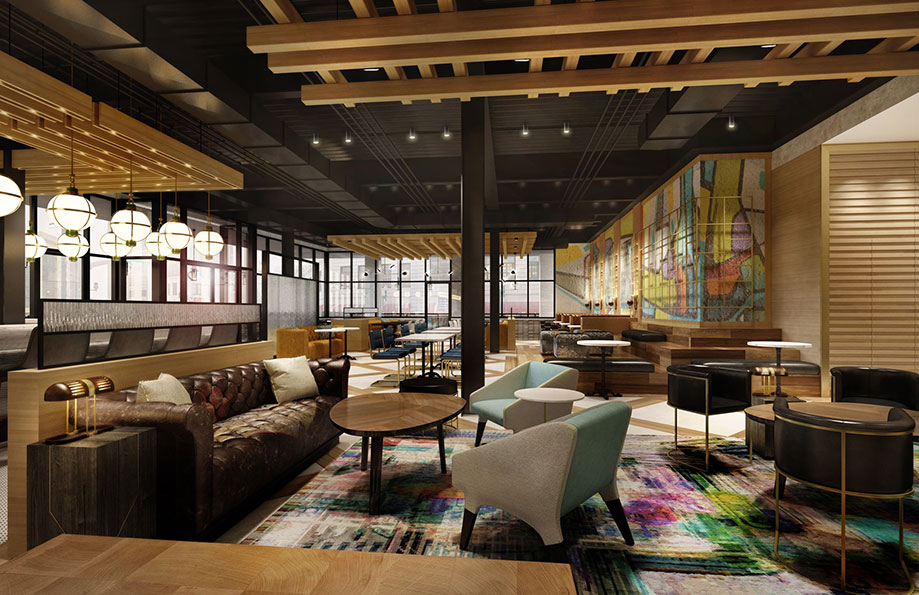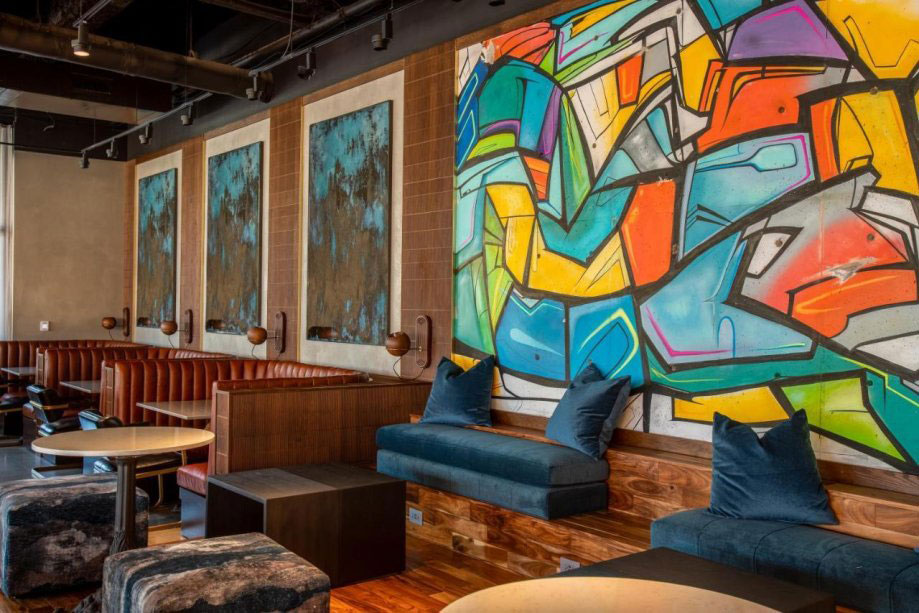 The largest piece in the art collection curated for the newly-redesign Canopy Memphis by KBAA is this custom mural painted by a frequent collaborator of ours, Dave Lavernia. The piece was inspired by the lights, shops and scenery of Memphis' famous Beale Street, located just steps away from the hotel. Created using a street art technique and aesthetic, Lavernia abstractly interprets the street's brightly-colored neon and varied geometric signs into a statement art piece for the Canopy's lounge area.
Nashville Marriott at Vanderbilt University
Nashville, TN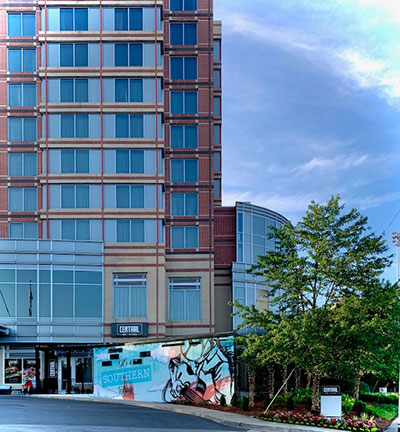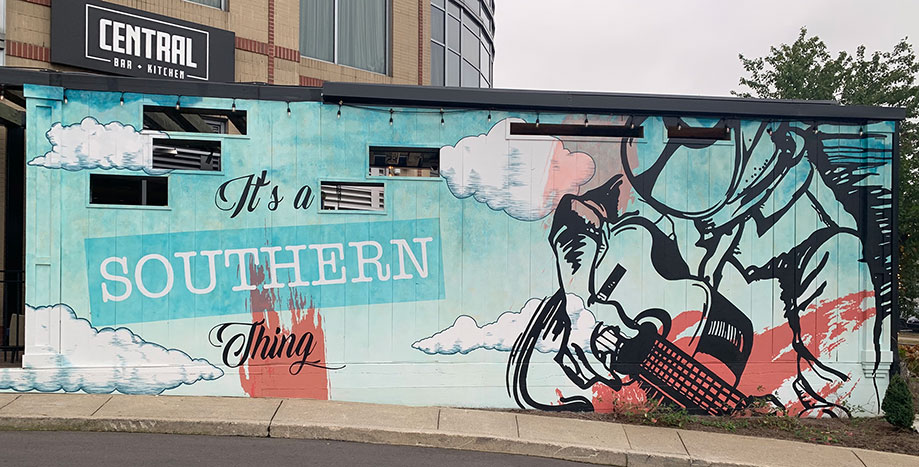 Courtesy of Marriott Nashville at Vanderbilt University
To the northeast of Memphis lives another legendary music city: Nashville, Tennessee. For the Nashville Marriott at Vanderbilt University, KBAA commissioned local artists Jenna Boyko Colt and Brian Law of Vermillion Murals to create a mural brimming with Southern charm. The mural features a guitar player with the brim of his cowboy hat pulled down over his eyes, lending a little outlaw to the honky tonk feel of the scene. The emblem "It's a Southern Thing" reminds out-of-towners that Nashville isn't just their location, it's a state of mind.
Looking for more stops for future Tennessee mural walks? Check out KBAA's hand-picked recommendations below.
Greetings from Knoxville by @greetingstour — Knoxville, TN
I Believe in Nashville @asap.gif — Nashville, TN
This Girl Can @kimradfordartist — Nolensville, TN
This is We @remed_art — Memphis, TN
---
Over the years we have been fortunate to commission murals for a variety of corporate, healthcare, hospitality and residential properties. Explore some of our other projects that make a big statement through murals and wallcoverings below.