Be it a custom design or specific request, it's often KBAA's in-house team of graphic designers and artists who not only act as art curators and advisors, but creators, as well. From artist mock-ups and artist direction to hand sketches and even creating the art, the KBAA team has a wealth of resources at its disposal to bring to life nearly any vision.
The art team is trained for working on large-scale hospitality projects and speaks the language of those types of projects day in and day out. After the creative team sets the stage and the client presents the vision, it's the graphics team that comes in and adds an extra layer to elevate the work. Graphics director Liz Schnurstein breaks down the invaluable ways her team is involved with projects.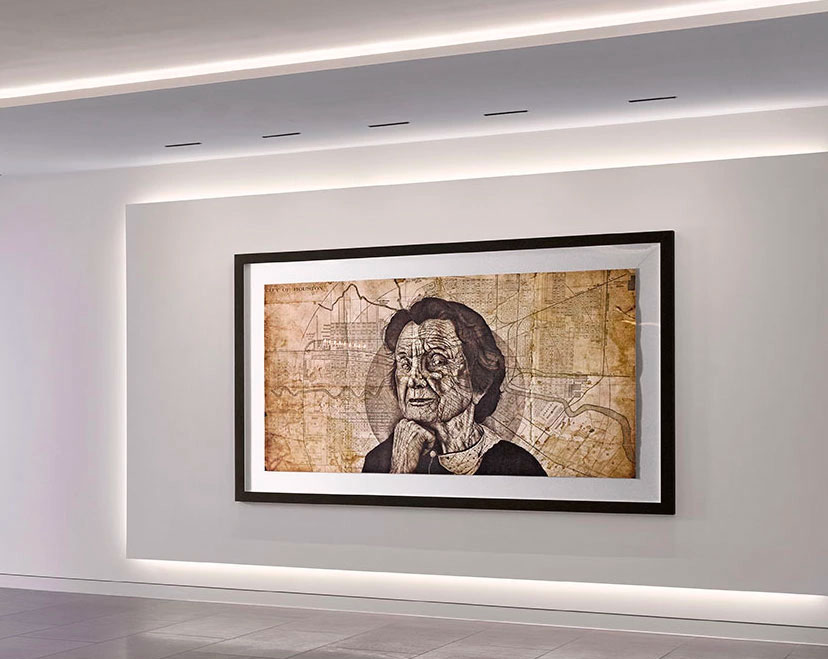 A custom print from the KBAA graphics team featured at C. Baldwin Hotel
Something people might not realize is that you and your team are artists, too. How do you continue to flex that creative muscle?
One of our standing weekly meetings is where we do creative exercises, fun assignments to develop our skills. We also do things like sketch club, where we might decide on a topic and then go off and do some sketching on paper. It's just important to recognize the value of hand drawing, versus just working digitally. These exercises also help me recognize the styles of each individual person on my team. Everyone has their own strengths, so if a project needs something more hand drawn, I know who to assign that to.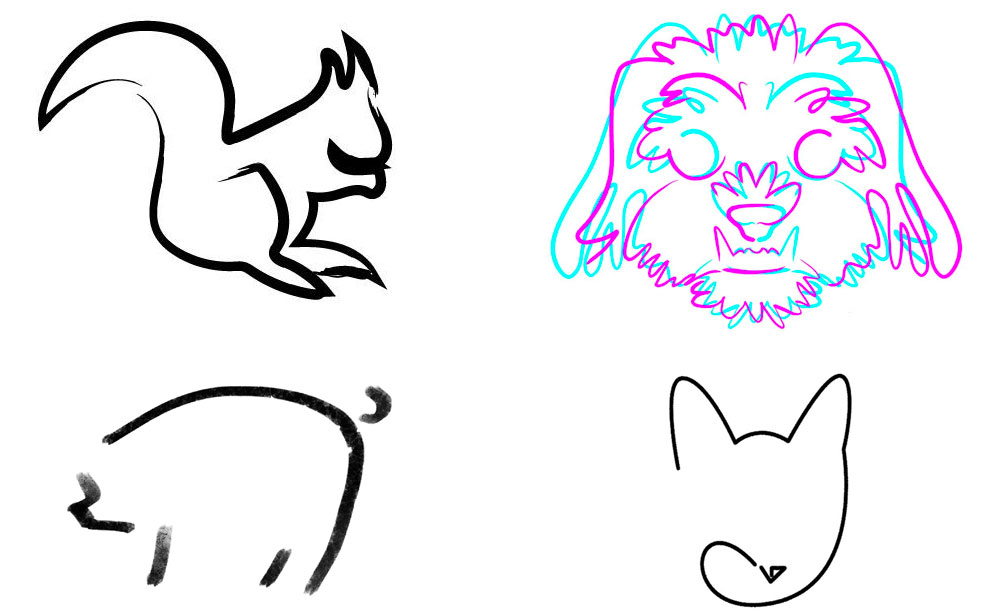 Animal drawings from a recent sketch club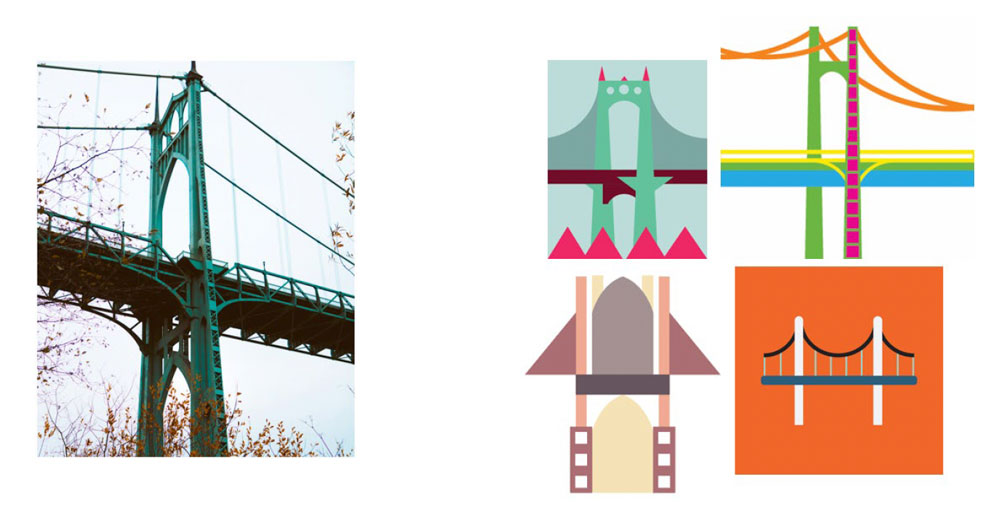 Creative Exercise – Geometric Shapes & Simple Colors
What are you and your team working on right now?
We've been working on color theory—that's really important. One of the things we did recently was learn how to take the shapes from objects and abstract them. What we're doing a lot when we get projects is taking a concept and figuring out how to turn it into a one-of-a-kind piece of art. For example, that might be taking a historical photograph of the area and taking shapes from the monument in the picture to give a nod to that piece of history, without it being so literal.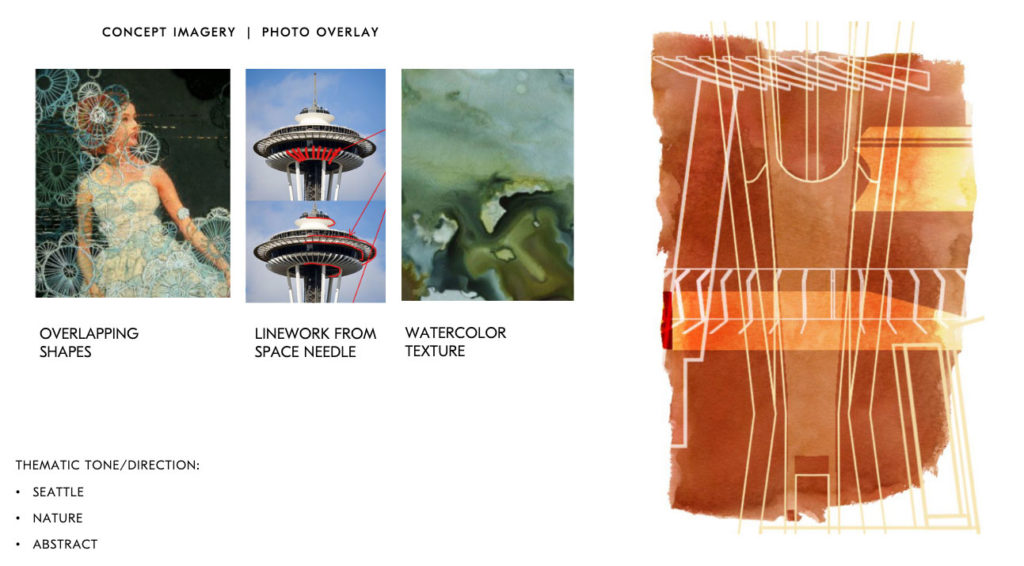 Another skill we're always playing with is how to give a piece more depth. We want graphics to look like fine art, rather than just a flat piece. By working with negative space, balance, textures, contrast, shadowing and layering elements, we can achieve that. There's certainly a lot of fine art skills involved.
You're responsible for taking concepts from clients and creatives and turning them into custom art pieces; what does that process look like?
A lot of that starts with the art consultant doing that digging and providing that inspiration. So, for example, with the wallcovering at The Shepherd Hotel, they might grab visuals—of the mountains themselves, abstract art pieces, watercolor mountains—and present the client with a bunch of options so they can articulate their exact vision. That might be, "We do want the colors from the mountains," or, "we're more focused on the color palette from our fabric."

From there, my goal is to provide multiple options. I'll take pretty literally what the client is asking for, and then I'll do another option where I'm taking the inspiration and putting a unique spin on it so they can get different perspectives. I always want to push the envelope and produce something unexpected, so that we have that variety of options.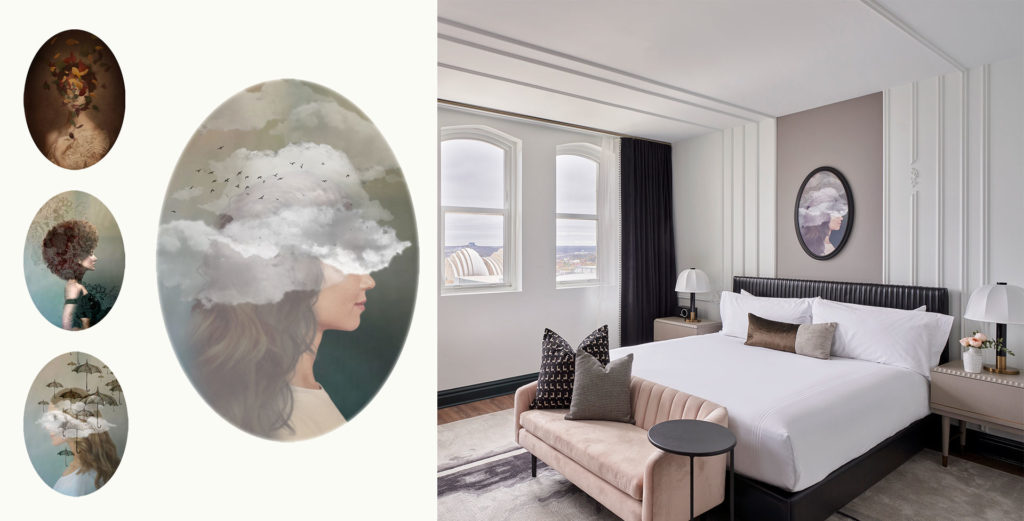 Concept to completion examples for a custom guestroom print at Hotel Kansas City
How do materials, substrates or the space itself influence your work?
We like to get dimensions up front because it can be difficult to reformat things. Let's say it's a vertical image, that can really change the look and feel of the composition if it later changes to horizontal.

We also like to decide on the substrate upfront because it can really influence the final result. I was just working on a wallcovering with someone on my team and they wanted gold accents. The original idea was to print it on a type 2 vinyl but I thought it'd be better on a mylar because it's a shiny gold substrate and the gold accents would come through nicely. That collaboration can also happen in the opposite way; sometimes we know it's going to be a wood substrate so we're going to make it look like that naturally.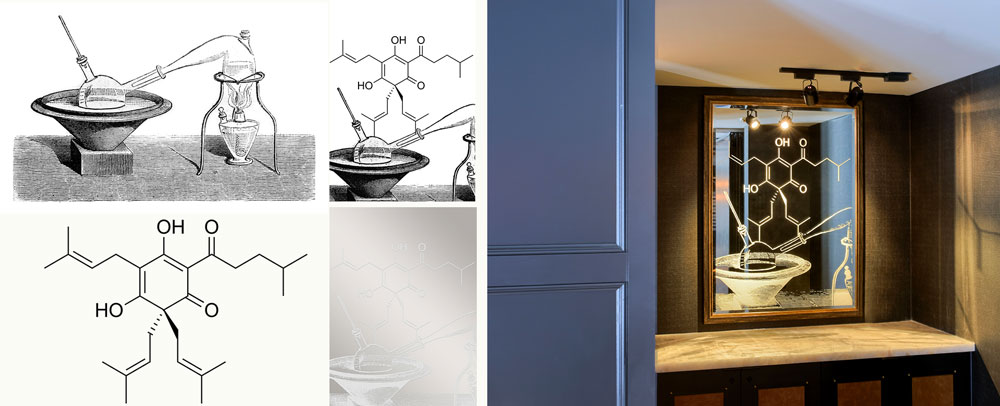 Custom artwork printed onto reflective glass for Union Club Hotel – Purdue University
You also often work on sculptures and 3-D pieces, which might surprise people. What is your involvement with those types of pieces?
Sculptures are interesting. Sometimes we have an artist we know that's making the sculpture. That's helpful because we know the style of their work and we can take pieces of work from their sculpture and turn it into this new thing that morphs their style and the preferred medium.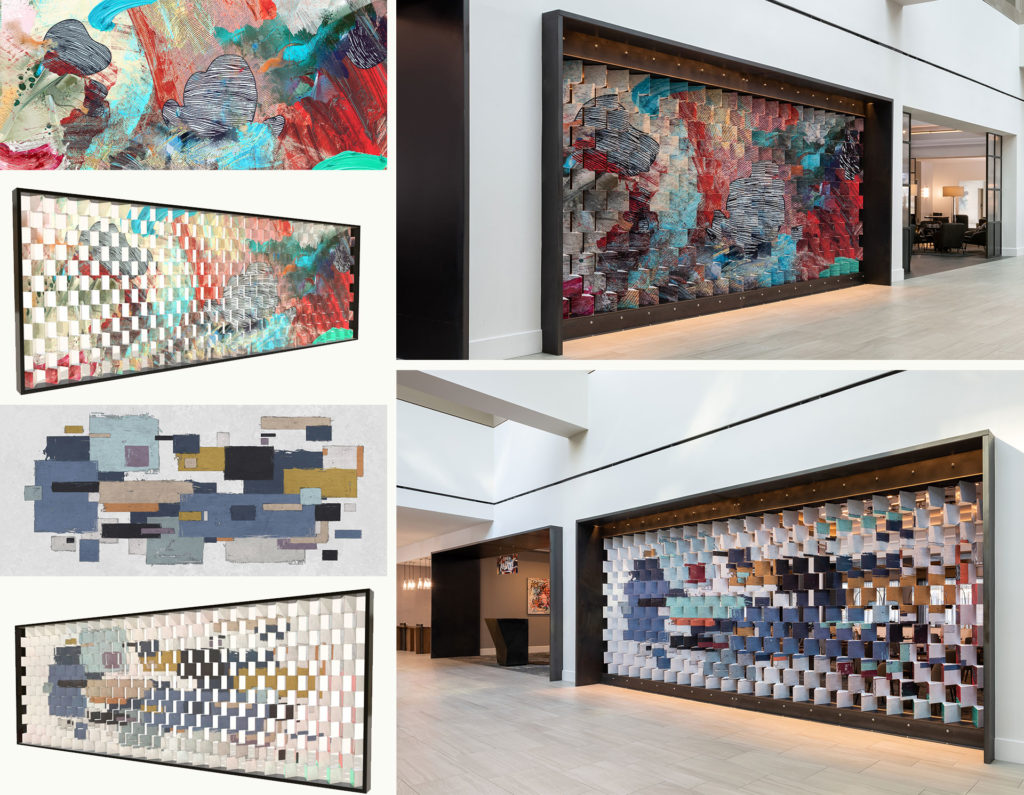 A 3D interactive art piece created in collaboration with KBAA and James J. Farran

Another area that we often help with is that we can show the intent. So, if we get an inspiration of, "We want this wood piece to be undulating boards," we can take those inspiration images and use different elements and stock images to create mockups that can be approved by the client and then carried out by the sculpture artist.

Sometimes we have more collaboration with the artist and send the inspiration to the artist and ask, is this something you can do? When we commission a sculpture, we typically have an artist in mind to make it, so we want to know their parameters (budget or otherwise) up front. The graphics team will talk to the artist and have those conversations—even before talking with the client—so we can more seamlessly create something really beautiful that still works within any constraints.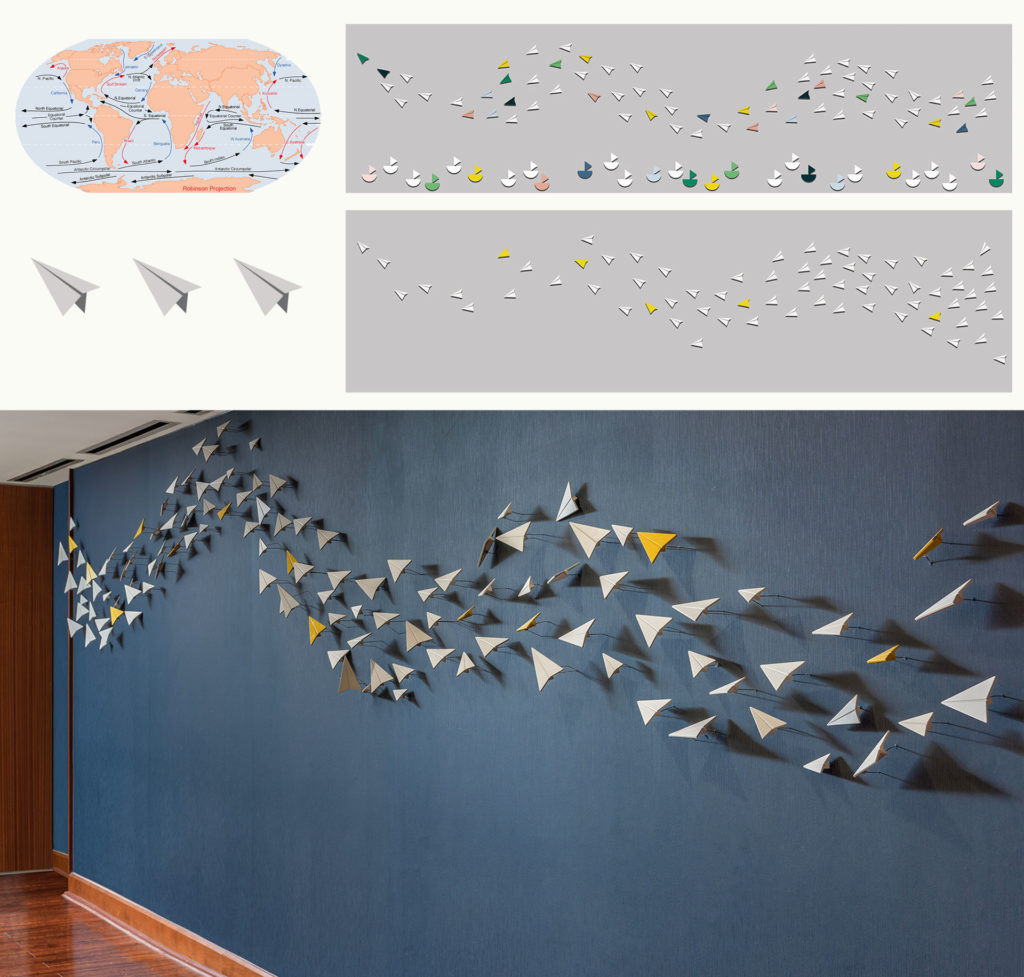 A custom wall sculpture created by the KBAA in-house team of graphic artists
You're often our secret weapon in collaborating with artists to create new and custom pieces. How do you support and even augment the work of artists?
Sometimes our team acts as a support system for the artist, too. The artists don't always have experience working with the type of clients we work with—or with commercial projects at all. It's very different from simply buying a piece of art from an artist you like to hang in your home. Our team is well-versed in this business and we can help bridge the gap between the client and the artist.

For example, we worked with a fabric artist who does embroidering for the Brush Creek project and they were putting together panels on a rod. Instead of having her create a piece and then have the designer weigh in, the artist took photos of the panels and we digitally mocked up where they were going and overlapped before the artist went in and completed the piece.

Another example is the ceiling in the St. Regis in Toronto. In that case, the artist created a small-scale version and then our team took a hi-res scan of that work and printed it on a wall covering. Since it's such a huge ceiling mural, it made more sense to print it as a wallcovering versus a hand-painted mural. Once the wallcovering was installed, the artist went onsite to hand embellish the piece.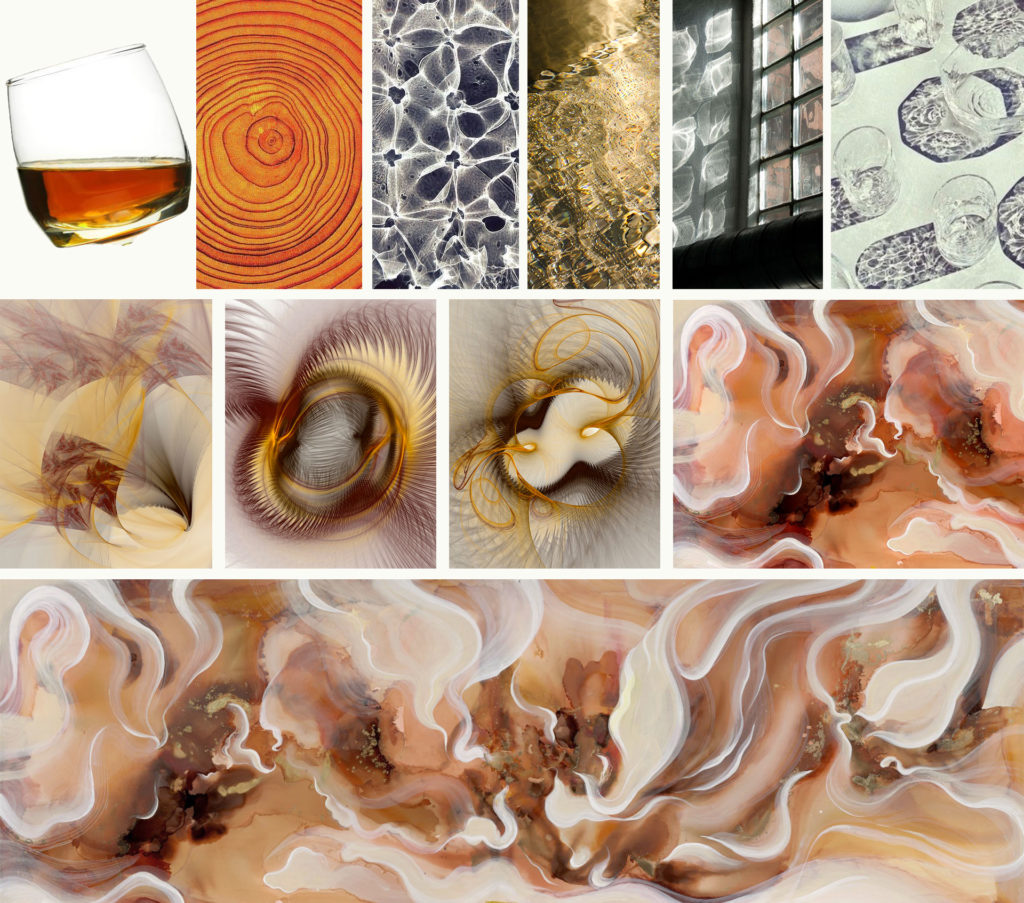 Concept artwork for the St. Regis Hotel, Toronto