When Bruce and Beth White took over Brush Creek Ranch in 2008, they quickly saw beyond the rustic cabins and wild chickens to envision the incredible potential of this unforgettable piece of property. The ranch has grown organically over time, and recently opened its elevated food and beverage experience, a 40,000-square-foot, ultra-luxurious project with the Cheyenne Club, a world-class, seed-to-table culinary experience, at its core.
Developed as a series of intimate, distinct outlets, the Whites found abandoned buildings throughout Wyoming and had them rebuilt for The Farm, all with the goal of capturing the authentic feeling of the West. Even the name of the restaurant harkens back to the area's history. In the mid-1800s, starlets, socialites and politicians traveled to the famous Cheyenne Club to experience world-class luxury and unbridled adventure.

Designers Simeone Deary chose a neutral palette of clean, contemporary materials including finely textured linens, refined mill work and native stone juxtaposed with Western-inspired details such as leathers, fine hair-on-hides and tailored plaids to present a sophisticated blend of rugged and elevated elements.
With such strong elements in play—and with the buildings and stunning surroundings ultimately as the focal point—art had to be carefully curated. The KBAA team brought in traditional Western touches—such as antlers and local birds—to celebrate the local area, while recreating those in contemporary finishes. Large-scale pieces, beautiful framing and carefully designed lighting helped emphasize the art and make it pop against the paneled wood walls and neutral finishes.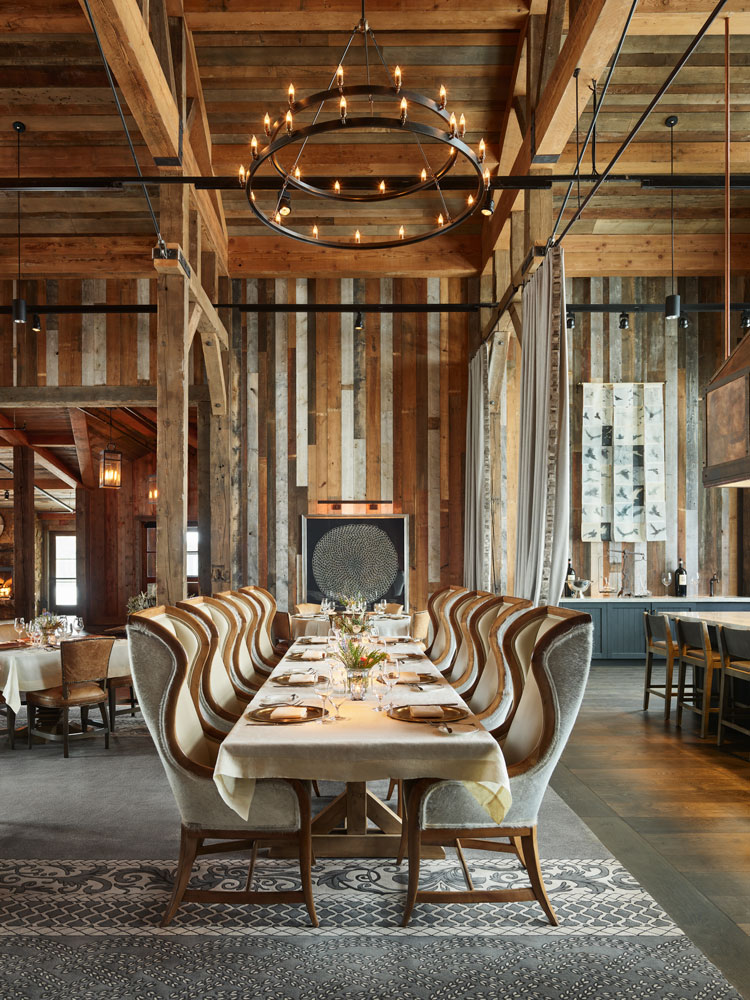 As guests exit the retail store and make their way into Cheyenne Club, a massive 125×79-inch 44-star vintage American flag—circa 1890-1896, when Wyoming joined the Union as its 44th state—greets them by the staircase. The stars of the flag are hand-sewn by an expert seamstress and made of cotton and double-appliquéd, while the stripes and canton are made of wool bunting that has been pieced with treadle stitching. The square patches at the top and bottom corners of the hoist end are original to the flag's construction. The KBAA went nationwide to source the vintage flag (in good condition, no less), eventually tracking one down in an antique store in San Francisco and working with Monarch Art and Frame to pin mount the flag over white linen matting to preserve its delicate condition. 
Next to the flag is mixed media artist and photographer Christine Flynn's "Bison," a close-up portrait of a North American Bison from Yellowstone National Park over which Christine has added paint, gold leaf and subtle graphics. The edges are slightly out of focus, but the star sapphire eye of the bison immediately captures the viewer to tell the story of the Bison's indomitable spirit in the bleak savage winter landscape. For more on her work, read our Featured Artist Q&A with Christine.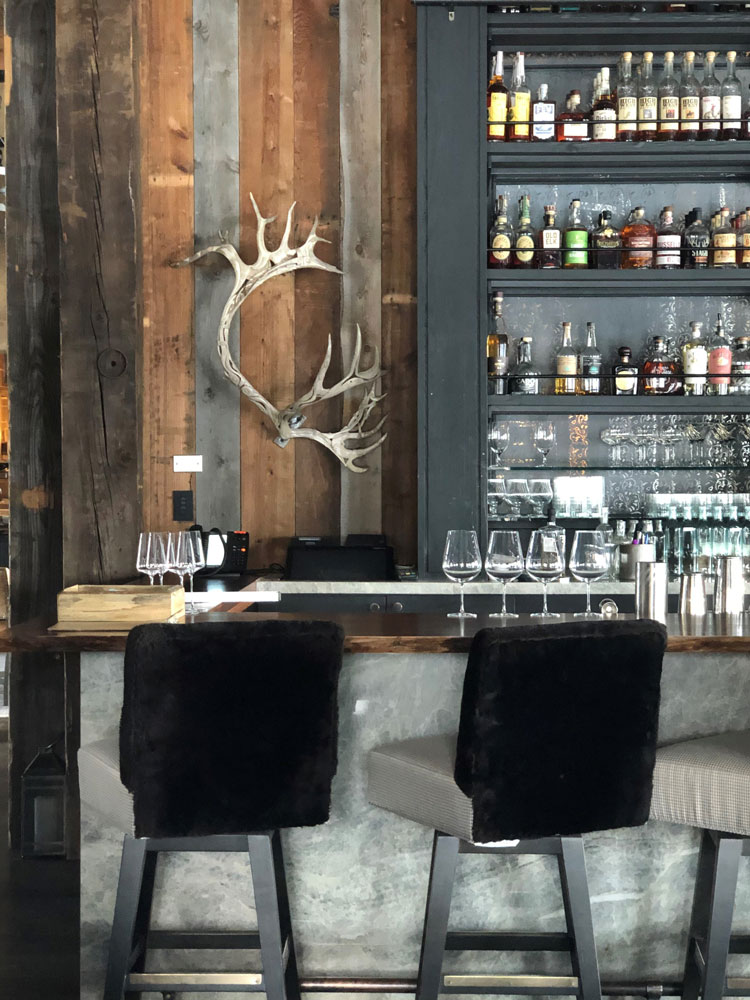 As guests make their way into the bar lounge, a carved caribou antler from Shane Wilson is a thoughtful commentary on the rapidly changing planet that needs original and ethical solutions that work with nature. Shane works with ethically sourced antlers, hornes and bones, hand-carving shapes to push the viewer to explore the relationship that we have with nature. The unique piece was installed behind the bar to protect the antler from being touched or jostled by passer-by.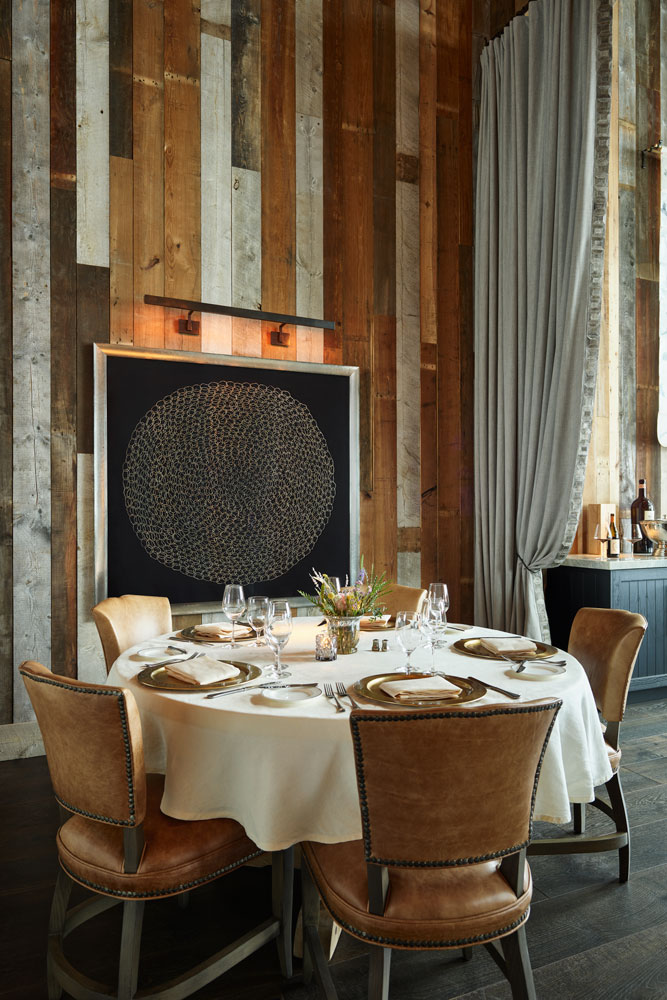 Finally, in the dining room, two statement pieces anchor the expansive room. To create "Sanctum," Lisa Kokin shredded and then threaded dollar bills as a way to strip the value and power that currency typically represents, thus recontextualizing its purpose. Lisa often works with reclaimed materials to create something new from the destruction of another object, focusing on theme of transformation and repurpose in her work. At The Farm, this piece brings to mind the many historical eras of the American West, from the Gold Rush to the cattle barons and ranchers of yesteryear. A picture light above illuminates the details of the piece, even as night falls.
---
Lisa Kokin on the Story Behind "Sanctum"
I've always been very much aware of the role money plays in determining things in our society and actually started working with money as a material in the '90s, but I began this new loop series that 'Sanctum' is a part of during the 2016 election. It was a way I could deal with a whole range of emotions that I had. The government sells five-pound bags of shredded money for $45 per bag, shredded into either long strips or confetti-like shreds.
Over the years, my technique has changed quite a bit. First I moisten a sheet of stabilizer, which is glue that sort of looks like a sheet of plastic, and arrange my pieces of money into the configuration I want. I sandwich the money between the stabilizer, so I can stitch over it with metallic thread, which I chose because of the connection with coins and copper (plus, it looks beautiful!). It involves countless hours stitching little pieces of money together to create abstract shapes. I often use oval shapes, which I think of as a zero, because there's a paradox between reducing the value of money to "zero." Once I've stitched everything, I stitch it to fiberglass screening, submerge it in warm water and let it dry. Doing so creates rigidity and seals them so they can be hung by a frame.
There's always some trial and error in technique. I don't make elaborate sketches; at best, I make simple sketches in my ideas book. I work the ideas out in my head and then by doing it. I choose ways of working that have a margin of error built in and that's flexible. I like to have the process unfold and not plan it out. For me, I like the element of surprise. Sometimes I have fully formed ideas, sometimes I have a very rudimentary idea—regardless, I start with what I have and see where it takes me.
Titles are super important to me. I'm not someone who makes "Untitled 53." It's a way of adding additional information to the piece and I try to find titles that work in a subtle, suggestive way. I like duality of meanings. Sanctum means "a sacred space;" it's a very minimalist, mandala-like shape, almost meditative. I like the idea that I'm using money and money is a sacred material for many people. For some people it's elevated to a point of being fetishized. That's why I chose that title. One of the things I love about art is that different people get different things from it. I like to have open-ended interpretations to which everyone brings their own experiences. 
—as told to Anna Zeck
---
Nearby, Pacific Northwest artist Catherine Skinner's "Flock of Birds" hangs dramatically near the chef's station. Made of Tibetan paper, wax, red thread and bamboo dowels, the piece features local birds, captured in black and white. Catherine's work draws from the natural presences within the landscape, capturing the beauty of each subject. Her multidisciplinary approach incorporates painting, encaustic, printmaking, photography and even sculpture. Her work is heavily influenced by the five elements and the expression of her journeys through various cultures over the years.
Follow along as we continue to unveil new videos and stunning photos, share artist interviews, and tell the story behind the curated art collection at this working ranch.