In April 2021, the much-anticipated redesign of the Doubletree Santa Monica was finally revealed. Now called the Hilton Santa Monica, this lifestyle hotel is located just a few blocks from the shore of the Pacific Ocean. It's location and gorgeous new interior design by Avenue Interior Design makes this a destination hospitality experience for people looking to maximize their stay in sunny Santa Monica.
Kevin Barry Art Advisory was fortunate to work with the fantastic team at Avenue Interiors to design and source several eye-catching art moments at this sun-soaked hotel. Join us as we walk you through some of our favorite photos of our work at the new Hilton Santa Monica.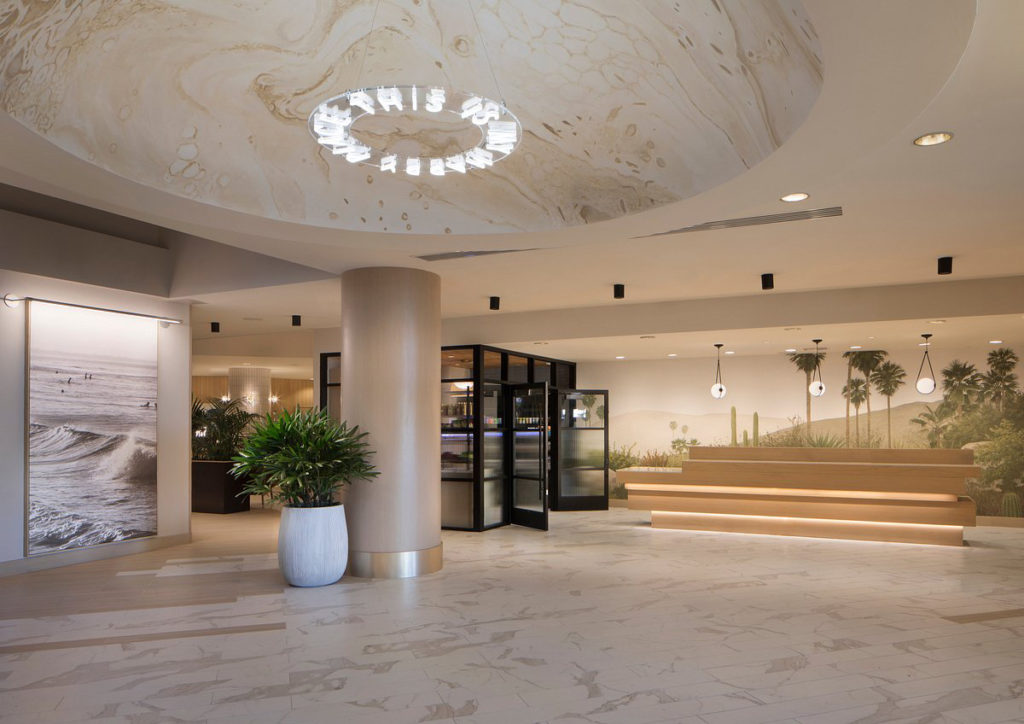 Hilton Santa Monica, Photo Courtesy of Hilton
Southern California is a unique place where if you drive two hours in any direction you can find yourself in an entirely new ecosystem. With beaches to the west and deserts to the east, you can see it all in a day. To give guests the full California experience at check-in, KBAA played off the desert-themed wallcovering with a large-scale giclée of surfers waiting for a wave. Bobbing swimmers with their boards are a common sight as you drive up Pacific Coast Highway, just one freeway exit away from the hotel. Bringing that quintessentially Southern California view into the hotel's reception area is a nice reminder of the beach culture that makes Santa Monica the "happy place" of so many tourists.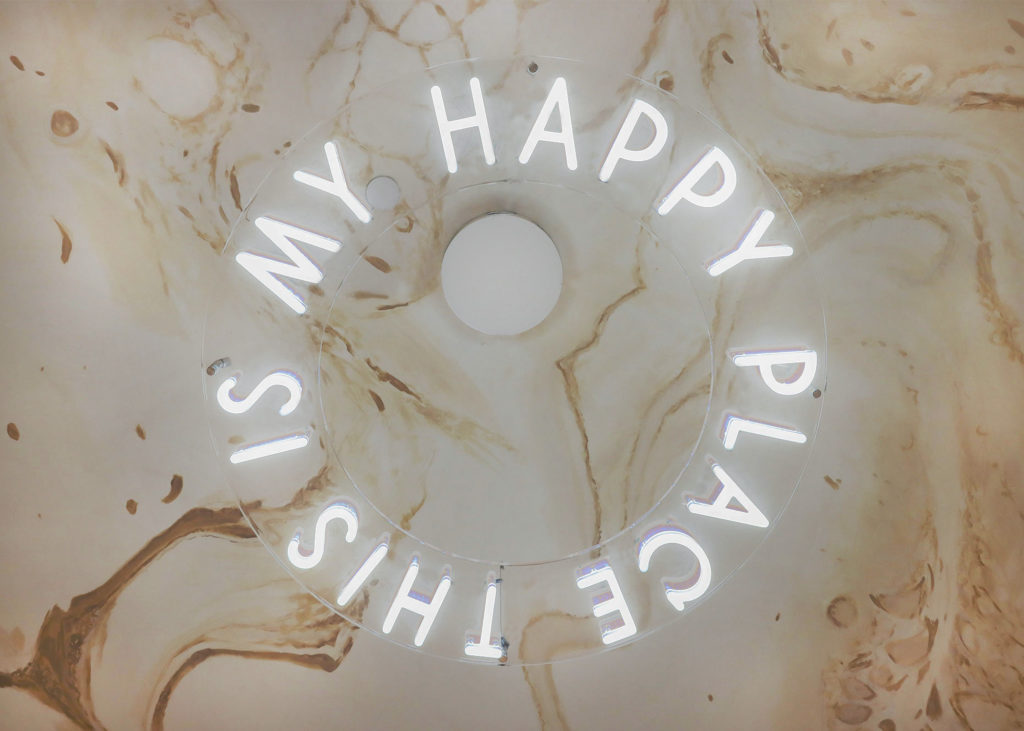 Custom LED light sculpture
Speaking of which, a piece of sculptural light art saying as much hangs above the heads of guests. Whether it just brings a smile or reminds them of why they needed a vacation, we hope this playful art moment inspires visitors to make the most of their stay.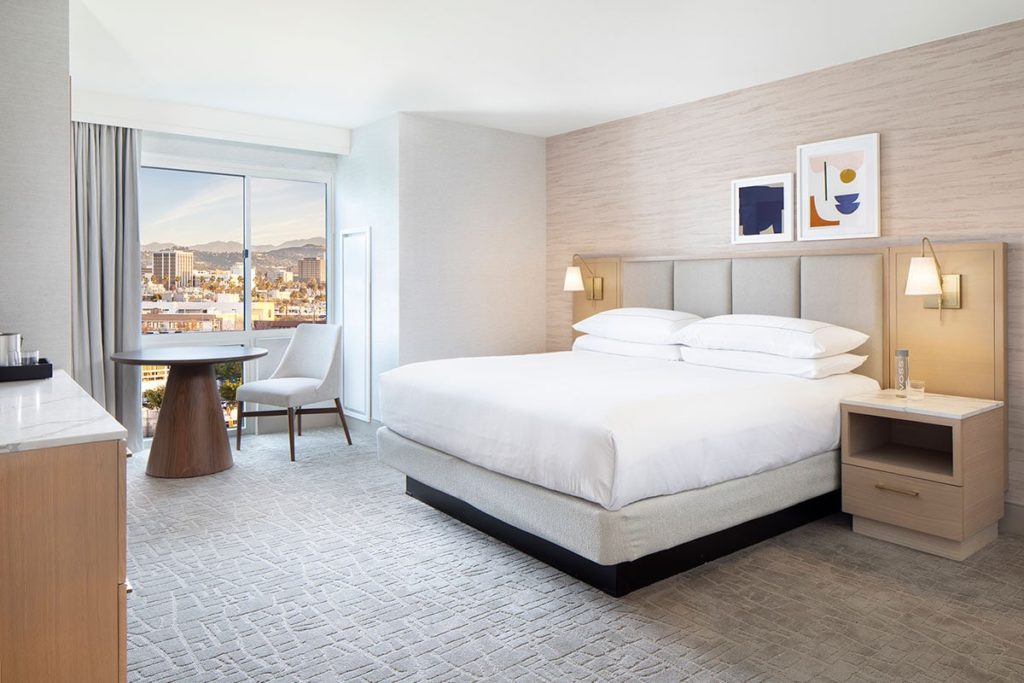 Hilton Santa Monica, Photo Courtesy of Avenue Interiors
For the guest rooms and suites of the Hilton Santa Monica, KBAA sourced modern, sophisticated prints to create a minimalist gallery wall above the headboards. The loose arrangements of geometric shapes and their fresh color palette add a bit of lightness and movement to each room.
Hilton Santa Monica, Photo Courtesy of Avenue Interiors
Mirroring the surf-inspired artwork in the lobby of the hotel, a large-scale giclée of sunbathers amidst brightly-colored beach umbrellas is an eye-catching addition to the room's decor. The deep green-blue of the sea and the softness of the sand connects guests to the best parts of a day spent at the beach, all from the comfort of their hotel room.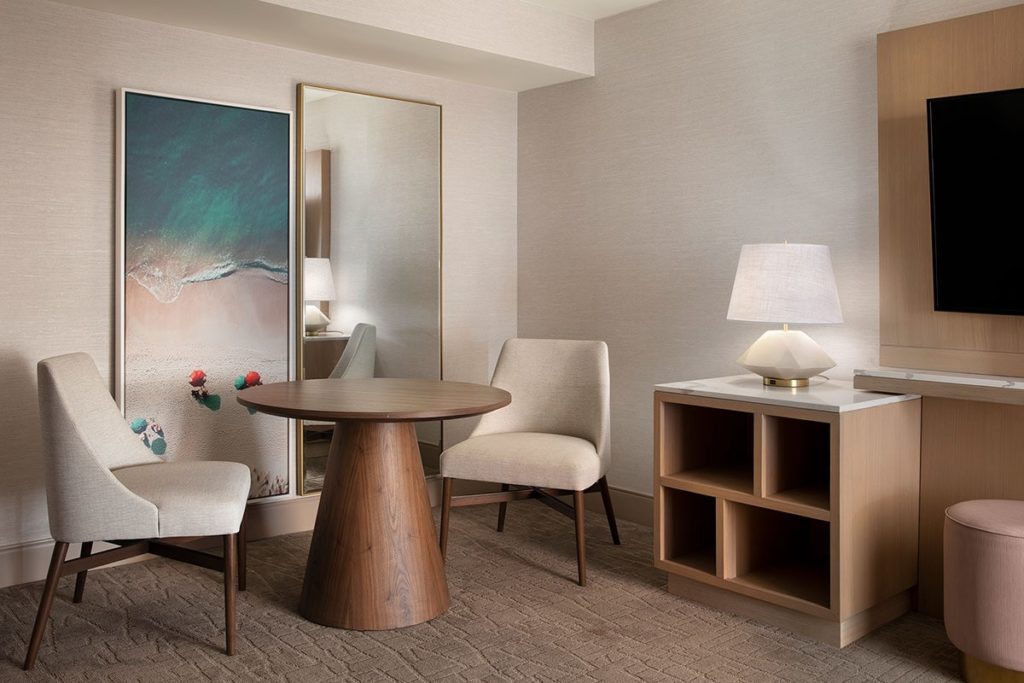 Hilton Santa Monica, Photo Courtesy of Avenue Interiors
We couldn't be more excited about the buzz surrounding this redesigned property. It is our hope that the art package curated by our hospitality art advisors for this project will complete the Santa Monica experience for more than a few vacationers this summer.
---
Curious to see more of our beachside project? Check out the links below for some more of our favorite art packages that really embrace the sand and surf.