An exciting addition to any space is a gallery wall with a little (or a lot) of texture. Traditional gallery walls are great showcases for two-dimensional works, but we recommend blending in some statement three-dimensional pieces whenever you can.
We've recently created three concepts for mixed media gallery walls that feature the work of our talented in-house design team and outside artists. We're excited to share them with you, and we hope that each look will offer some inspiration for those looking to break out of the frame on a new gallery wall project.
Soft, Natural Texture
This gallery wall is inspired by the overall soft, neutral aesthetic of the room. To emphasize the earthy textures present in the interior design, we chose to add three-dimensional pieces in a variety of natural materials.
Featured pieces include a hanging textile sculpture made of natural fibers, two carved wood pieces set within frames, and a white textured piece made with mineral paint. The visual connection between these pieces are their strong lines. By interspersing a few softer, abstract pieces on the lower left of the gallery wall, the collection avoids becoming overly busy while still holding your interest.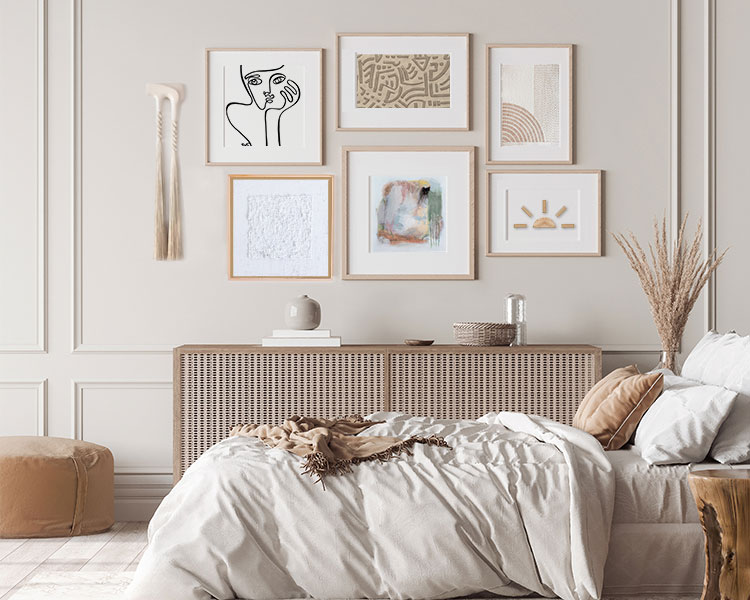 Featured Artists (clockwise from far left): Cindy Hsu Zell, Lilo on Paper, KBAA custom concept, Britt Fabello, El Lovaas, Lana Barkhordarian Burstein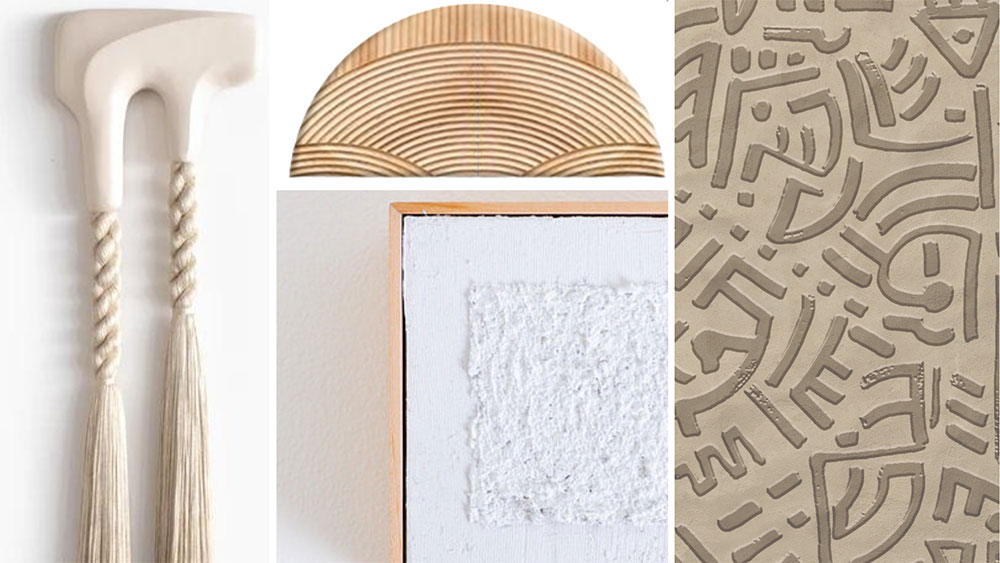 Detail view of Cindy Hsu Zell (left) and KBAA Custom (top center; right), and Lana Barkhordarian Burstein (bottom center) art pieces
Thematic
Nothing is quite as fun as using a gallery wall to play up a theme. By incorporating texture into your collection, you can take a quirky art grouping and transform it into a conversation piece.
For this gallery wall, we imagined a bird-themed design directive that was not afraid to be a bit daring. The two textured artworks in this collection are the large circular crown of blue feathers and a framed shadow box of hand-painted feathers. Incorporating mismatched frames and a variety of framing styles into the gallery wall adds another dimensional layer and keeps the eye moving.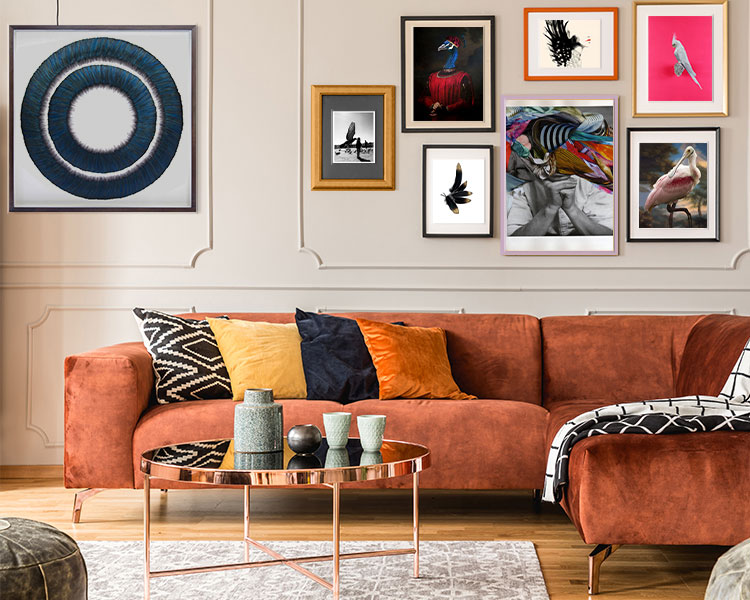 Featured Artists (clockwise from far left): Kate McGuire, Dimpy Bhalotia, KBAA custom concepts, Hope Kahn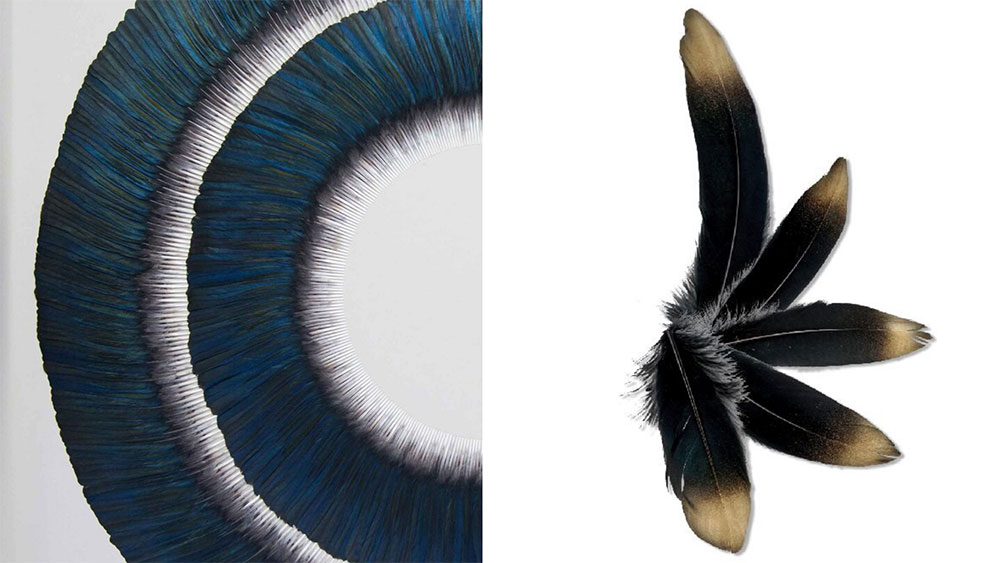 Detail view of Kate McGuire (left) and KBAA Custom (right) art pieces
Texture as Focal Point
Sometimes you have a big, beautiful piece of art and you want to build your gallery wall around it. You should! We like working within a theme and it can inspire creativity even within constraint. The same can be said for starting from a single piece of art and working from there.
We curated this gallery wall starting with a large, textured work of art and building off of it. By sourcing artwork in complementary hues, we chose to add depth and drama to the neutral room rather than emphasizing it further. The result evokes the look and feel of a crisp, winter day at the beach— dark roiling waves lapping off the coast of a sandy shore.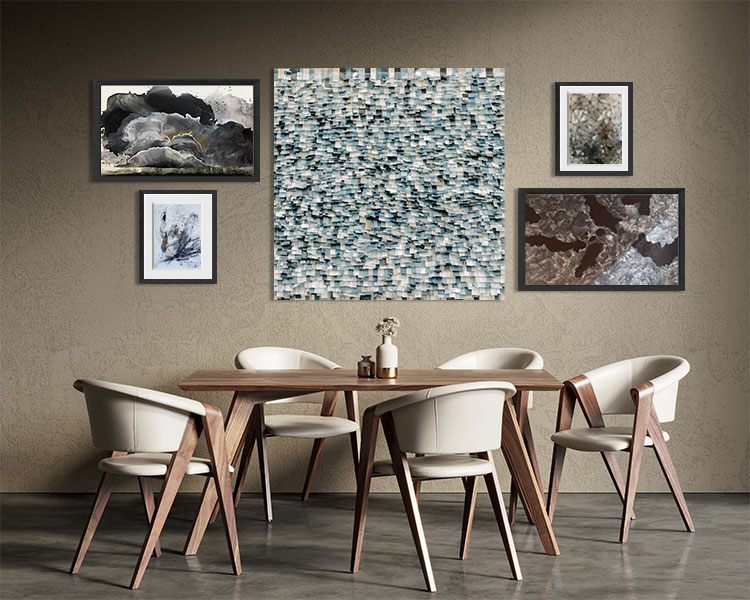 Featured Artists (clockwise from far left): Katie Meuser, Lisa Moriarty, Paula Valenzuela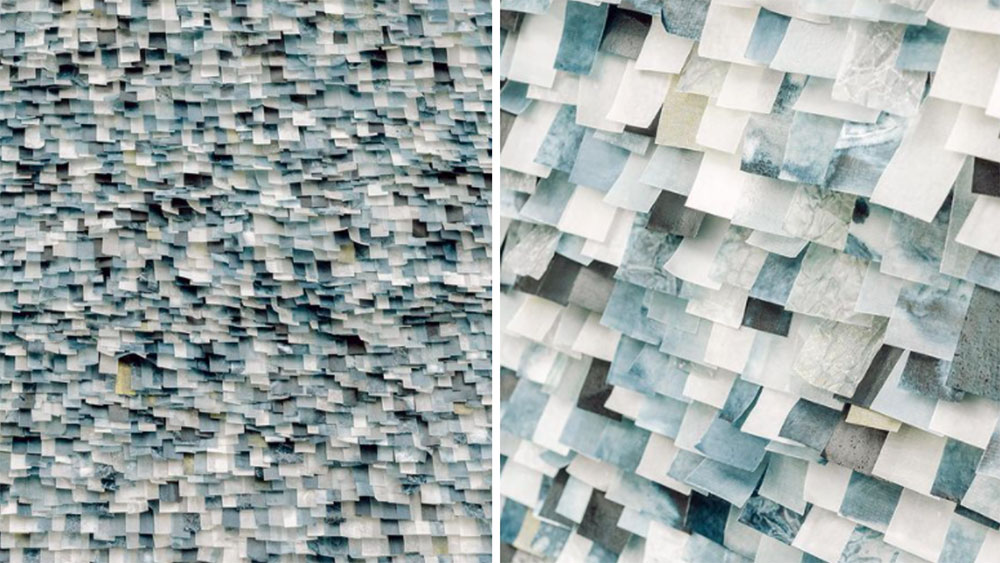 Detail view of Lisa Moriarty artwork
As you might imagine, we have a lot of thoughts about gallery walls. If you're looking for more inspiration, read other recent blog posts where we've offered other tips and tricks for taking gallery walls to the next level.
---