In celebration of the recent announcement of our win in the Art & Accessories category of Boutique Design's 2020 Product Design Competition, we are giving you a glimpse behind-the-scenes. Our winning art submission, "Sea Fan" (Hilton Fort Lauderdale Marina), was a collaboration between KBAA, Blaque Metal Works and HBA Los Angeles' Senior Project Designer, Haruna Sato Basica.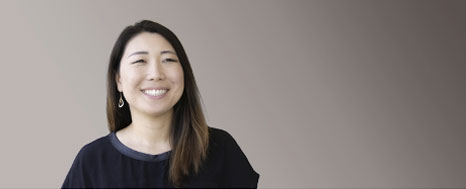 Haruna Sato Basica, Senior Project Designer, HBA
Basica has worked on high-profile projects, both overseas and in the US. She believes that perfected interior design pays close attention to the best aesthetics, but it should consider comfort and functionality as a process for understanding the clients' and guests' needs. She has worked on projects such as resort hotels, urban hotels and boutique spaces.
On the heels of our win, we asked Haruna Sato Basica to speak with us about her experiences working on this project, how "Sea Fan" came to be, and working with KBAA. We hope you enjoy this look at the relationship between designer and art advisor.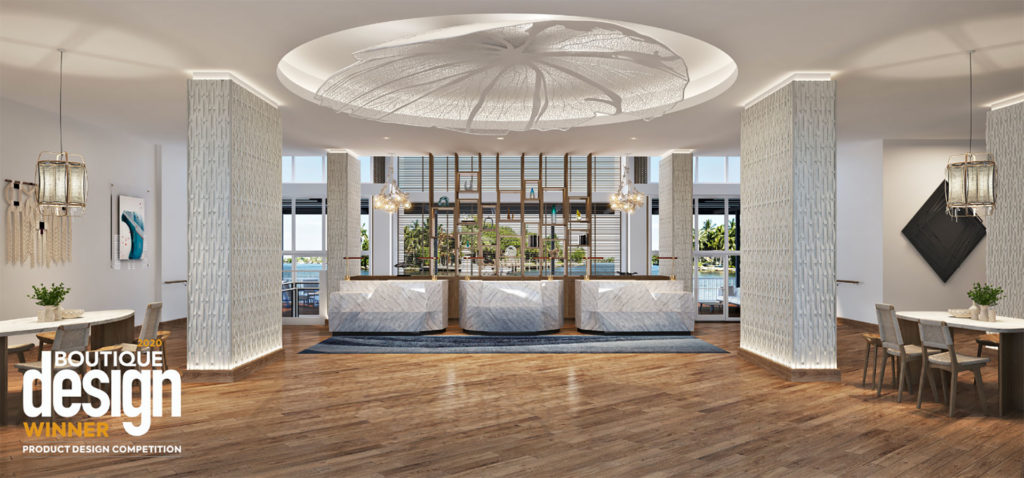 KBAA: How would you describe your approach to beginning a design project? How does the team at HBA go about bringing your idea to life?
When beginning a new project, we research the local context and geography to understand what's unique about the property; we also look at their target clientele. We want to make sure that the design ensures that hotel guests will feel comfortable and refreshed during their stay.
KBAA: What were you given to work with and how did it develop once you started designing?
We felt that the existing look of the property was missing a consistent design scheme that could speak to the location. We were sure that the property needed an interior design that enhances the marine allure. We looked to sleek, bespoke ship interiors for an indulgent yet simple sophistication that could be transformed into an authentic and innovative design aesthetic. We also brought in the vibrant, lush colors inspired by the area's surrounding natural richness to captivate and charm guests.
KBAA: At what point in the design process did you begin thinking about what your art needs were for this project?
When we first saw the large, round cove ceiling in the center of the lobby and we immediately knew we needed to dress it up with an eye-catching element. After some thought, we decided on a large sculpture piece inspired by coral sea fans. Not only did we want the piece to create an aerial art moment, we also appreciated that the sea fan would create an organic floor shadowing from the lighting above.
KBAA: Where did the idea for "Sea Fan" come about? How much of the development of this piece of art was collaborative and how much of it was pointing us in a direction and seeing where we took things?
Once we had a clear vision of a large-scale, ocean-inspired sculpture for the lobby, we started thinking how to make the piece. That's when we started communicating with the team at Kevin Barry Art Advisory. We worked closely together to get everything done correctly— from selecting the artist, reviewing shop drawings, as well as evaluating prototypes in person.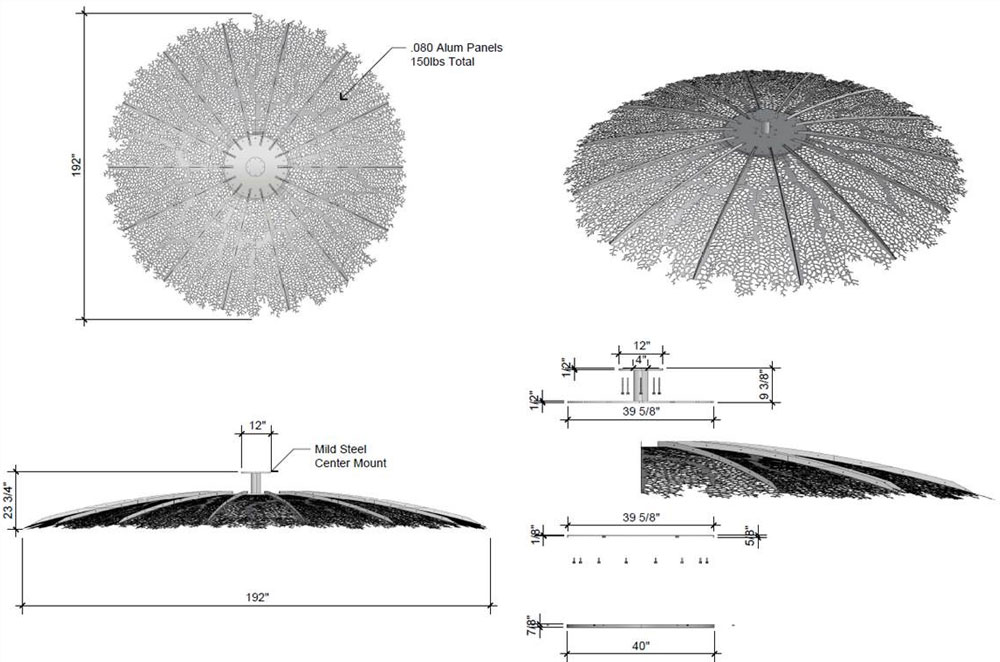 Work in progress shop rendering of "Sea Fan"
KBAA: What do you think makes "Sea Fan" fit within the language of the rest of the property's interior design?
Since the property is located near a cruise ship port, our interior design was inspired by the refinement of luxury yachts and coastal experiences. We carefully curated selections of materials and colors inspired by the surrounding natural richness. As the art centerpiece of the lobby, "Sea Fan" will set the tone for the hotel's coastal charm.
KBAA: In your experience, what are some of the challenges of bringing such a unique piece like Sea Fan to life and how did KBAA help with that?
"Sea Fan" is a very large piece to hang from the ceiling, and the sculpture requires structural support. We also wanted to create a pristine shadow through the sculpture with required bringing in people familiar with lighting design. Working with Kevin Barry Art Advisory, we consulted with the structural engineer, architect and lighting consultant to ensure a successful install. Having KBAA's experienced team take the initiative to coordinate with all necessary consultants was very helpful.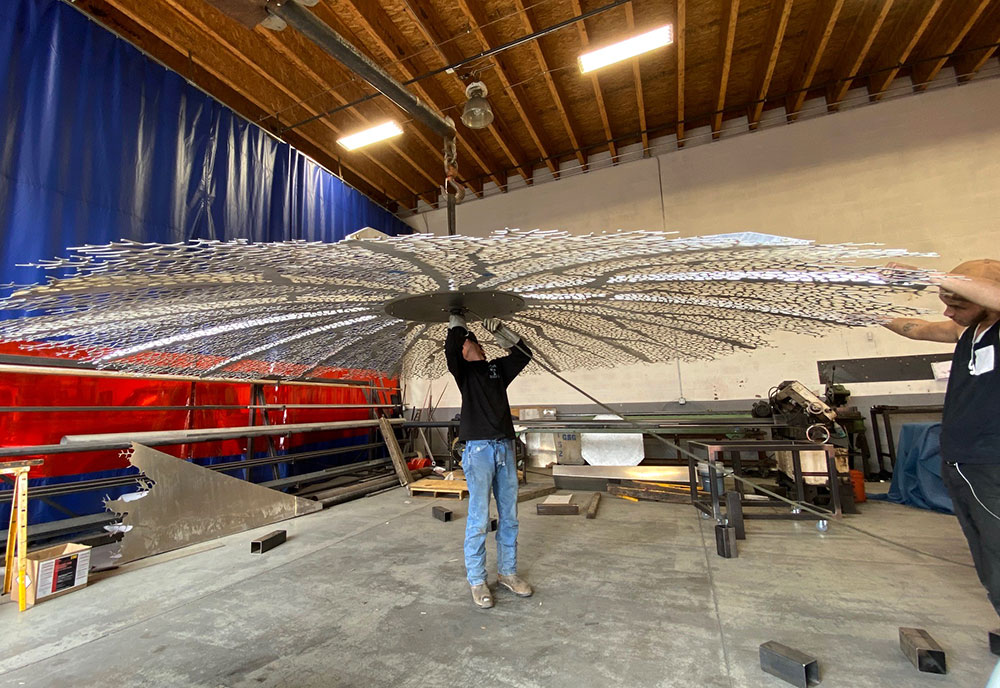 Work in progress of "Sea Fan" at Blaque Metal Works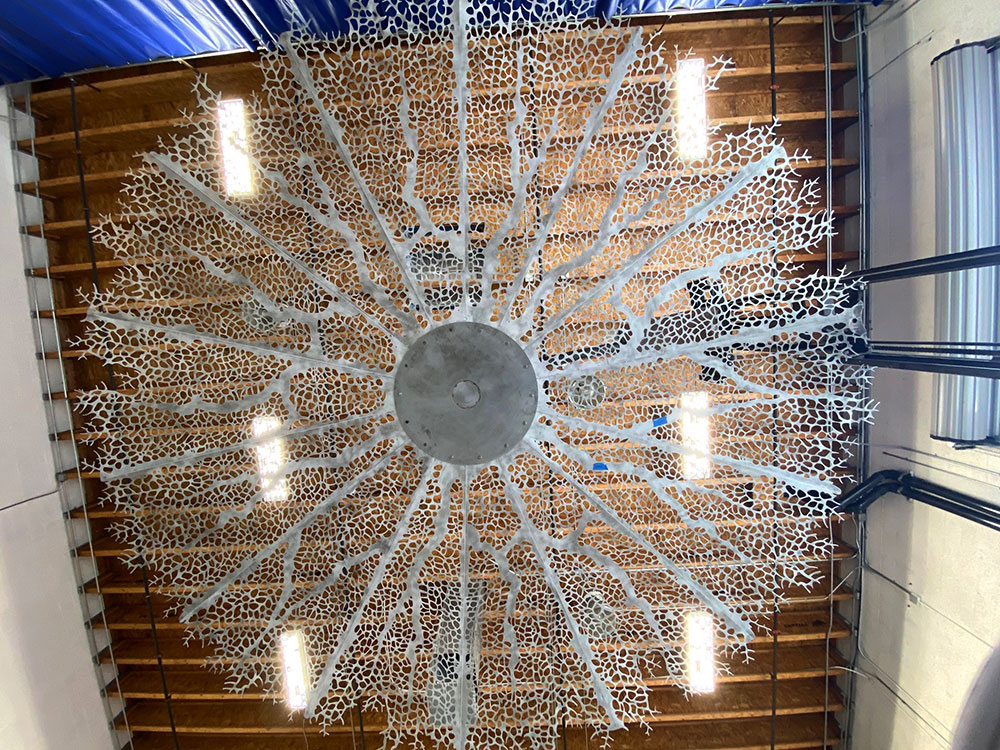 Work in progress of "Sea Fan" at Blaque Metal Works
KBAA: As interior designers and art advisors, we are two teams of visual storytellers who need to work together as one to bring a project to life. What are your favorite parts of that relationship and what do you think are the biggest challenges?
I think that it is very important to have a clear, strong concept to ground your design. You also need to understand a property's location in order to select the best art to fit our concept. Once a design and art advisory team become aligned with the same vision, they inspire each other. That would be my favorite part of the relationship.