In 2014, Lauren Williams shared a photo to Instagram of her first wall hanging and the response to her art was overwhelming. Just one year later she launched BOHO by LAUREN and her career has taken off, making her one of the most in-demand artists in the interior design space. KBAA has had the pleasure of having multiple collaborations with this artist, most recently placing her work at The Plaza Hotel Pioneer Park.
Recently Lauren was gracious enough to take us on a virtual artist studio tour to show us what she's working on and share with us a bit about her craft. We're excited to share our interview with her.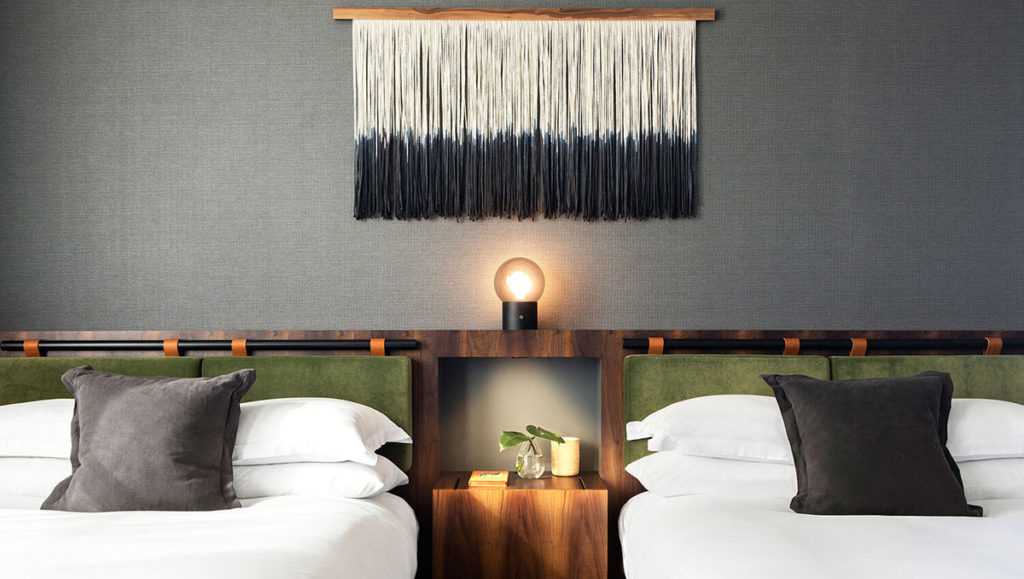 Q: We hear that you recently celebrated the sixth anniversary of your business. Congratulations! What would you say are your biggest achievements over the past six years, both as an artist and as a business owner?
Thank you so much! Moving into the hospitality space has been an unexpected but very rewarding avenue as an artist and business owner. The opportunities and ability to get really creative on such a large scale for unique spaces is something that has inspired my work on many different levels. Figuring out how to scale the artwork to meet the hospitality requirements while maintaining the artistry has been a growing experience as a business owner.
Q: You are a self-taught painter and textile artist. How do you think coming into your art on your own has influenced your technique and practice?
Without formal training I've had to figure everything out techniques on my own outside of set artistic rules. This has been a gift in allowing me the ability of creating without limitations.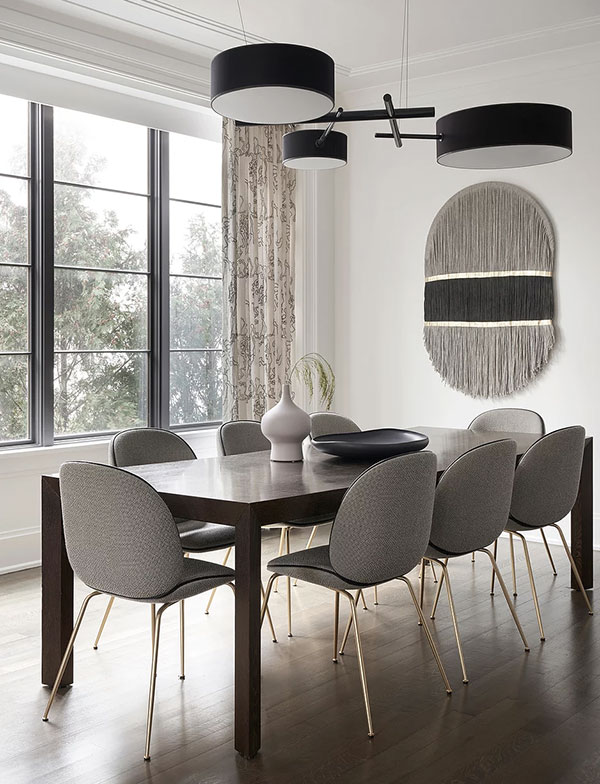 Q: Many of your pieces are large which is gorgeous but also physically demanding. What are some of the best things about working on a large-scale and what do you enjoy about some of your smaller pieces?
Large-scale artwork has always captivated me. What I love about any large-scale art piece is the "wow" factor you immediately get from the scale alone. As a very detail oriented person, large-scale art gives me so much space to focus on, look at, and dive into—whether it's my artwork or someone else's. Being able to focus on so much space and details is inspiring to me. Physically it can be daunting but it's worth the trade off.
I love that the smaller pieces typically reach a different circle of clientele. After primarily creating large-scale work for so long, the intimacy of being able to reach an entirely new demographic of art collectors has been really exciting. Shifting my focus to where a smaller piece of artwork can live instead of the larger scale art has given me a new avenue for creativity. Recently it inspired me to create smaller versions of my mixed media paintings that can be incorporated onto shelves and "mini" sized fiber art to fit in smaller nooks in a way that my larger pieces cannot.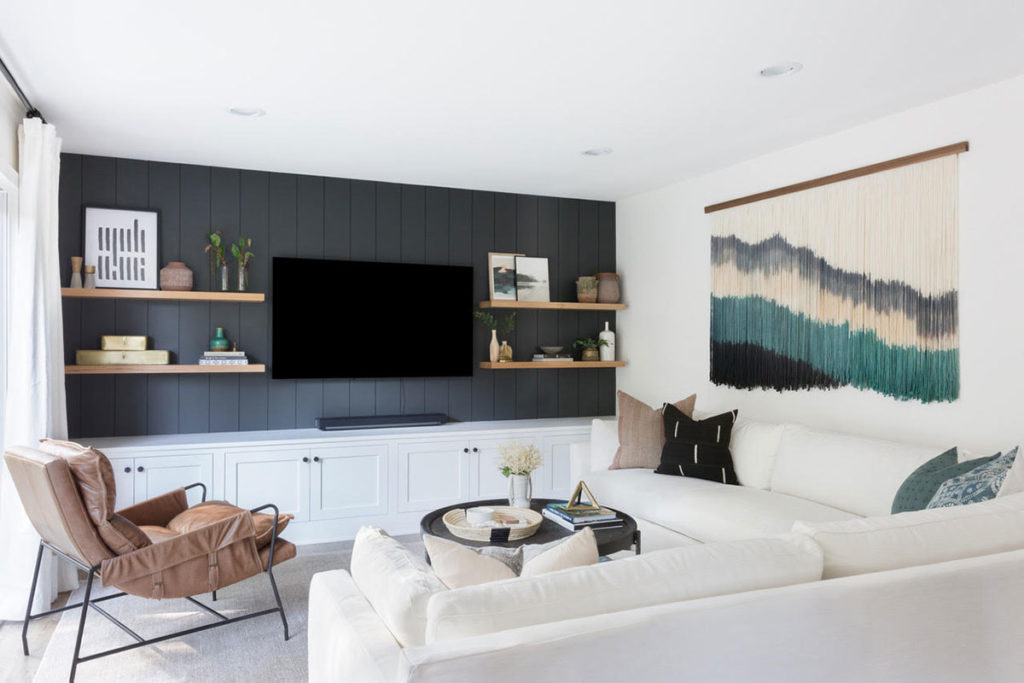 Q: Materiality and technique seem to play a big role in how you create your art— from the wool you use to using multiple layers of dye. What about these creative decisions do you think makes them so important to you as an artist and the final piece?
As an artist it's important to me to create a high-quality product that I would want to have in my own home. From the materials I use to the design of every piece, each choice is intentional.
What I love about my fiber artwork and paintings is the organic blending of colors and how the layers mix and overlap to create these beautiful transitions of shades that almost feel like a recreation of nature itself. Embracing the effect gravity has on my dyeing process versus fighting it as I did at the beginning of my career has proven to be a very therapeutic expression of myself. Every decision I make as I create my art is important because each piece is a reflection of myself.
Q: We recently placed several of your pieces at the historic Plaza El Paso Pioneer Park in El Paso, and you are a Dallas native also based in the area. If we were to commission you to create pieces based on those two areas, what would you say would be the differences in a West and North Texas palette?
A lot of my work comes across as landscape-focused. West Texas has a varied topography. The warmer tones found in the area would play a significant role in the color palette and I would use drastic layers to reflect the plateaus and valleys. North Texas has more lush trees that would play into a cooler color palette and a level landscape. I would really play into the softer look with smoother more organic layers.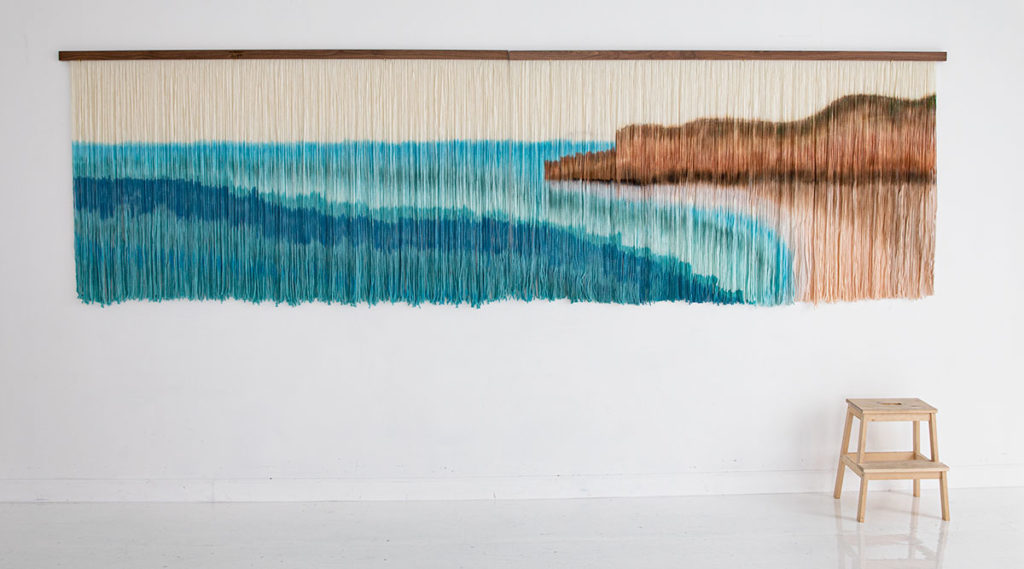 Q: What is something about your art practice that you think might surprise people?
The timeline of how long it takes me to create the art often surprises people. In my opinion, simplicity in art and design is one of the hardest aesthetics to achieve. Fighting the urge to keep going is a process of self-restraint that I feel I have finally figured out. The time that it takes to create my art can range from minutes to days and that has no effect on how much I appreciate or love the pieces.
Q: Lauren Williams Art is a small business but also very much a family business— which is something we can absolutely relate to. What are some of the big lessons you've learned over the years when it comes to navigating a family business?
There is no work/life separation. Work is part of our life and if that means creating art on a Sunday then the whole family is involved. We strive to make it an enjoyable process for the whole family versus a work obligation that pulls from our family time.
Q: What's next for Lauren Williams Art for the rest of 2020?
We have so much happening! Now until the end of the year is our busiest time for completing commissioned works for designers and art consultants. We have some really beautiful hospitality projects we're hoping to install before the end of the year and our huge Black Friday collection is set to release with over 70 pieces. Between balancing the strict deadlines for commissioned projects and creating new rugs, blankets, candles, fiber art, and paintings there is a lot going on. I can't wait for you to see it all!