This month our featured artist is Amber Goldhammer, who worked with KBAA to create multiple custom pieces of large-scale art that took The STRAT remodel to new heights.
Southern California-based artist Amber Goldhammer is best known for creating vibrant, abstract paintings with a street art edginess. Building upon layers of bold colors and sweeping gestural movements, her work includes positive messages of love and hope, written in a graffiti-style script.
KBFA recently dropped in on Amber at her new Santa Monica studio to get a behind-the-scenes tour, and we sat her down for a Q & A while we were at it.
Q: As an artist, you do a lot of your work around affirmations like "I Love You" and "Yes!" Can you talk a little bit about why those words or phrases speak to you and your intention behind sharing them through your art?
Amber Goldhammer: I'm a huge believer in positive affirmations and repetition to achieve what you set after. I write what I want to say which makes me feel good and makes the viewer feel good. My "I Love You" series is also a message of self-love. Often it is easier to love others before we love ourselves. I want to remind people that love starts within and by viewing my art, it can bring them a sense of happiness and love that they can feel internally.
Q: You use spray paint in almost every piece of art you make these days. What is it about that medium that first spoke to you?
Amber Goldhammer: I love that each brand and color of spray provides a uniqueness and when combined can cause different chemical reactions that looks really cool. Happy accidents and experimentation happen in every painting and I love that aspect of spray paint.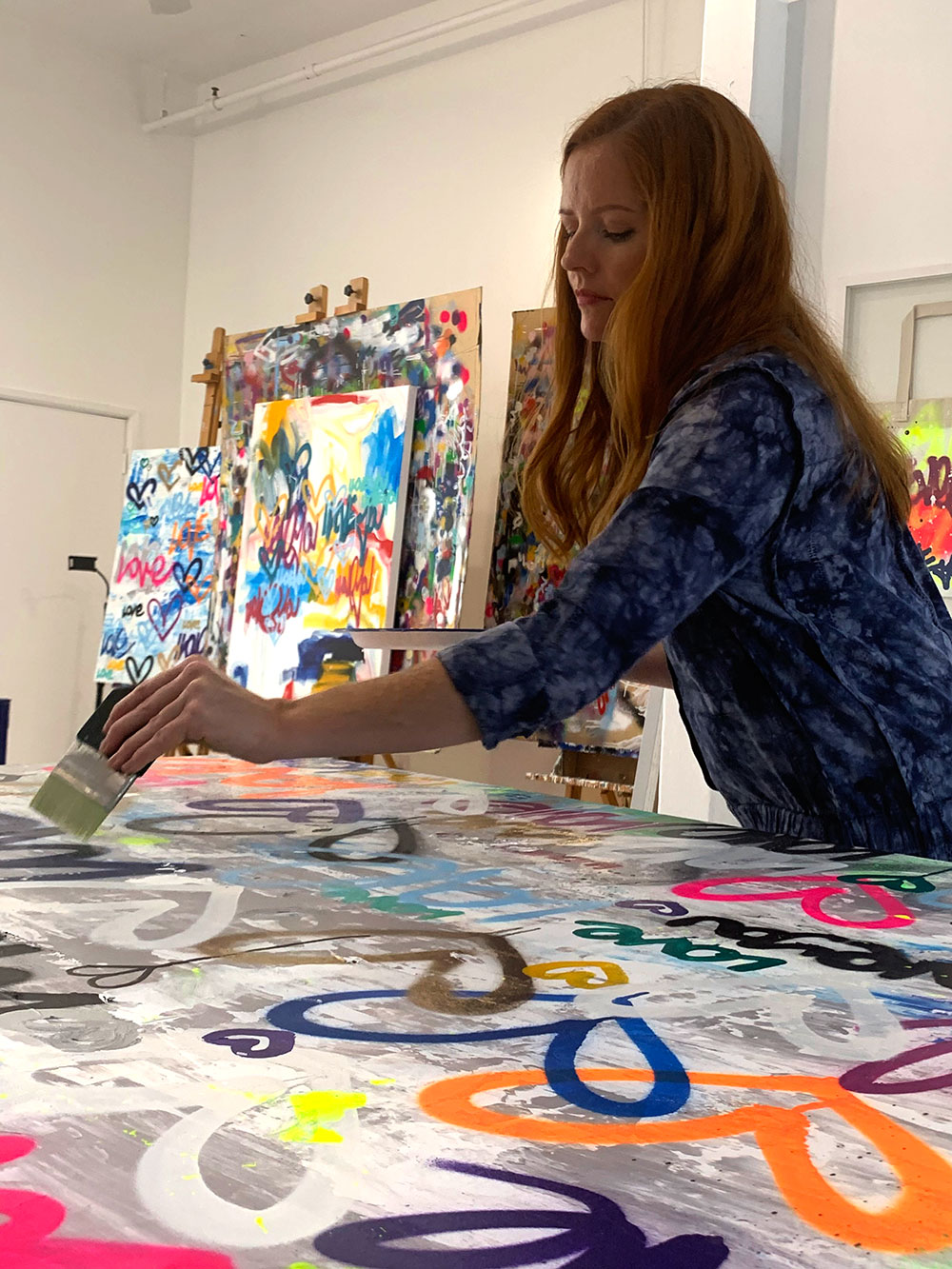 Q: Some people may be surprised to hear that in a past life you were a competitive gymnast. In what ways do you think your experience in gymnastics prepared you for the work you do now?
Amber Goldhammer: I loved being a gymnast! The beauty of choreography and the discipline needed to succeed was at the core of the sport. If I fell off the beam in a meet, the next day I would be back on the beam repeating the move 100 times. My coaches were tough, but through repetition I got to learn about myself and my strength to keep moving forward. This also allowed for variances in choreography because I kept growing and getting better and better. That's how I approach my art.
Q: What is the hardest part of working on large-scale outdoor murals? What is the most validating part of doing it?
Amber Goldhammer: Unfortunately my gymnastics career left me with multiple fractures and injuries that are life long and that I constantly deal with. So physically, it's tough on my body, but knowing I'm making a difference and seeing smiling faces is why I want to keep doing it.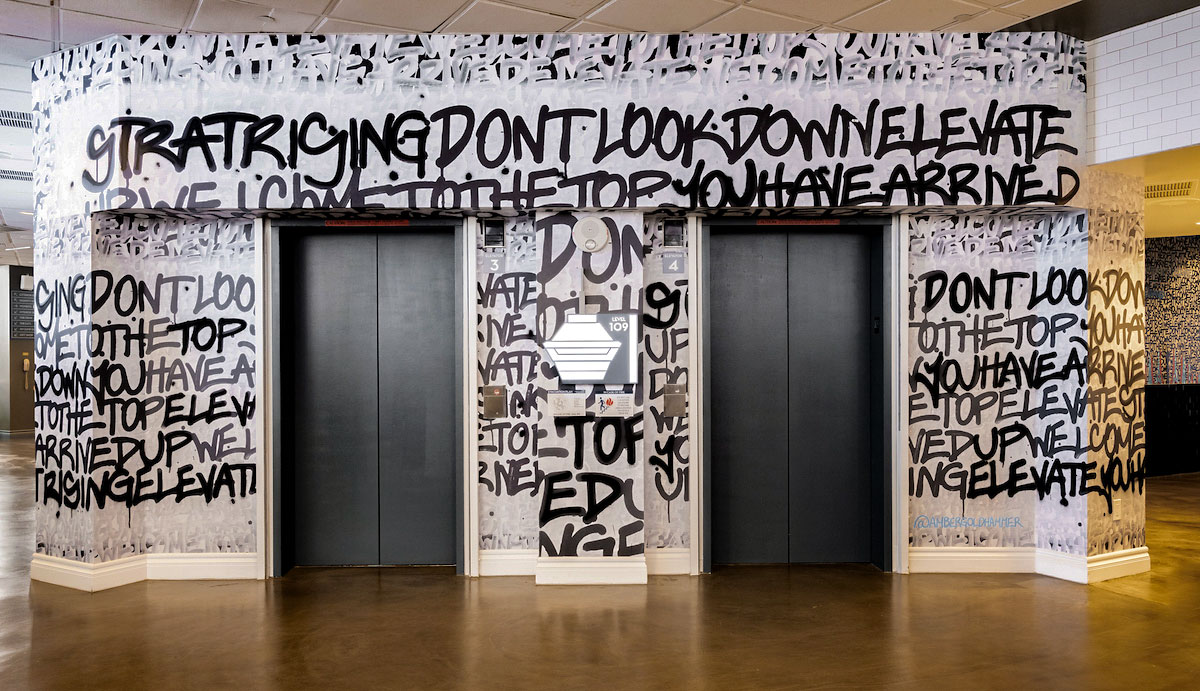 Q: What is it like having your work be a part of such high-profile television series like "G.L.O.W", "Crazy Ex-Girlfriend" and "Scandal"?
Amber Goldhammer: It's very cool! I get calls from people who are just as excited to tell me they saw my art on TV as I am excited I am that it was featured.
Q: During our work together on The STRAT you worked on several pieces located at the observation deck 109 floors above ground. We want to know: are you afraid of heights?
Amber Goldhammer: Haha, well, it was interesting being up that high — that's for sure! I was a little off balance at first, but once I got into my rhythm of painting, that all went away.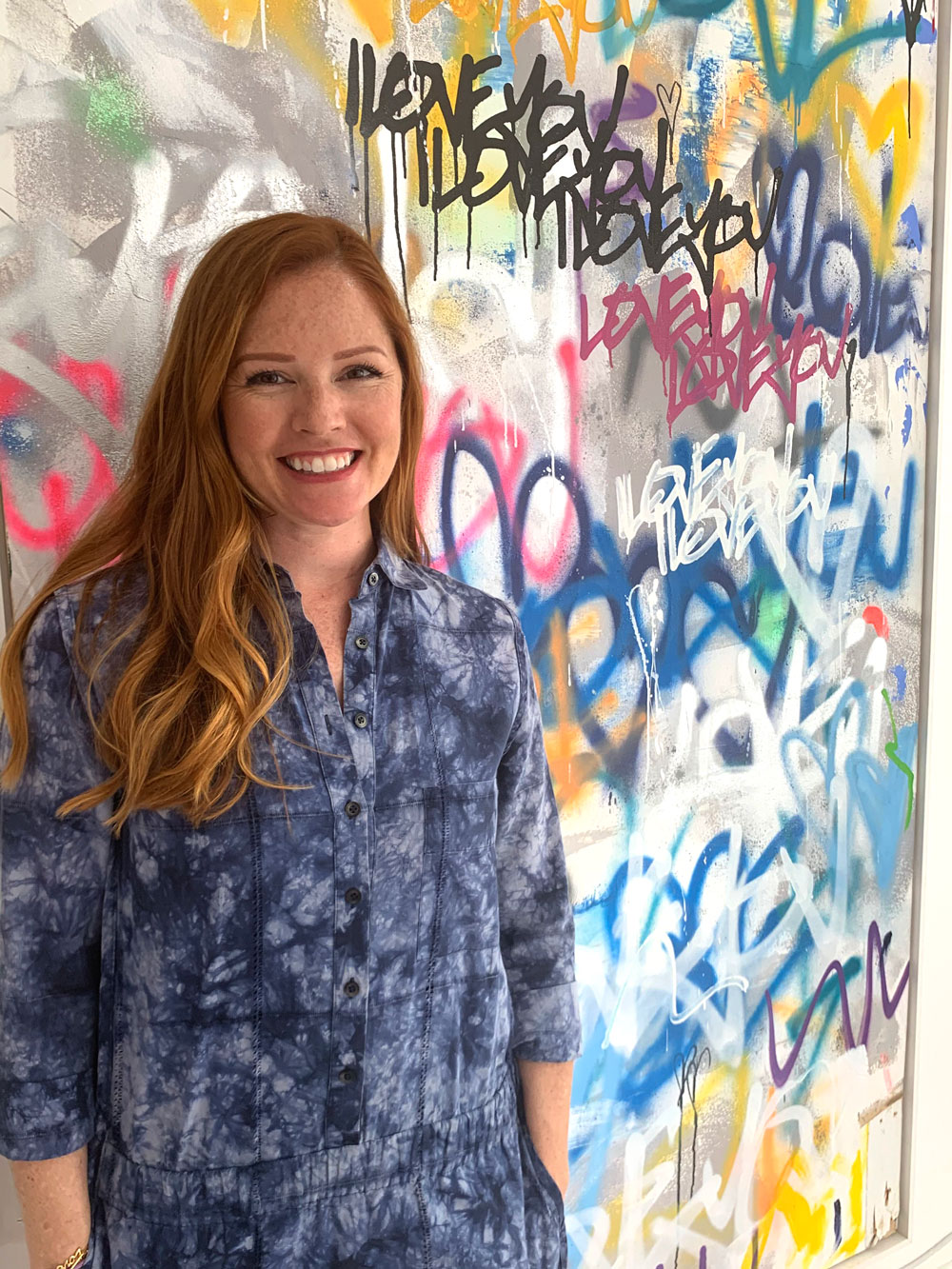 Q: Where do you go to get inspired?
Amber Goldhammer: I walk to the beach everyday to clear my mind which sets me up for creating very freely. Life experiences, current events and random finds inspire me also.
Q: If you could look into a crystal ball and see where you'll be in your artistic career in 10 years, what would you hope you'd see?
Amber Goldhammer: I would love to see my art branded in a very large way such as collaborating with large companies that seek to inspire and create unity and love through art.