After January's Maison et Objet and February's New York Fashion Week, our mood boards are overflowing with ideas. Pulling insights from across industries is how our team stays up-to-date with trends and keeps our art packages au currant.
This month, we're excited to share with you the looks that are popping up on runways and design showcases, as well as our artist picks for bringing these trends into your next design.
First up: Classic Blue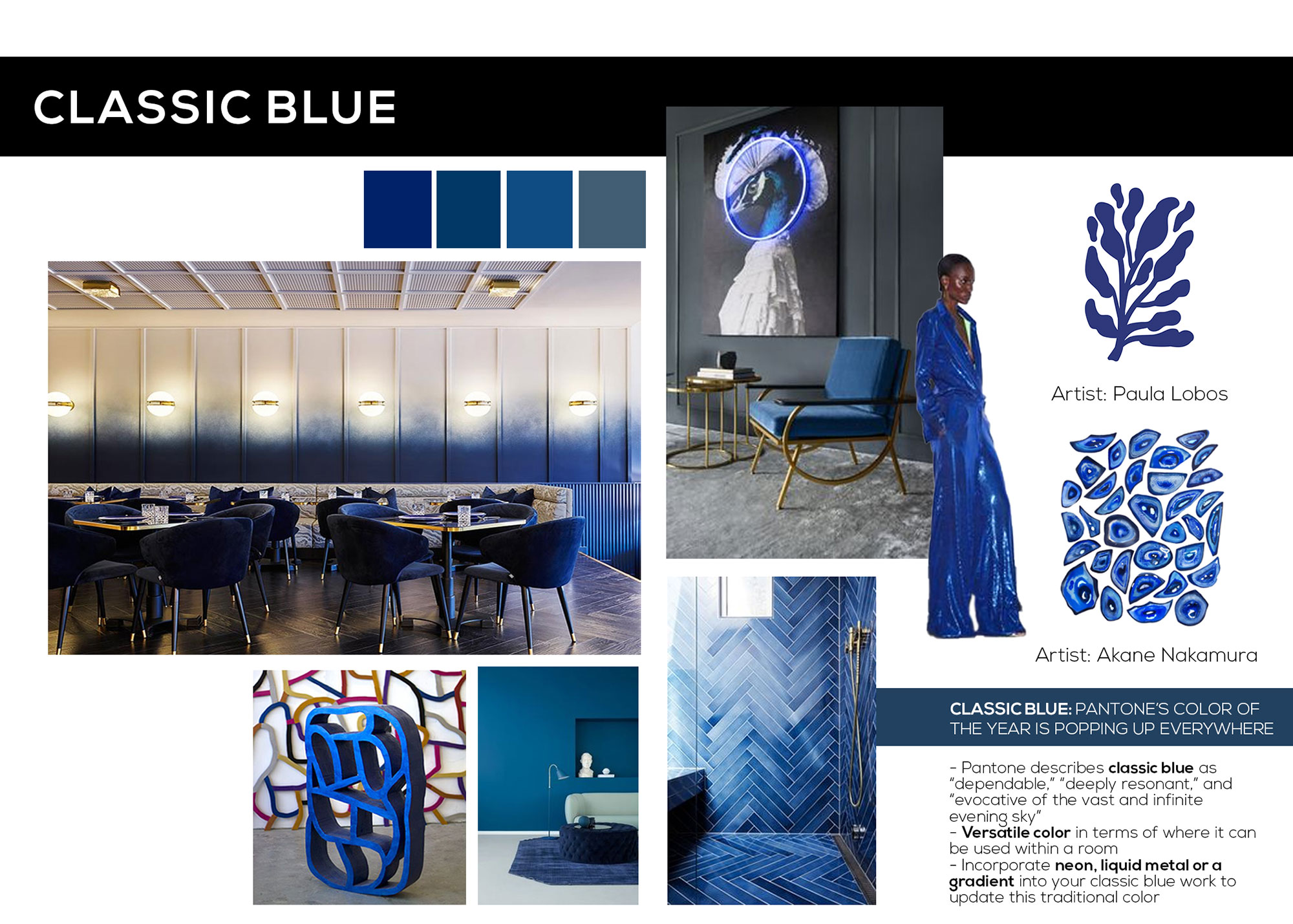 After Pantone announced the 2020 Color of the Year, we knew blue hues were guaranteed to be included in color palettes across the design world. Whether it's used as an accent or as a focal point in a room, classic blue lives up to its reputation as "evocative" and "deeply resonant".
Our artist pairings for Classic Blue are Akane Nakamura and Paula Lobos. Nakamura's work incorporates deep rich blues as well as other primary colors, often in patterns reminiscent of traditional textiles from her native Japan. Lobos is an illustrator whose bold, graphic work brings to mind mid-century woodblock prints. Her colorful pieces are the perfect edition to a minimalist design scheme looking to fold in some color and playfulness.
Now for some: Elegant Fibers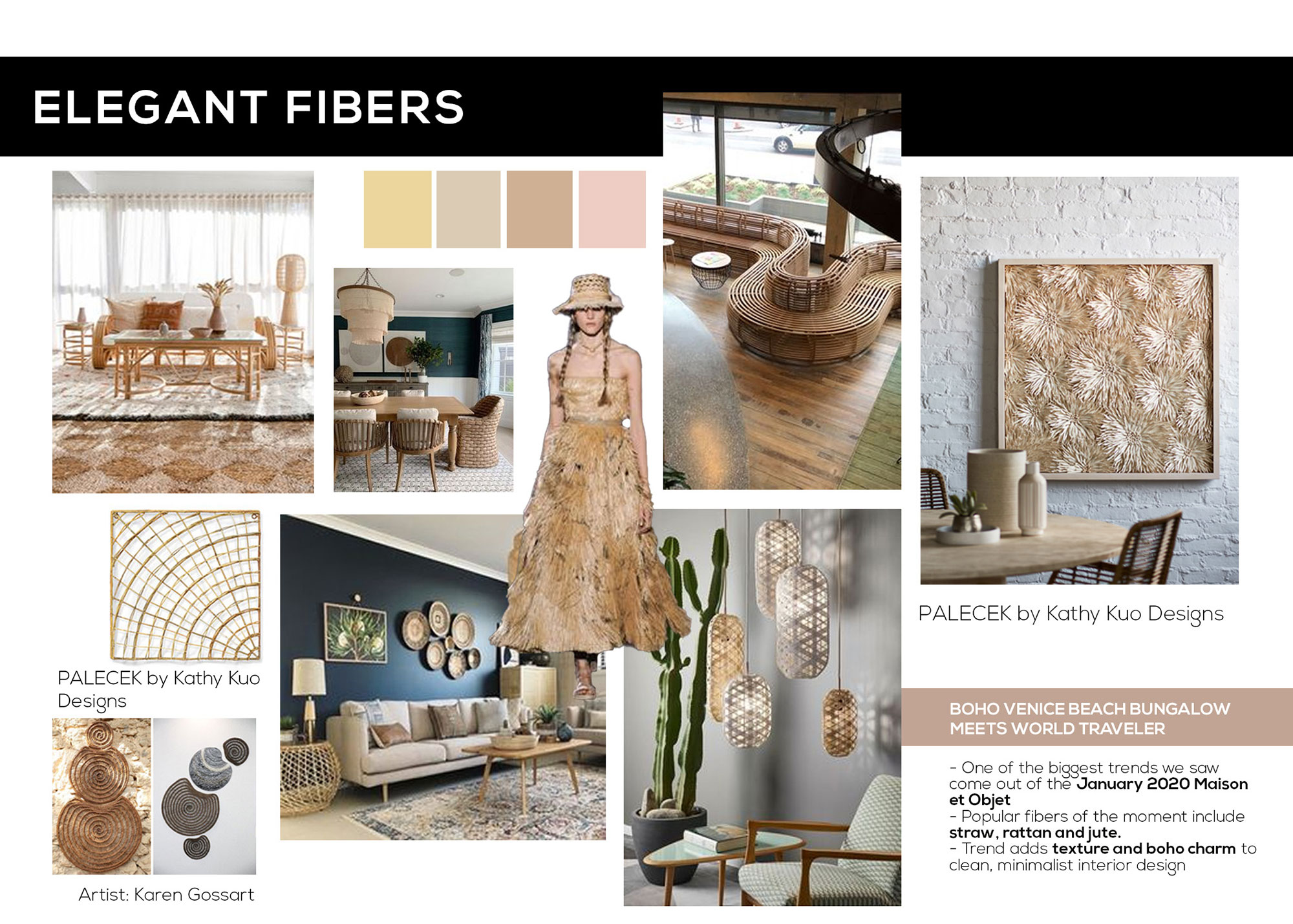 Natural fibers have been front-and-center in design and decor since last winter, and their popularity is only increasing. January's Maison et Objet let us know that this trend has staying power and that we should expect to see natural fibers well into Spring. Natural fibers like jute and rattan add texture and a world-traveler vibe to any space, while remaining clean and sophisticated. We especially love lighting design that incorporates woven materials.
Our pairings for this trend are artist Karen Gossart and Kathy Kuo Design's Palecek collection. Gossart is a French contemporary basket weaver whose work feels both modern— in its use of geometric patterns and abstract natural shapes — as well as ancient and timeless. KKD's Palecek collection is inspired by the ancient Asian practice basket-weaving. The Palecek collection has been getting a lot of attention from A-list designers like Jeffrey Alan Marks, and it perfectly embodies the elevated potential of natural fibers.
Last but not least: GLOW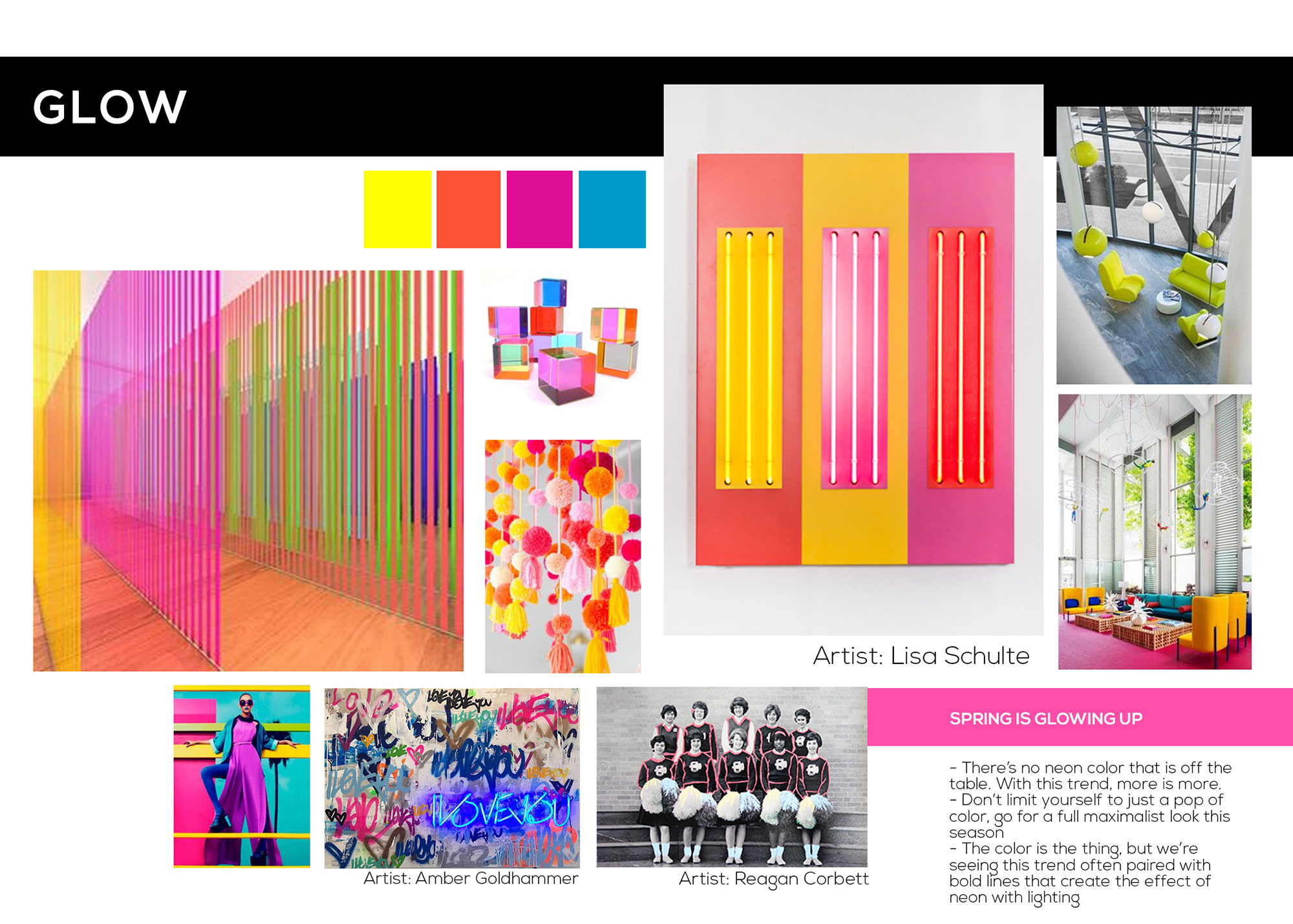 With all this talk of classic blue and the monochromatic trends we saw leading the way at NYFW, you'd be wrong if you think things are getting too serious in the world of fashion and design. The trend of picking neon colors to make a space (or outfit) glow is one to watch. Go bold, go bright, and don't hold back are the only rules to making GLOW happen in your next design.
Our artist pairings if you're looking to add some neon into your life are Reagan Corbett, Lisa Schulte and Amber Goldhammer. Each of these artists has an entirely unique way of applying neon and high-impact color to their art. Corbett embellishes her art with neon colors to add a modern twist to a retro subject, while Goldhamer uses neon to make a statement. Schulte, known as the "Neon Queen", uses neon as her muse and is always coming up with new and different ways to infuse neon into her work.
Curious about how Kevin Barry Fine Art takes trends and translates them into a fresh yet timeless art collection? Scroll down to take a look at a few of our projects that incorporated the trends in this report.
The CambyDoubletree Berkley MarinaJW Marriott, Mexico City