Bringing in food, design, amenities and an art program that genuinely echo the vibe of the city is vital for transforming guests from visitors to locals. Using local artists and creating a custom art program is one creative way to setting apart hotel design. Local artists are integral to the narrative of the property and they bring a greater connection to the guest by helping to bridge the gap with the local community.
Creating an art collection that feels localized, authentic and layered is far more than just picking a handful of local artists, though. It's about truly understanding the flavor and culture, and giving back to the community.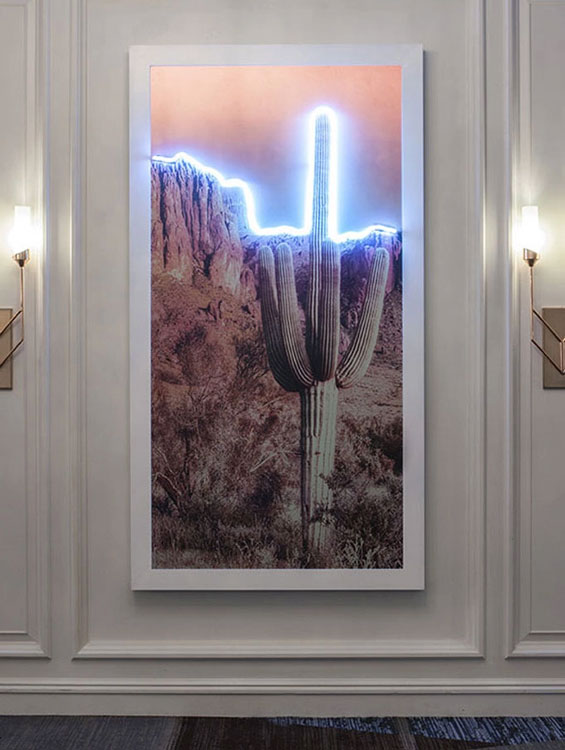 From coast to coast, and even internationally, KBAA delights in creating art packages that take guests on a unique journey that could only happen in that property and in that city. Below, dig into the five ways we bring out the authentic story just waiting to be told.
1. Dig deep in research and craft a narrative.
Today's guests are thoughtful and discerning, and aren't looking for cookie cutter travel experiences—which means they also aren't looking for cookie-cutter hotels. They want something personal and localized, and the only way to avoid that fate is by doing proper research and making sure your brand matches the location.
First, our art advisors go through the design package and pull out keywords, colors, textures, architecture, fabrics, even small details like tile, that are featured.
Next, we research the history of the area. We want to know the nitty-gritty: what type of flora and fauna is native; whether the beaches are sandy or rocky; notable residents; how the area landscape influenced residents.
We also rely on our own knowledge for a deeper understanding of the narrative; with a sizable team working across the country, it's likely we have someone on staff from the area or who has worked on a project in the area.
From there, we often ask ourselves, what's on the initial narrative page that the art can continue to enhance?
At the renovated and reimagined Union Club Hotel, our art advisors dove into the history of Purdue University and then narrowed our research into four themes that represent the values and legacy of Purdue: the machine, the might, the mind, and the land.
Guests experience their first art moment in the Union Club's lobby where a floor-to-ceiling bookshelf serves as a projection surface for historic photos of former Purdue faculty member, Amelia Earhart. The lobby's seating area prominently features custom displays of vintage sports accessories and a 3 x 5 foot hand-sculpted statue of Purdue's mascot, the Boilermaker. In the hotel's restaurant, a 6 x 3 foot sculptural piece by artist Scott Troxel depicts an abstract cartographic of the Purdue Campus made of 600 individual pieces of cut and layered wood.
2. Get to know the community.
Sense of place and community is vital to a layered, authentic experience; that can be done during the research phase, by connecting with locals, visiting local museums and galleries, or even through programming.
Doing so helps create an inclusive experience that inspires kindness, joy, creativity and curiosity for all learners, while forging connections with artists, community, and neighbors alike. Past projects have seen KBAA pitch to develop a local artist submission program in an endeavor to reflect the authentic neighboring community.
Many hotels take their role as a large employer in the city seriously, supporting local businesses, restaurants, artists and makers for community nights. At The Eddy Taproom and Hotel in Golden, Colo., KBAA commissioned a large-scale activity board that allows the hotel to keep guests apprised of everything on offer in an attractive, integrated way. The activity board tags are modeled after the miners tags used by mining crews to show who was down in the mine—a nod to the founding of the city of Golden during the Pike's Peak Gold Rush.
Understanding the local geography is another important aspect of effectively engaging the community. When The Ritz Carlton Amelia Island celebrated its 30th anniversary with an extensive renovation, KBAA worked with artist Tiffany Lusteg to commission a textile art piece in a sand dune-inspired palette that was not only beautiful, but could also withstand the natural elements. The entire sculpture was treated with fire-retardant and made moisture-resistant, and the piece was installed with custom metal hardware to create a safe, sturdy foundation for the free-flowing work of art.
3. Avoid low-hanging fruit.
Nearly every market has an archetype, a stereotype that every traveler knows. As a designer trying to create an authentic experience, try to avoid that low-hanging fruit at all costs. Rather than creating a honky-tonk that serves hot chicken in Nashville, try working with known contemporaries in the city. Through research, figure out the local tropes and discount them, then dig deeper.
With a design directive centered on highlighting the history of the land and its people, KBAA worked with several local artists to make each piece feel authentic to Four Seasons Napa Valley.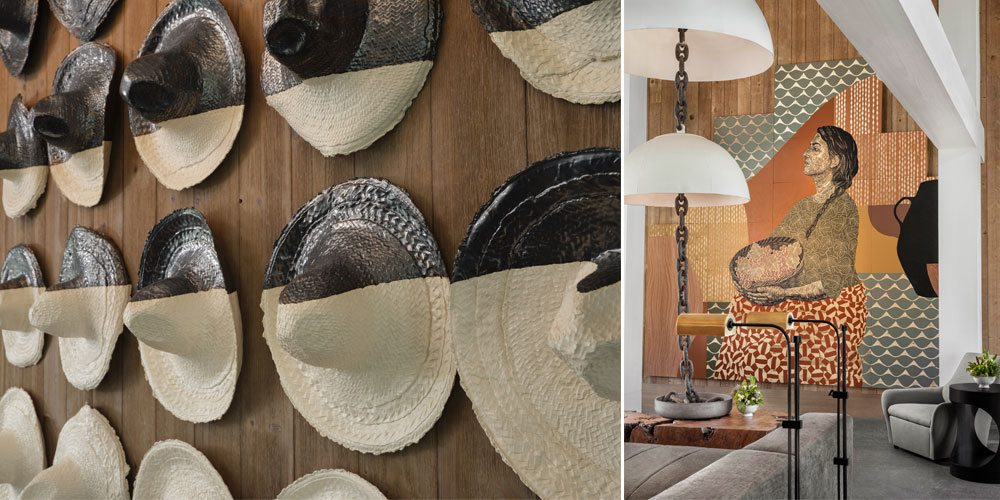 Upon entering the lobby, a large-scale wood relief by Bay Area artist Carmen McNall honors the landscape and abundance of the area (via the carved patterns in the background), as well as the Hispanic women who worked with those fruits to shape the future of the region. Behind the front desk, 24 ceramic hats made by local artists NBC Pottery are reminiscent of those worn by the farm and ranch workers of the region.
4. Rethink what "local" means.
Telling a local story doesn't always need to be literal. Thanks to our extensive network of artists, we often tap artists whose work furthers the themes of the property, even if they're not natives of the area.
At the Western-themed Farm at Brush Creek Ranch in Wyoming, as guests make their way into the bar lounge, an ethically sourced and hand-carved caribou antler from Shane Wilson is a thoughtful commentary on the rapidly changing planet. Nearby, Pacific Northwest artist Catherine Skinner's "Flock of Birds," made of Tibetan paper, wax, red thread and bamboo dowels, hangs dramatically and features local birds.
Using antique or vintage finds can add a sense of history to properties, and sourcing unique objects is one of the many niche services KBAA provides. Sourcing objects falls outside of anything that can be purchased at a gallery, and is defined as an object that's taken and then fabricated into an installation and generally falls into three categories:
A fabricated object, generally out of resin, that's created to look like another object. Typically, objects out of resin are not only far more durable, but allow for more control over producing them in a mass quantity and in less time.
A vintage item
An everyday object that can be ordered in bulk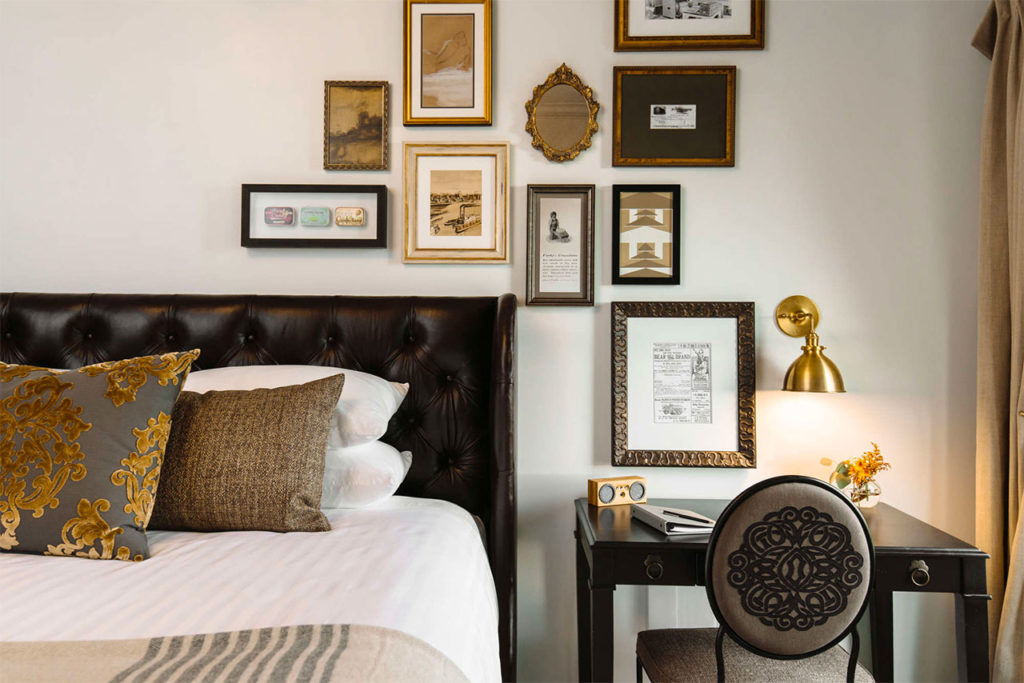 5. Put a twist on local tropes.
Telling a local story can also be cheeky; don't be afraid to play with them and offer tongue-in-cheek nods. The art of The Camby in Phoenix conveys fun as well as surprise–an old photo of a couple kissing is juxtaposed by a portrait of one of Arizona's many canyons, and the ubiquitous cacti of the area are adorned with neon lights. In the guestrooms, the copper ceilings feature whimsical sayings and greetings but also pay homage to the copper ore mining that built Arizona in the eighteenth and nineteenth centuries.
Another example is our work at the Moxy in Washington, D.C. The KBAA team looked to find art that represented the hipness of the brand, partnering with a photographer whose image featured "playful spin" on the Washington Monument during the National Cherry Blossom Festival's Blossom Kite Festival.