When guests descend two flights of stairs from the light-filled Cheyenne Club, they'll also find a series of exclusive tasting rooms, wine cellars, and meeting spaces. which lie off a dimly lit underground tunnel that is the length of a football field.
Downstairs in the windowless spaces, the Simeone Deary and KBAA teams compensated for the lack of stellar views of mountain peaks by selecting visually heavy furnishings and statement-making art.
Just as The Farm at Brush Creek was not to mimic traditional Western art, so, too, was the wine tunnel not to include art moments one might expect in a vineyard. Instead, the wine tunnel is an opportunity to continue to tell the history and the narrative of the property—just as the brush creek sommeliers act as a blend between historians and librarians of Brush Creek's impressive wine collection. What could be an unremarkable space is turned into one with an impressive, original art collection that allows visitors to meander down the wine tunnel, stopping to take in the unique art moments.
Wine Tunnel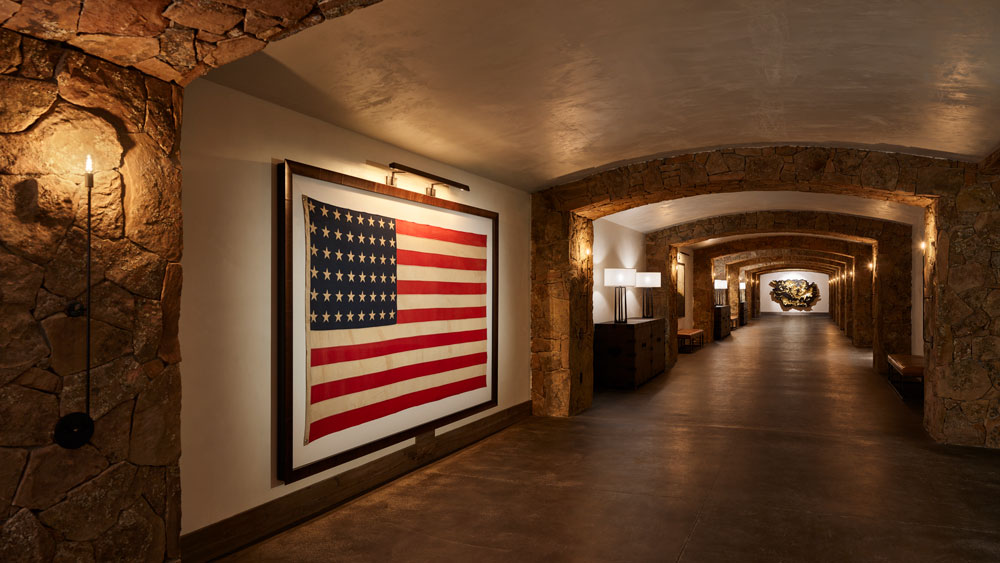 Greeting visitors is a 48 Star Vintage American Flag. The 44th state, Wyoming, joined the Union on July 10th, 1890. The 44 star flag became official on July 4th, 1891, but flag-makers began adding the 44th star to flags well before this date. The 44 star flag was generally used until Utah joined the Union as the 45th state in 1896. Early versions of the American flag were often made from wool, cotton or linen. The 44 star flag was one of the first iterations to be dyed with synthetic dyes as "Perkin's Mauve" the first produced synthetic dye was developed in 1856.
Juxtaposing the flag is an oversize print of internally recognized photographer Adam Jahiel's "Last Cowboy." His poetic and dynamic images have been exhibited and published across the globe. In 1996, he became the first living photographer to have a one-man show at the Buffalo Bill Historical Center, in Cody, Wyoming. His photographs are in the collections of the Nevada Art Museum in Reno, the Art Institute of Chicago, the Museum of Fine Arts in Boston, as well as private and corporate collections. To learn more about his groundbreaking work photographing some of the last cowboys in the great Basin area of the uNited States, read our Featured Artist Q&A.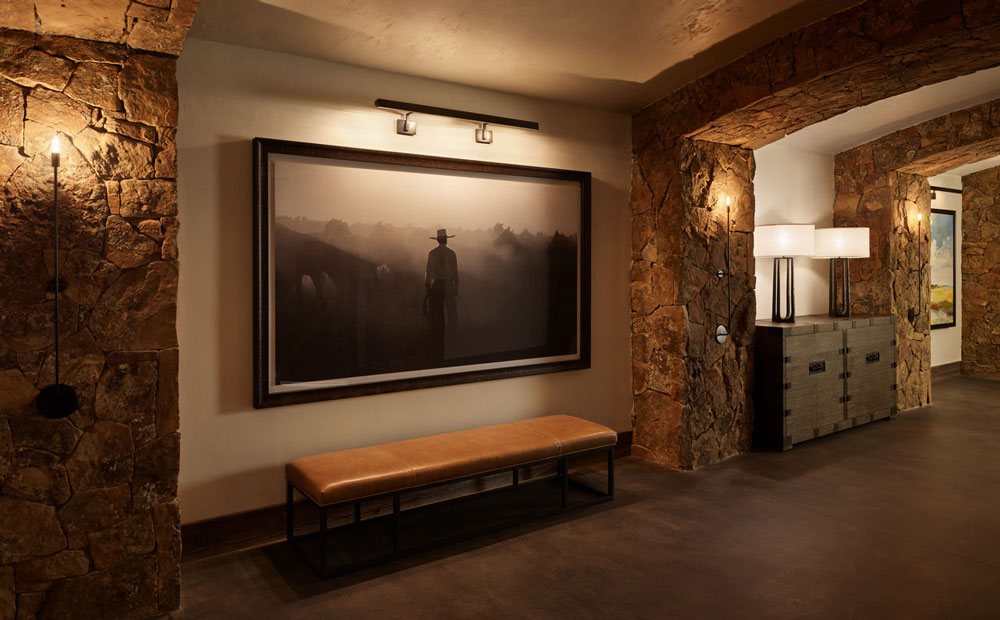 One might mistake Jaydan Moore's piece as a lasso, but it's actually silver platter edge rims, welded from found platters. Born into a family of fourth generation tombstone makers, Moore's art is influenced by the value of heirlooms and objects marking significant moments.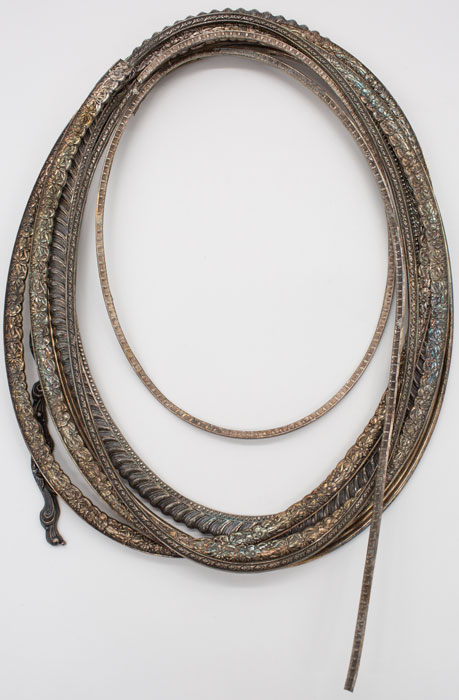 Another artist that uses found objects is driftwood sculptor Matt Torrens, who grew up attending the Calgary Stampede, also known as "the Greatest Outdoors Show on Earth," and was heavily influenced by the cowboy way of life. Currently living in Northern California, Torrens works with the native Manzanita driftwood to create life-sized sculptures that capture the elegance and grace of natural wildlife.
Matt particularly loves the rich contours and patterns within the wood that help to bring his sculptures to life. He has learned to utilize the natural blemishes and notches of each piece of wood to enhance his creations and to suggest muscle and movement. Manzanita driftwood is native to the Northern California countryside where he now lives and much of his spare time is spent foraging for suitable materials.
"I liked the way that it pulled. You kind of give the muscle tone and you can see the flow of the body," he says. "The natural wood is basically discarded and you either burn it or it sits there and rots. It's cool to turn that back into another piece of nature and a sculpture. … When you're going to look for the wood, I already have an idea of what size shapes and the distinct pieces I have in my mind. It almost makes it easier in some ways rather than just grabbing random things."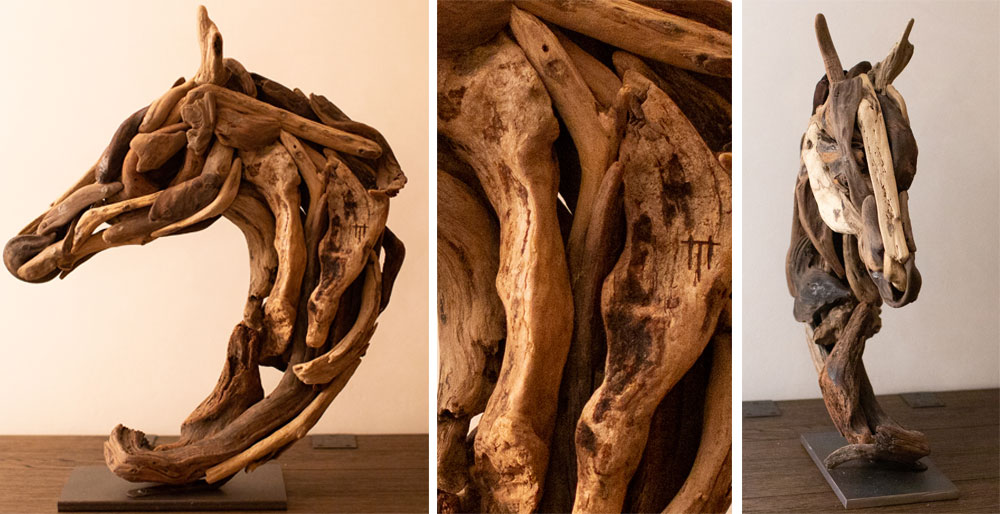 Each model is secured to a steel frame made from old horse corrals. After drilling screws into the wood and welding bolts to the frame, Matt varnishes the sculpture with a poly clear coat to protect it against the elements.
"I'll have sketched out the frame and the design and make sure it's engineered properly. I'll do all the welding for the frame," he says. "The structural engineer will tell me if it has to be stainless steel, mild steel, the thickness of the frame, etc. But the wood is surprisingly strong."
Brush Creek Cellar
Located off the wine tunnel are a number of tasting rooms of various sizes and purposes—from a secluded setting for private dinners or meetings of up to 14 guests and a Barrel Room lined with barrels coopered specifically to the highest standards.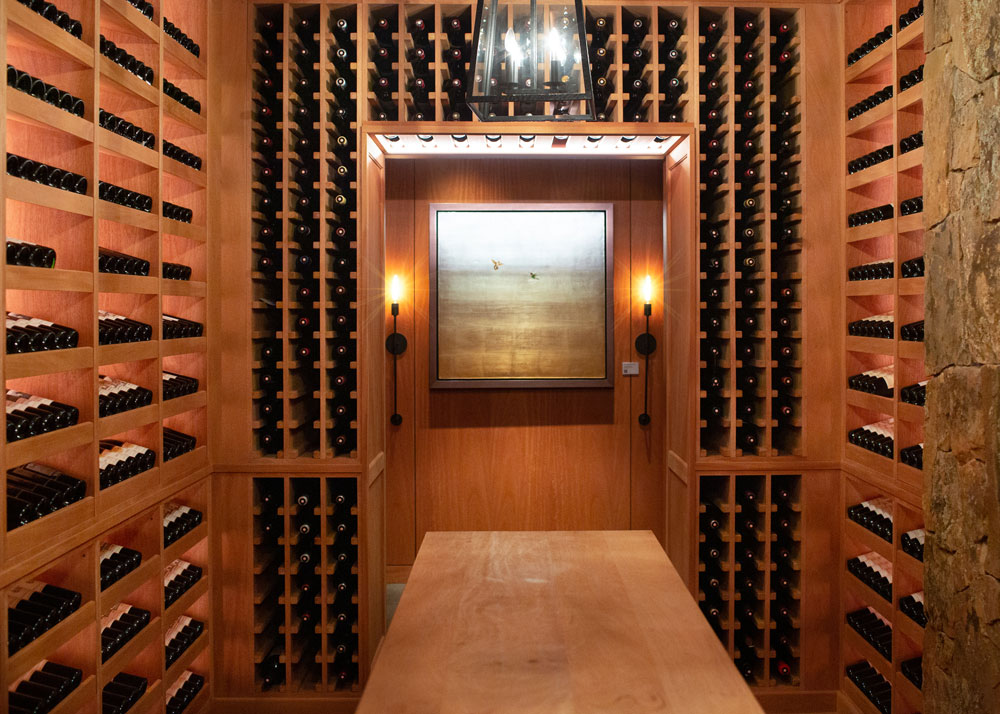 The Founders Room is a 900-bottle cellar, paired with a private dining room, that features Bordeaux curated from the Terlato Family dating back to the storied vintage of 1982. On display are large format bottles that include Jeroboams of Krug Champagne, Imperials of Chateau d'Yquem, and Salmanzars of Bordeaux, Brunello and California wines. Custom designed tasting tables facilitate interaction and conversation, while floor-to-ceiling glass doors separate the cellar from the private dining room so that guests have a full view of the wine collection.
Michelle McKinney's metal and mesh leaves sculpture represent branch-like composition with various grape variety shapes growing from the vine and a few leaves falling away. McKinney's work plays with the space between opposites and form. Her work captures movement in stillness, the fragility of nature and the permanence of man-made materials.
"Nature for me is a constant source of inspiration. I am comforted and fascinated by the changing seasons year after year," Michelle says. "For me, creating such delicate representations of the natural world, which we all know is in a very fragile state, in a manmade material known for its industrial strength and permeance creates an interesting tension. I try to capture the transient moments of beauty the natural world offers to us on a daily basis but so often we are too busy to even notice."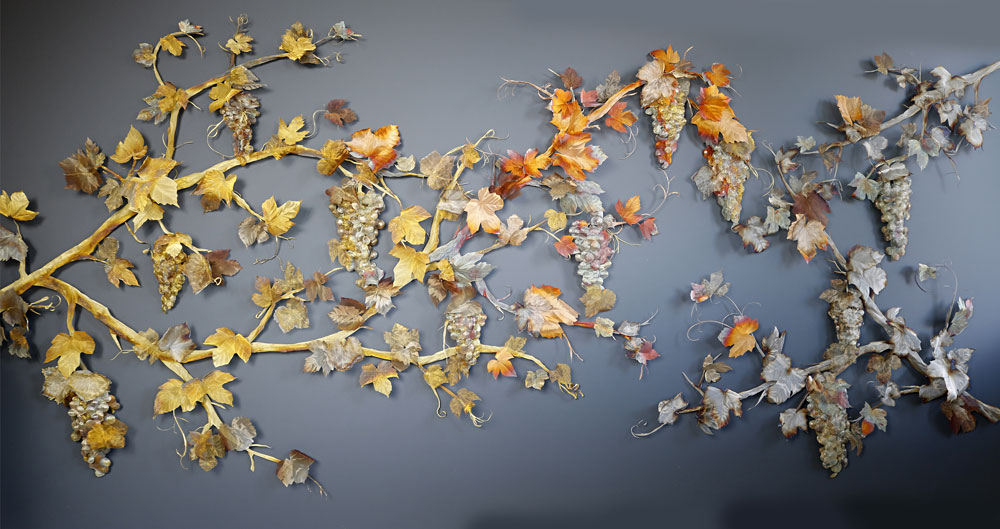 Each tiny piece of metal is hand cut and manipulated by Michelle, layer by layer, to create a unique multidimensional work. Once she has achieved her desired forms, she hand-dyes each translucent piece using heat (not dye or paint) in a neutral and natural color palette. Finally, she organizes the pieces into unique compositions, spanning symmetrical rings, askew arrangements, and seemingly arbitrary piles. She then secures each ephemeral-like element with a fine entomology pin, further emphasizing her interest in the study of nature.
"The entire process of creating my art is by hand and that is very important to me. Knowing I have manipulated each element of a piece creates a strong connection between myself as the artist and the viewer," she says. "It is important for me to bring into reality the ideas I hold in my head and to be in control of that process—with all the ups and downs and twists and turns that happen along the way as I create each unique piece."

Meanwhile, hand blown blown glass grapes created by Tsunami Glassworks/Soffi Studio were inspired by the White's preferred vineyards and wineries throughout California, France and Italy. The delicate glass married with the hard slate is a beautiful combination of materials to create a sophisticated series. The varying hues of color add a modern touch as well as stunningly catch the light inside the niches. Each piece represents the following wine; Cabernet Sauvignon, Chardonnay, Pinot Gris & Sauvignon Blanc.
Finally, the Stave Room is an ideal space for intimate tasting experiences, small meetings or group dinners. With its secret door connection to the Spirit Vault, guests will also get access to one of the most exclusive spaces at The Farm. Hand-carved skulls made out of reclaimed and sustainable sources feature intricate carvings that are almost surprisingly feminine, while Scott Brems' oil and mixed media painting "Totem" breathes new life into a familiar shape with bold brushstrokes, colorful shapes and refined surface quality. Enriched by a lifelong relationship with the American West, Brems' naturalistic reimagining's reach beyond the visual experience to evoke the visceral.