Since our founding in 1995, Kevin Barry Art Advisory has been obsessed with story. With each of our clients, we're known for going the extra mile to truly understand their vision. What's the feeling you want to evoke? Is there any unique history tied to your neighborhood or space? What is the interior design palette and language? Are there any local artists that could be perfect for this space?
Recently, we followed our proven process with a new restaurant in the DC-area, JIWA Singapura.
We Listen Closely
Our dedicated team always starts by immersing ourselves in each project. We started with a comprehensive brand consultation and site evaluation to review approved interior design work.
We noticed the beautiful purples and jewel tones that would be utilized in the space. Additionally, we learned about chef Pepe Moncayo's connection with Singapore. It's where he met his wife, had his children, and deepened his love for cooking and the art of hospitality. He calls it "home, forever."
We Dream Big
We knew we had to work with a Singaporean artist to develop this installation. When we found Alpana Vij, we knew it was a perfect fit. We worked to ideate a range of concepts, and landed on a gorgeous and statement-making piece. The inspiration came from Singapore's national flower, the orchid, to elegantly intertwine with JIWA's heritage-focused dining experience.
We Make it Happen
Once we had our concept approved, we seamlessly transitioned into production. Our team handles the process with efficiency and effectiveness, ensuring that the vision comes to life. We carefully installed this delicate piece that shines above the best seats in the house.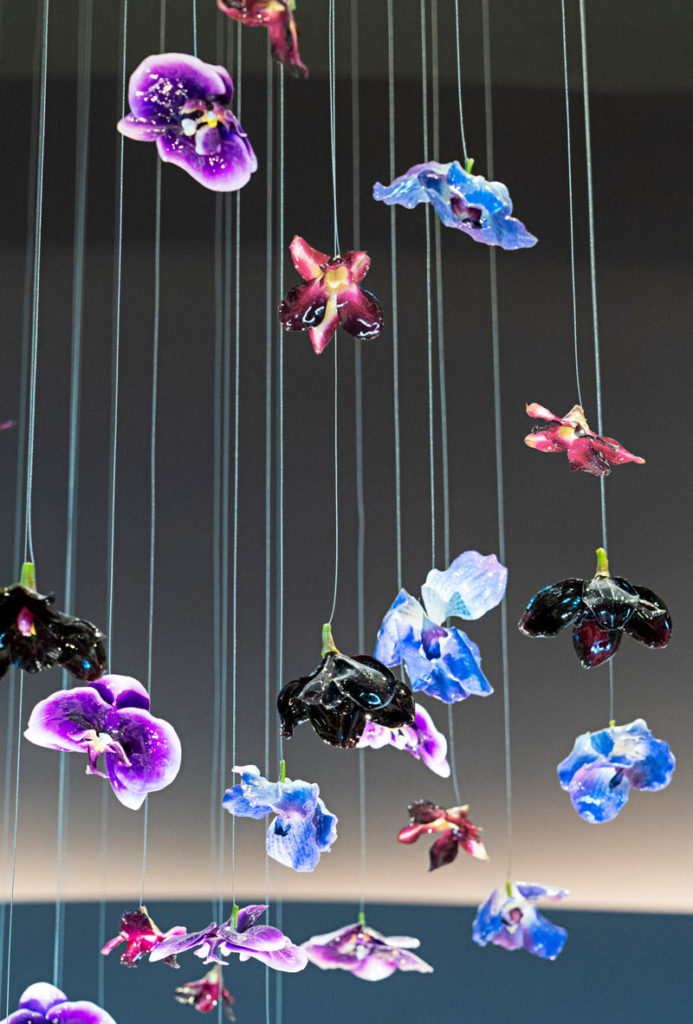 At KBAA, we pride ourselves on our commitment to unveiling your vision through a collaborative and meticulous process. By living at the intersection of art and story, we create spaces with authenticity—leaving a lasting impression on all who encounter them. Visit JIWA Singapura to see the piece in all its glory.