Hearing from a client that they are interested in adding a mural to their art collection is music to our ears. We love the creative possibilities of working with such a large canvas, and we are fortunate to know many talented muralists. Because murals are such an accessible form of art, it can often come as a surprise to those less familiar with the process how involved it can be.
In this blog post, we'd like to share with you some important guidelines to help you as you embark on a new mural project. No matter the budget, location, or design directive, you'll find the tips in the blog apply in every situation.
3 Benefits of Murals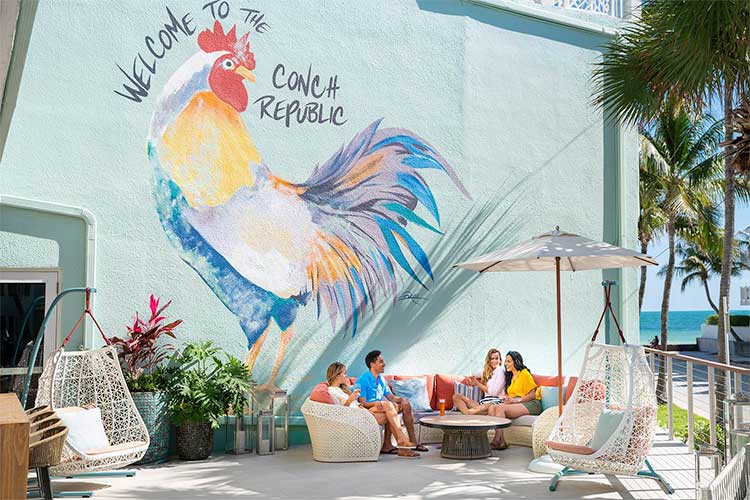 Dave Lavernia mural for The Reach Key West – Curio Collection by Hilton, photo courtesy of the property
Are you thinking of adding a mural into your art package for an interior design project? There are a lot of benefits to commissioning a hand-painted mural. Consider the following three reasons why a mural might be just what your next project needs.
Eye-catching
Murals are best used when they are meant to be the focal point of a room. They tend to be dynamic, colorful, and emotive — plus it's hard to miss an artwork that takes up a whole wall. If you have an area that needs something that will take up a lot of visual space, a mural is a perfect solution.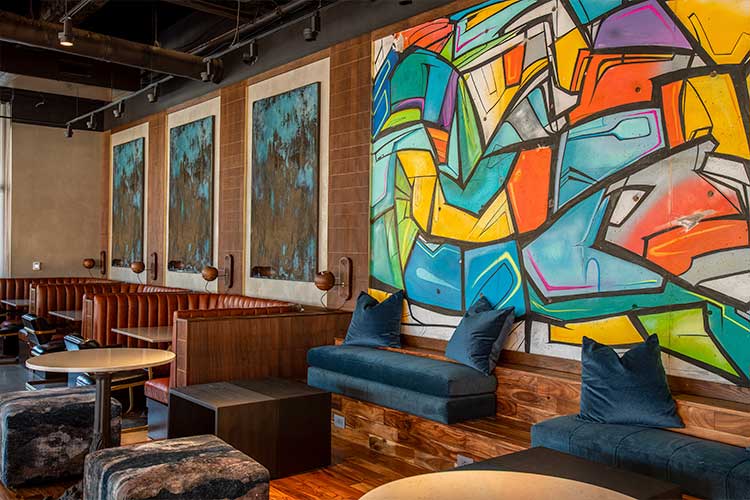 Dave Lavernia mural for Canopy by Hilton Memphis Downtown
They work in any location
Unlike with wallcoverings which don't work well on certain shapes and textures, murals are much more flexible. Hand-painting a mural on brick, stucco, an irregularly shaped wall, or a wall with differing heights is much easier than trying to tame vinyl sheets to match your surface.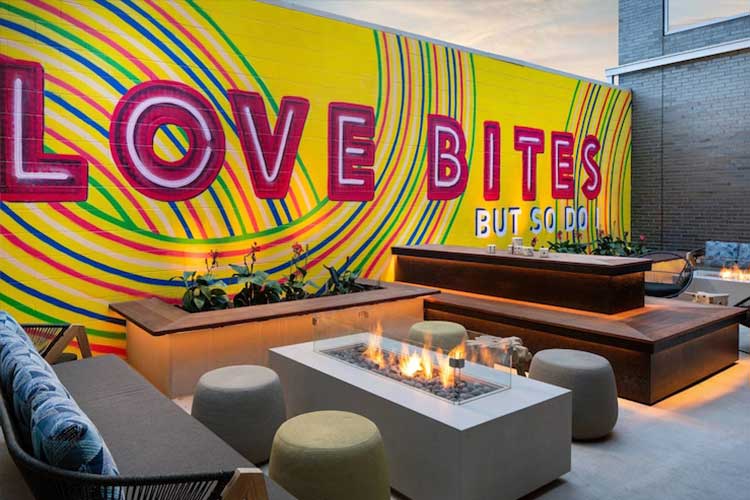 Photo courtesy of MOXY Austin
Art as a marketing tool
Murals are not only beautiful, but they can act as a sort of billboard for your property. Embrace bold colors and add playful imagery or text to your mural's design to turn it into more than just decor. Increase your likelihood of ending up on a local mural "crawl" or becoming your city's newest Instagrammable backdrop by adding inspirational text, a location-specific reference, or an interactive component to your design.
Getting Started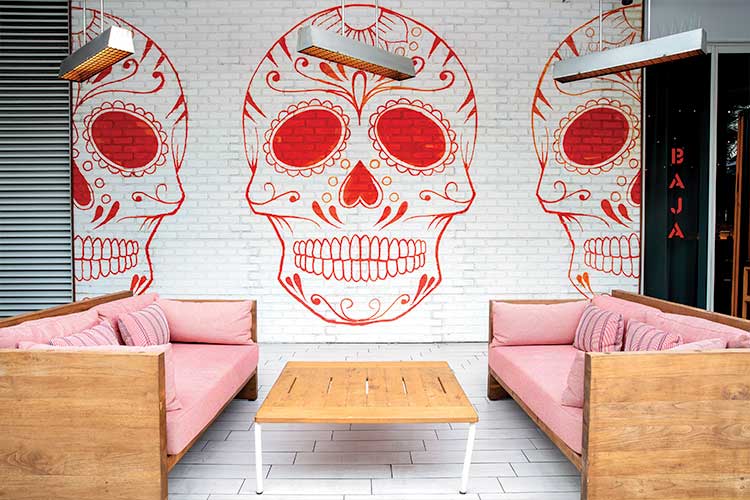 Dave Lavernia mural for El Vez Restaurant, W Hotel Fort Lauderdale
Firm up scope and budget
While they both offer artful solutions for blank walls, there is a big difference in price between a hand-painted mural and using wallcovering. Before you get your heart set on a specific option, make sure to run the numbers. Murals can cost anywhere between $10 to $50/sq foot, with intricate designs or works by well-known artists costing as much as $100/sq foot. Other variables that might affect your pricing include:
Location
Level of wall preparation needed
Wall material (brick, stucco, etc.)
Travel fees
Weather
Painting style and quality of materials used (hand-painted vs spray painted)
Equipment needs (scaffolding, lifts, etc.)
Sealing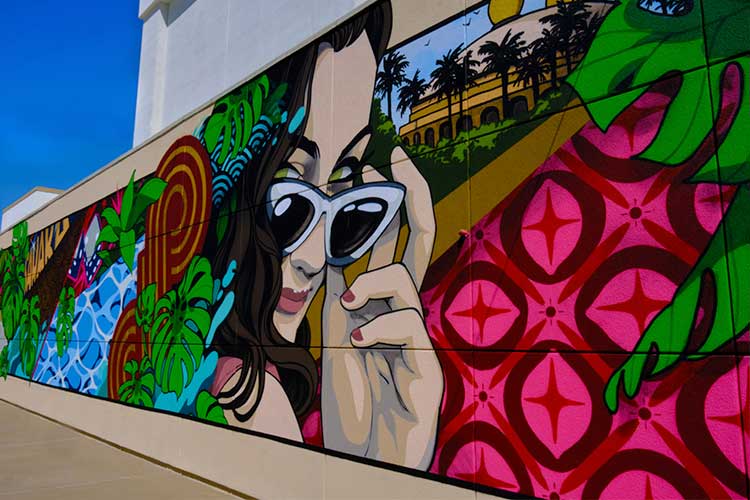 Sahara Retro Pool
Decide on your vision
After you've worked out a preliminary scope and budget for your mural, you'll want to spend some time thinking about your vision for the project. Is the mural going to be highly detailed, minimalist, street art-inspired, hyperrealistic? Finding your inspiration and a general design directive is very important at this stage. What you decide on is going to heavily influence the kinds of artists you will want to approach for the job. That said, try not to fall in love with a specific look. Every artist is going to bring their own interpretation and style to the work, and if you're working with a leaner budget you may need to adjust your design accordingly.
Find the Right Artist for Your Mural
As mentioned above, any artist you decide to work with is going to bring their own flair to the work. If you want to get your final product as close as possible to what you intended, spending time researching artists is key. There are muralists who specialize in every kind of style imaginable. If you're looking for a street art/graffiti-inspired piece, you'll want to work with those who are familiar with that look. If you're interested in something muted and minimalist, you should find an artist that is skilled at that style.
Another consideration when choosing an artist is their location. Picking a local artist will help defray some of the travel expenses you might face with a farther flung artist.
Some Additional Tips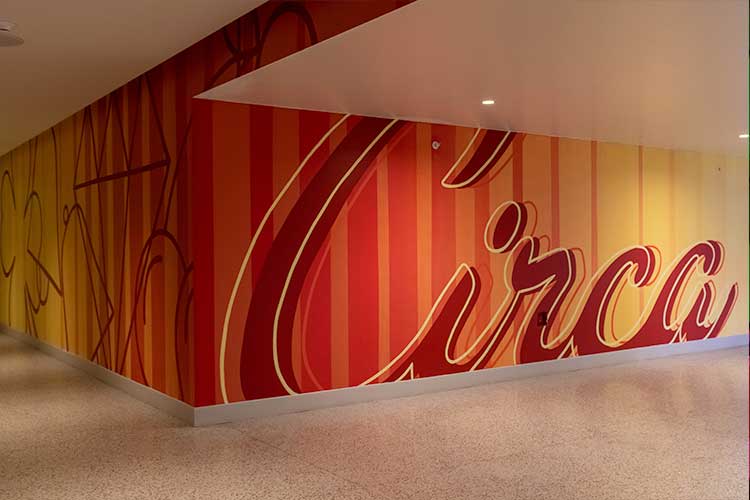 Eric Vozzola mural for Circa Casino & Resort
Reflect and Engagement the Community
Choosing a local artist is a great way to support the community and emphasize your commitment to curating artwork that reflects the local culture. A local artist will also have valuable insight into what kinds of visual references, colors, aesthetic, etc. will particularly resonate with the community.
For certain kinds of projects, you may even consider engaging local community members in the creation of the piece. Specific muralists are very comfortable and familiar with these kinds of participatory art experiences, so if you're interested in something like that you should seek them out.
Consider upkeep
In many ways, murals are a living, breathing thing. Murals require regular cleanings and new top coat applications to make sure that they maintain their look over time. If you place a mural on a busy street, keep in mind that it may require even more maintenance than a mural on private property or inside of a building. Discuss with the client the need to keep a budget for regular upkeep, and be realistic with them about what they can expect to encounter based on the mural's location.
Determine copyright
A common misconception is that murals are in the public domain because they are often on public property. It is also a mistake to think that the property owns the rights to the mural artwork in perpetuity, etc. Unless it is specifically addressed in an artist's contract, the artist maintains the copyright for the artwork. If the property holds the copyright, they are still generally limited in terms of how they can use the imagery. Making sure that the designer, client, and artist are all clear on copyright matters is highly encouraged.
---
We hope you found this primer on murals helpful. If you are looking more more inspiration, explore some of our favorite projects that showcase hand-painted murals in a variety of different styles.