Q: This month we are splashing into all things summer. What are some of your favorite summer traditions?
John Barry: Cannonballs with my kiddos for sure!! It's so hot in Las Vegas during the summer so we take full advantage of our swimming pool! We also love to do movie night outside with friends and family where I set up a big projector and we layout blankets and make popcorn… All are welcome!
Q: With Las Vegas as your home base, what do you do to beat the heat?
John Barry: It is always fun to head up to Mt. Charleston where it is about 25 to 30 degrees cooler and only takes about 45 min to get to. Also Lake Mead is a great getaway that's local and tons of fun. If you have to be outside I have one of those "cool towels" where you add water and it keeps you sane!
Q: If heading out of town, what is your favorite summer vacation spot?
John Barry: Del Mar, CA! They have amazing beaches, great food options, the horse races where "the surf meets the turf" and it's only 4 hours away… I leave Saturday!!
Q: What is your best summertime memory from childhood?
John Barry: Growing up in Agoura Hills my friends and I used to take the beach bus down to Zuma and spend the whole day there having a blast! Trying to be cooler than we were when all the pretty girls were out was something we failed at miserably! I also loved playing summer league basketball. We'd have games all summer long and I would always be working on my skills and having fun with my teammates… easy living!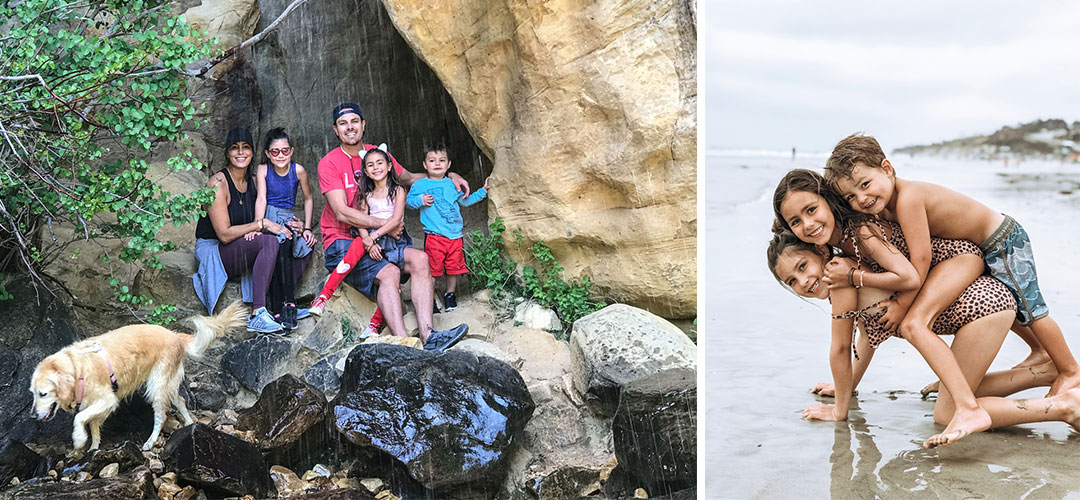 Q: You have 3 little ones — what is your favorite summertime activity with the kids?
John Barry: I could probably be a certified sand castle architect when we all get to digging at the beach! The kiddos love playing in sand and exploring the ocean… I love seeing it through their eyes and it doesn't hurt that they are absolutely wiped out when it comes time for bed!
Q: Ice cream cones or popsicles?
John Barry: I'll take what I can get to beat the heat! Usually whatever my kids are having, I am on board with that! There is nothing like the sound of the ice cream man driving through your neighborhood and your frantic search for $0.75 in the sofa cushions!
Q: Who are your favorite artists? What artists/works would you have in your dream collection?
John Barry: Wow… that is a hard question to answer as tastes change, but currently I really love Sage Vaughn. His work is super cool, has some stunning detail to it, evokes good vibes, the scale of his work is dynamic and he has some great coloration to his pieces.. He also does some amazing collaborations with other talented artists. I am also a really big fan of James Verbicky. Really high end sophisticated yet approachable work that plays off of unique assembly and compositions. His work is customizable and always has stunning elements throughout. I'll take 2 of each, please.
Q: If you were hosting a dinner party for 6 people – who would you invite?
John Barry: There are two schools of thought on this… The typical "famous people route" and in no particular order would be Oprah, Beto O'Rourke, Elon Musk, The Dalai Lama, my mom and Banksy. On the flip side I'd have a blast with my wife, good friends Blake, Chad, Heather, Chris and my sister in law Jadan. Either way, we are getting weird and drinking GREAT wine! Cheers!