You may have noticed the vintage American flags at The Farm at Brush Creek and wondered, "Where did they find those?" Sourcing unique objects is one of the many niche services KBAA provides that prove just how valuable art consultancy can be on a project. Sourcing objects falls outside of anything that can be purchased at a gallery, or really any original artwork created by an artist at all. It's defined as an object that's taken and then fabricated into an installation and generally falls into three categories:
A fabricated object, generally out of resin, that's created to look like another object.
A vintage item
An everyday object that can be ordered in bulk from wholesale suppliers, craft stores, or even Amazon.
Why fabricate an object out of resin, rather than find an original version of the item? Typically, objects out of resin are not only going to be far more durable, but you also have more control over producing them in a mass quantity. Let's say you want to put a sand dollar in a shadow box as guestroom art; items from nature tend to be quite fragile and degrade over time, and collecting hundreds of sand dollars is a time-intensive undertaking. Instead, we'll often send one of the real items to our vendor partners and they're able to take a mold of that object and replicate it—down to the colors—in mass quantities within a reasonable budget.
Writing down these little ideas is one of the many first steps KBAA art advisors take while making their way through a design brief, and as you'll see below, those simple ideas can become eye-catching art moments.
Found Documents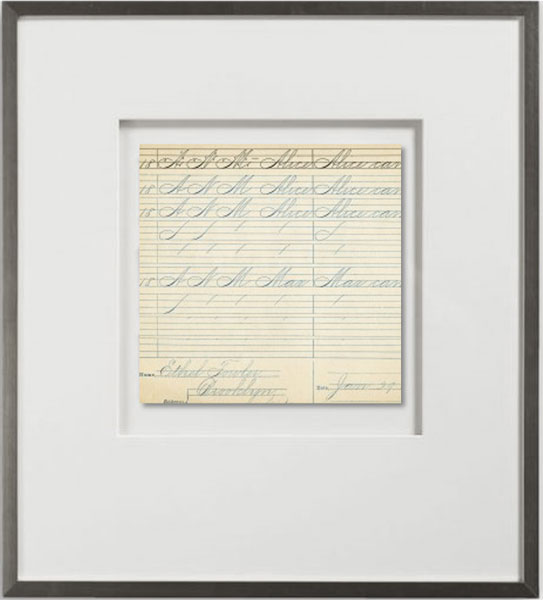 From handwritten recipe cards and walking directions to love letters and song lyrics, found documents are a thoughtful way to continue to inject your narrative throughout the property. Recipe cards, in particular, can even be replicated on the old school lined index cards with stains and worn edges to make it look as though it's been passed down from generations.
Vintage Flasks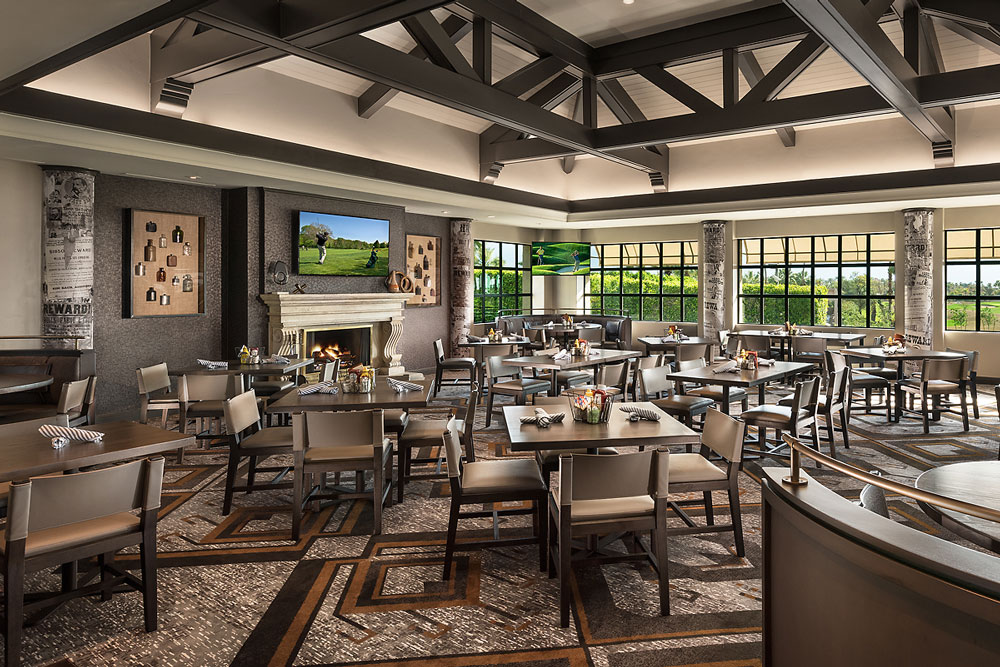 At Tavern at the Phoenician in Phoenix, two 32"x38" shadow boxes of vintage flasks flank the fireplace in the main dining room. Playing into the Western theme, the KBAA team found nearly 30 vintage liquor and metal flasks and securely mounted them with concealed hardware in a shadow box with a burlap backer to add texture. The key with vintage items is that because they're one of a kind, all parties must agree on a look and feel. Not every flask, for example, could be leather wrapped or have rattan canework, but the overall mix will achieve the desired result. That allows the team to source the vintage items from a variety of places, as well as more accurately average the costs of the item. 
A Twist on an Everyday Object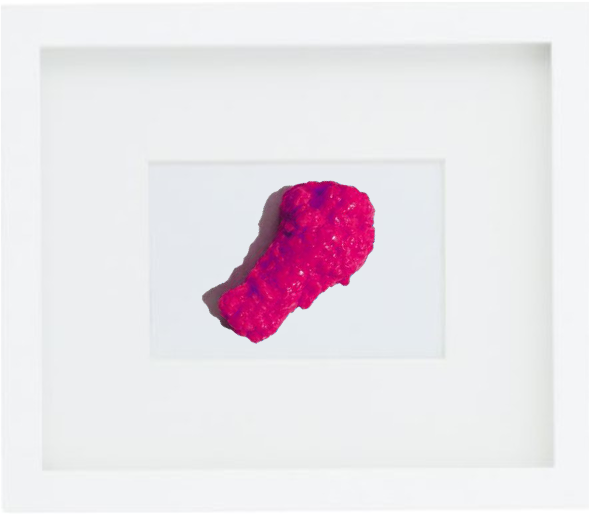 In potentially one of the funkiest shadow box moments the team has undertaken, at a wildly colorful Nashville hotel, the goal was to include art that would make guests— often bachelorette party goers—laugh and wonder. In a nod to Nashville's reputation as the founder of hot chicken, the team proposed a molded chicken leg in neon colors. Not only is it memorable, it's also easy to reproduce: once the resin mold is made, changing the colors, creating an installation of hundreds, or featuring just one in a shadow box, is simple. The concept is completely scalable, which is one of the benefits of molding an object in resin.
Harmonicas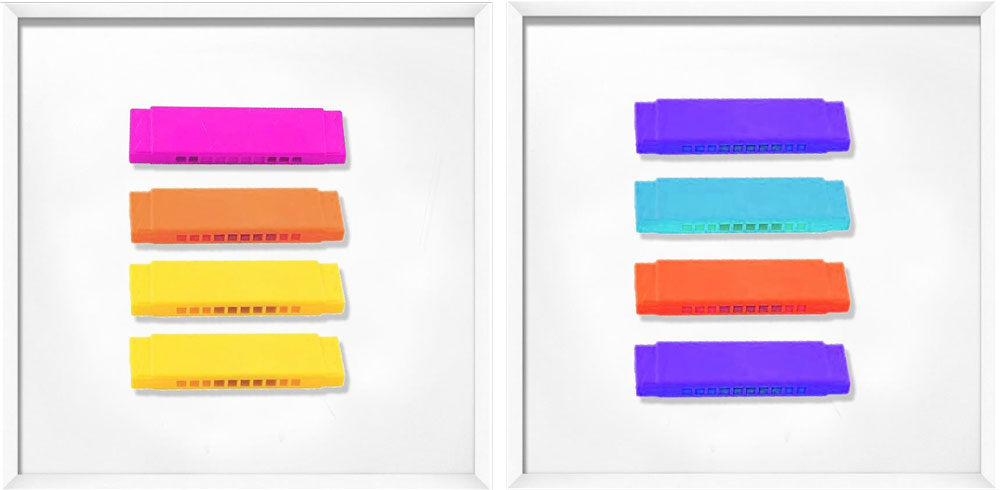 Just because it's an everyday object doesn't mean it can't result in a special art moment. For a hotel in Nashville, the KBAA team bulk ordered plastic harmonicas in bright colors (typically reserved for school use) and mounted them together in a shadow box. 
Grapevine Burls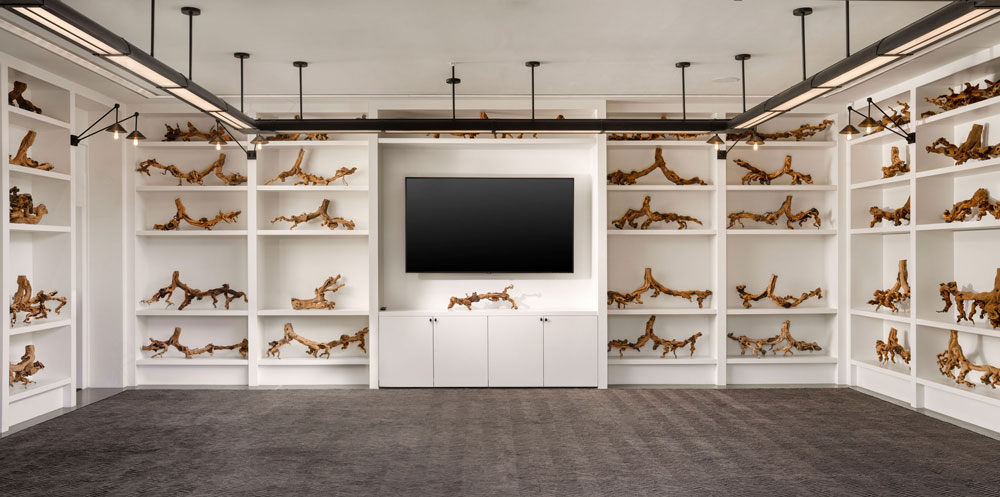 At the Four Seasons Napa Valley, the narrative was about agriculture and viticulture in the area and how the vineyard workers work and cultivate the land. With that in mind, in order to fill large niches in some of the meeting spaces, the KBAA team came up with the ideas of using sandblasted grapevine burls in various sizes, from two feet to four feet. The source? A floral and terrarium supply store, which used the burls to decorate with air plants and succulents. The result was a textured, eye-catching moment with durable, easy-to-replace objects.