Our featured artist this month might be a familiar face to eagle-eyed readers; Nick Petronzio is a frequent KBAA collaborator—and for good reason. Both an artist and a fabricator, Nick is known for his versatility in style and technique, successfully executing often ambitious projects.
At The Godfrey Hotel, Nick (now with Artscape Sculpture Studio, then with Ironwood) created many of the functional art pieces that help make the property an eye-catching, conversation starter. A longtime Los Angeles resident, Nick tapped into his extensive knowledge of the area to create sculptures that further The Godfrey's theme of Old Hollywood glamour meets youthful sophistication.
With such a large project scope—figuratively and literally, as some of the sculptures are over six feet tall—the KBAA team looked to an artist who could truly act as a partner, sending ideas, sketches and direction on each piece. Nick was instrumental in getting to know the design direction, the property, even the history of the location. In our new Q&A, read more about Nick's thoughtful process and how he leaned on his knowledge as a longtime L.A. resident for the project.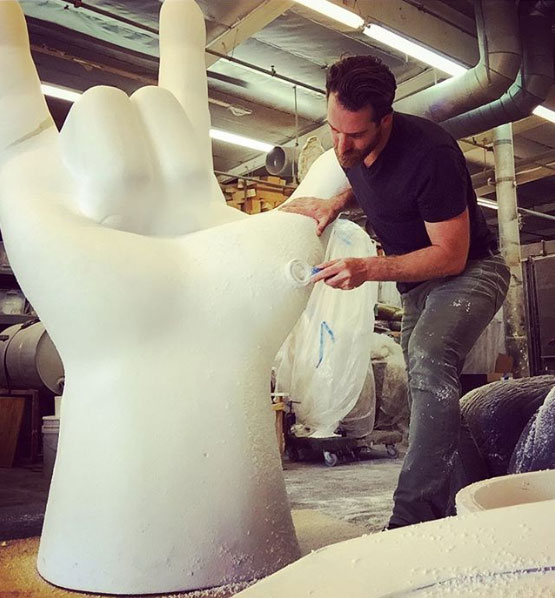 Could you tell us a bit more about your background and why you were interested in working with The Godfrey Hollywood?
I began my career in fine art working under the tutelage of my father Robert Petronzio, a sculptor, art teacher and the founder of The Institute Des Beaux Arts in Montreal, Canada. My entire family is artistic—my mother, Dora, is a potter and ceramicist and my sister, Nina, is an interior designer and owner of Plush Home in Los Angeles.
As an artist/fabrication specialist, I have collaborated with well-known established artists, designers, themed entertainment companies, brands, galleries and museums to produce significant sculptural works.My portfolio includes work that ranges from the reproduction of a Pietro Cipriani bronze sculpture for the J. Paul Getty Museum to several Disney characters including: Mickey Mouse, Rex and Pluto for Disney's theme parks world-wide. I also realized and enlarged several sculptures for celebrated artists: Yayoi Kusama's 'Hymn of Life Tulips', Niki de St Phalle's 'Ganesh', Yoram Wolberger's 'Toy Soldier' and 'Cowboy', Karon Davis's "No Good Deeds", Judy Chicago's "Sunset Squares" and several monumental sculpture enlargements for actor Jim Carrey.
I was interested in working with the Godfrey Hotel because they were enthusiastic about my work and my ability to tailor custom artworks that best suited their Hollywood location. I also feel that the Godfrey Hotel team and I share a mutual passion for works that are based on a theme contrasting old and new era Hollywood.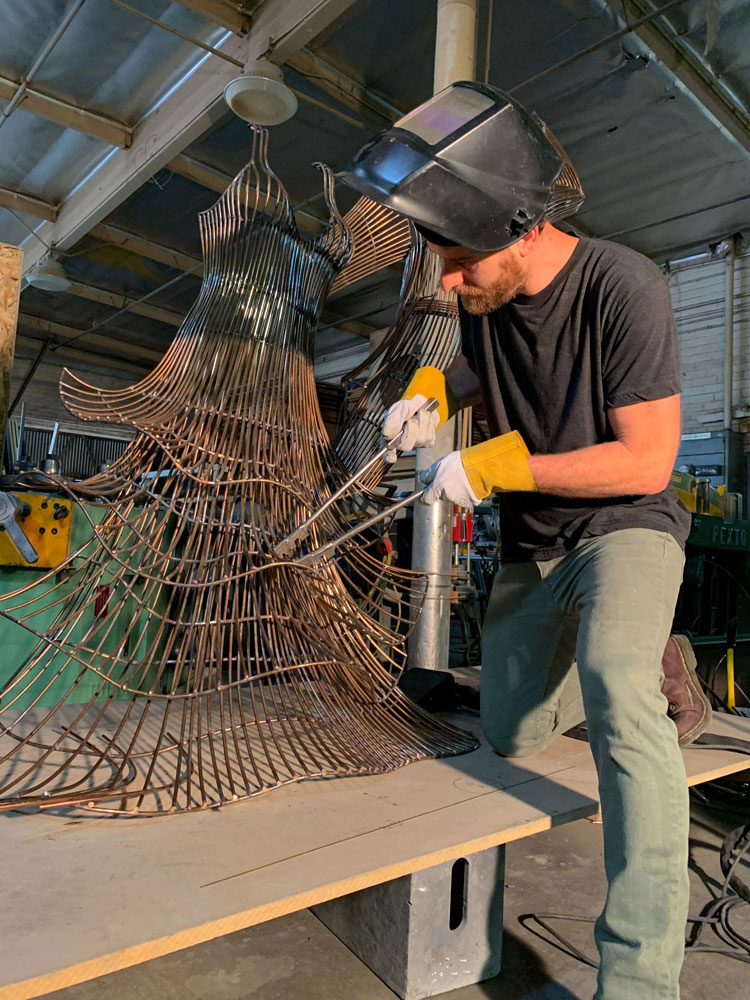 What was your creative approach for your designs for The Godfrey Hollywood?
The creative approach was a collaborative design effort with The Godfrey Hollywood team and the team at Kevin Barry Art Advisory. First, KBAA showed me design specs for the new hotel build and described the design directive. Then we then discussed the old-Hollywood-meets-new-Hollywood theme, and we brainstormed some themes and concepts together. Next, I developed a series of concept sketches for each work, and then from there it was up to the Godfrey folks to decide which concepts they liked best for each work of art.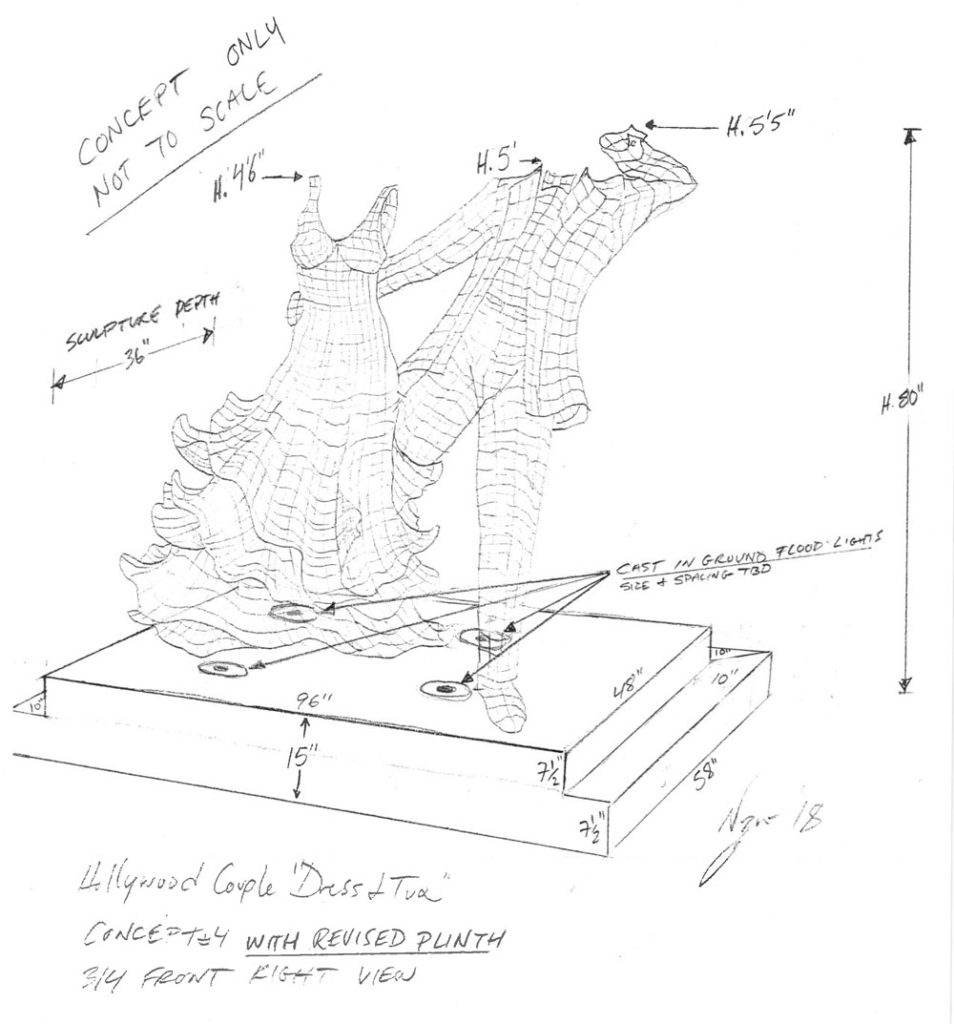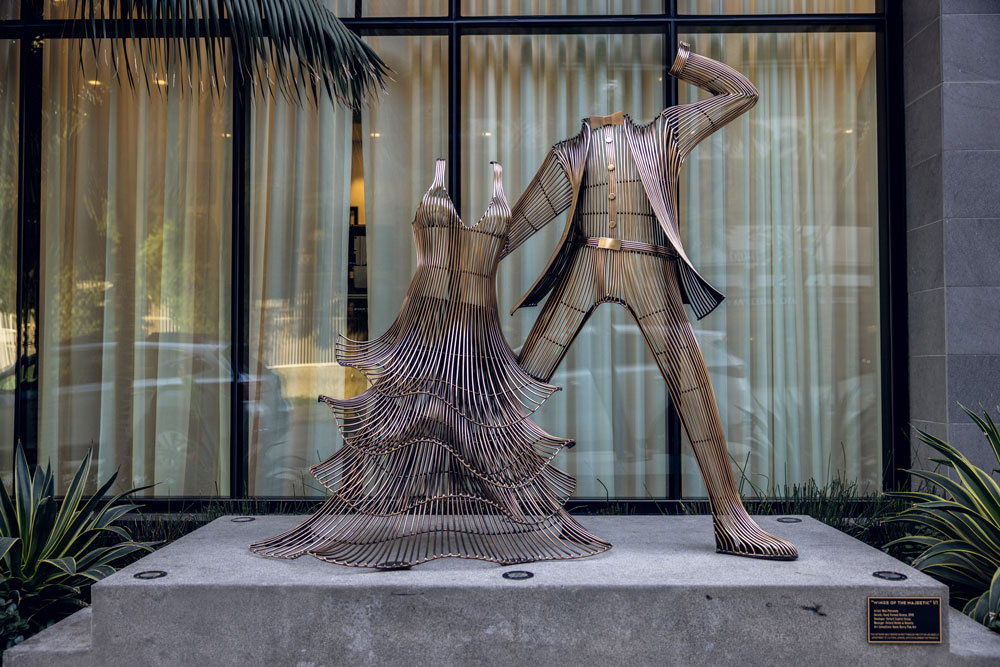 Could you tell us the inspiration behind your pieces "I Love You Hand", "Angel Wings", and "Wings of the Majestic"?
'Wings of the Majestic' is a contemporary figurative sculpture inspired by the glamorous golden age of Hollywood. The one-of-a-kind site specific sculpture located at the east entrance to the new The Godfrey Hotel in Hollywood, CA, was designed and fabricated as an homage to old Hollywood and the talented dancers and actors that fueled the bustling entertainment industry of the 1920s and '30s. The nostalgic Art Deco-inspired sculpture was conceptualized from an iconic photograph of Hollywood celebrities Fred Astaire and Ginger Rogers
The work is titled "Wings of the Majestic"because Ginger Rogers was inspired to become a dancer as child when she'd watch and reenact dance routines in the wings of the Majestic theater while watching her mother choreographing dance routines.
'Signs Of Times' is a nearly seven feet tall "I love you" hand symbol sculpture used in sign language and emojis. The artwork employs the ease and simplicity of using symbolism while also inviting viewers to contemplate societal changes in communication due to the rapid and evolving language of emojis. Unsure of the effects on mankind and the human condition, the artist ponders the outcome of texting rather than calling and using emojis to communicate emotions.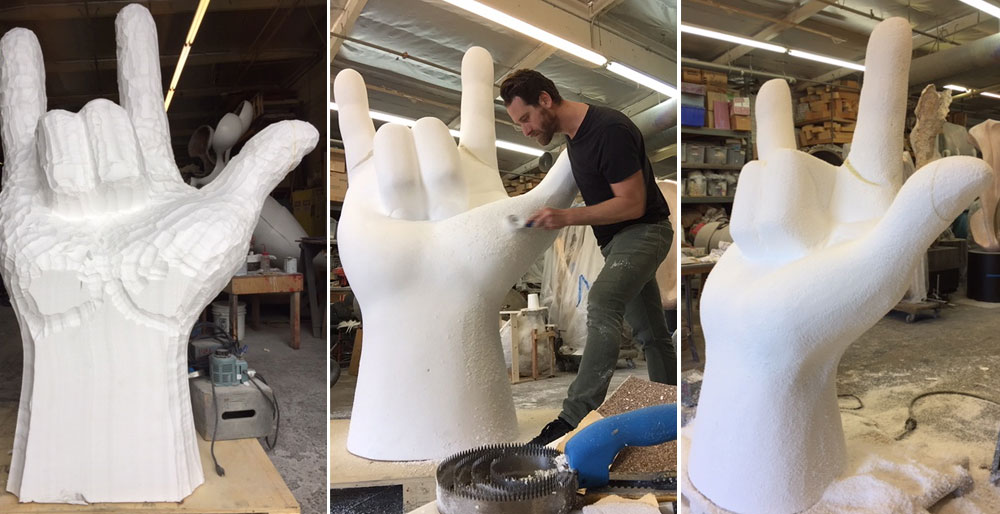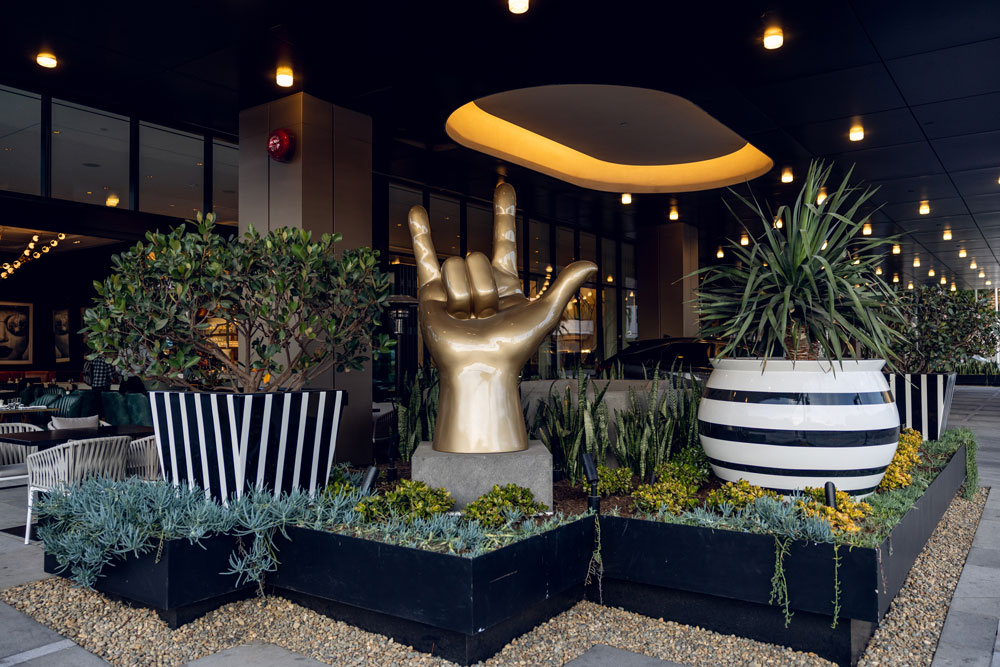 "Angel Wings" was a concept proposed by the KBAA and Godfrey teams as they were exploring fun options for interactive artwork in the elevator lobby. The piece was created as a fun decorative "selfie opportunity" for hotel guests to enjoy while waiting for the elevator.