Connecticut-based artist Tracie Cheng has been a long-time artist partner of ours, and we are delighted to debut our latest collaboration: the new Resorts World Las Vegas. Together we placed giclées of Tracie Cheng's work in each of the 1,496 rooms and suites of Resorts World's Conrad Las Vegas. In addition to showcasing her work in guest rooms, Resorts World's public spaces also include wallcovering reproductions of Cheng's artwork. In this way, her artwork weaves a visual narrative for guests throughout this vast property.
We recently caught up with Tracie Cheng to talk about her experience working on Resorts World Las Vegas. Read our latest Q&A with the artist where she discusses taking on a project of this scale, the intent behind her signature style, and what inspires her.
Q: We have had the pleasure of working with you many times over the years, but this is by far our most substantial collaboration yet. What is it like seeing your work on such a large scale?
This project was quite the feat, especially for KBAA! I'm so grateful for another opportunity to collaborate with your team, and additionally impressed by how seamless you made the process for me. It is always so fun and such an honor to see my work displayed. The grandness of the project makes it that much more exciting. The quantity of work produced and installed in resorts is astounding to me, and yet retains such intimacy in each of the guest rooms. The times I've stayed at a hotel, even before my art career, I often found myself wondering about the art hanging on the walls—"How was it acquired? Who was the artist? Do I like it?" It's surreal thinking of all those who will engage with my work.
It is such a treat to be a part of people's lives in this way. The artwork in the lobby is exactly what I would want for a hectic hub in a large resort like this; it gives unique life to the space without commanding all your attention, offering a bit of a visual reprieve before the lights and activity of the next space.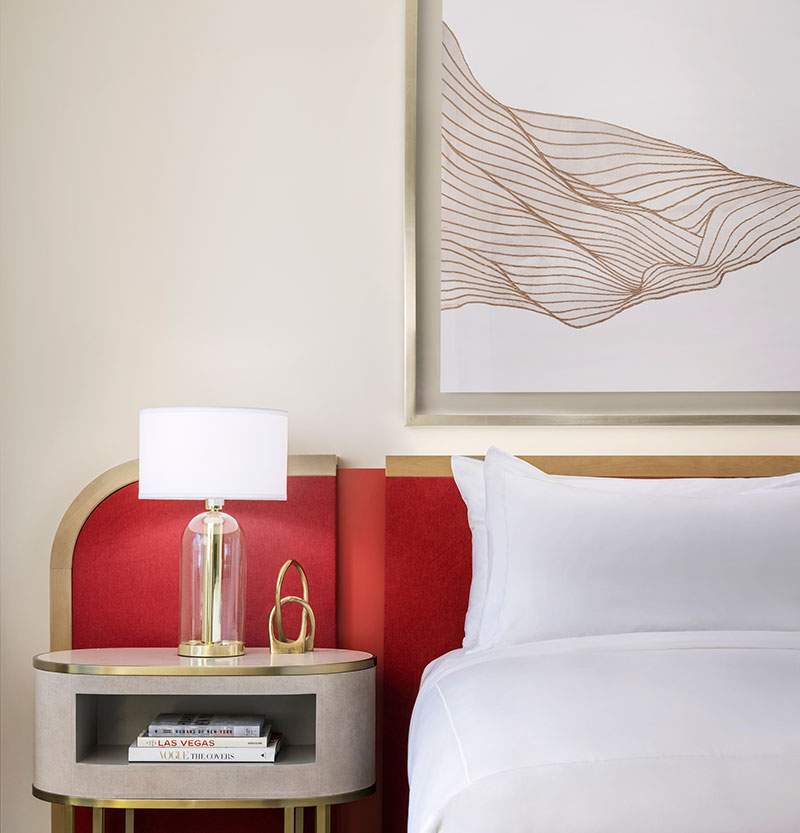 Q: The design directive for the Resorts World's Conrad rooms and suites guest was mid-century modern with an updated twist. Like in other parts of the property, there is a Chinese influence to the art and decor. What is it about your signature style and the pieces selected for this project you think made it such a perfect pairing with the property's aesthetic?
When I first started drawing my lines, it had a pure quality to it. The black lines on stark white paper allowed you to really focus on the movement of the composition. As my work has evolved and shifted, I have tended towards more of a mix of structure and play; a tension I work towards in my own life. I love that the pieces chosen had more of the aesthetic of my earlier pieces: refined but simple, not about making a visual "statement", but one that prioritizes partnering well and supporting the elegance and calm of these spaces of retreat. It really highlights the value of hospitality, relationship, and peace that is revered in Chinese culture.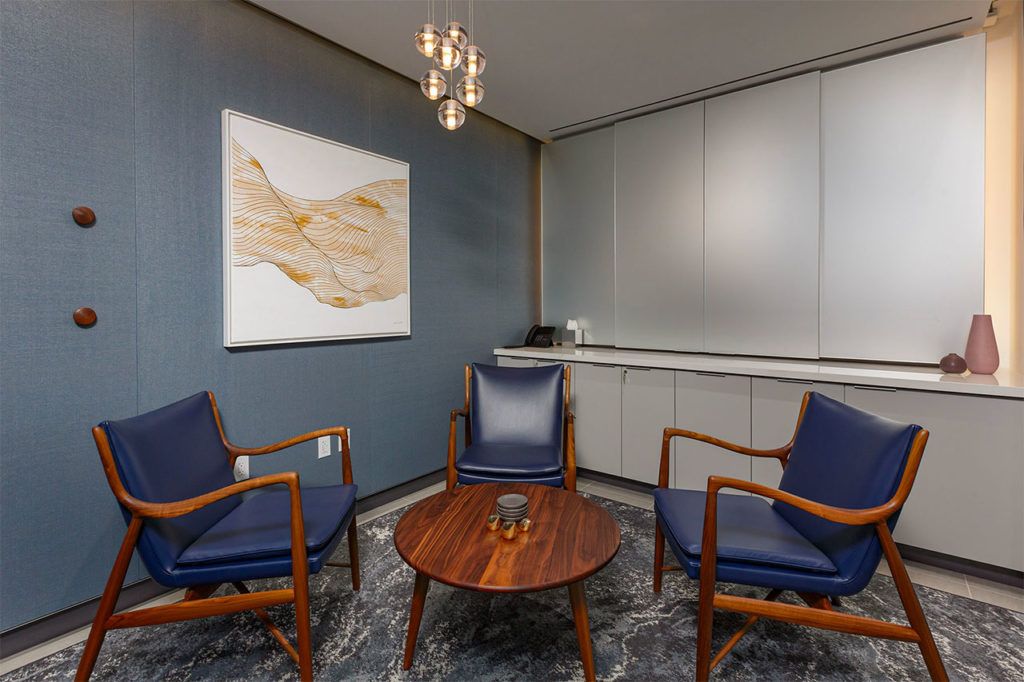 Mount Sinai Health Center at Hudson Yards
Q: We've worked together on another property set in the middle of a bustling urban environment, Mount Sinai at Hudson Yards. For patients coming in from the sights and sounds of Midtown Manhattan, your work inspires calm and tranquility. How do you see your artwork contributing to the healthcare mission of that space?
I love that my art is in a healthcare facility. When I first started painting—and even more so now—I wanted to paint the kind of art that would bring a kind of calm grounding to the viewer, while transforming spaces and experiences. Even when I had no idea who my clients would be or how I would sell my art, I had every hope that my art would be able to transform everyday spaces and help to lift the spirits of the people in them; calming nerves in a lawyer's office, inspiring and exciting a workplace, bringing peace to an uninviting waiting room. In my own experience, the bare and sterile walls of many doctors' offices make even a routine check-up unnerving!
Mount Sinai at Hudson Yards is not your typical healthcare space, with its interiors so beautifully designed, and I am delighted my work can support a space that believes aesthetics to be important to health and healing; both for the patients and the staff who use the facilities day in and day out.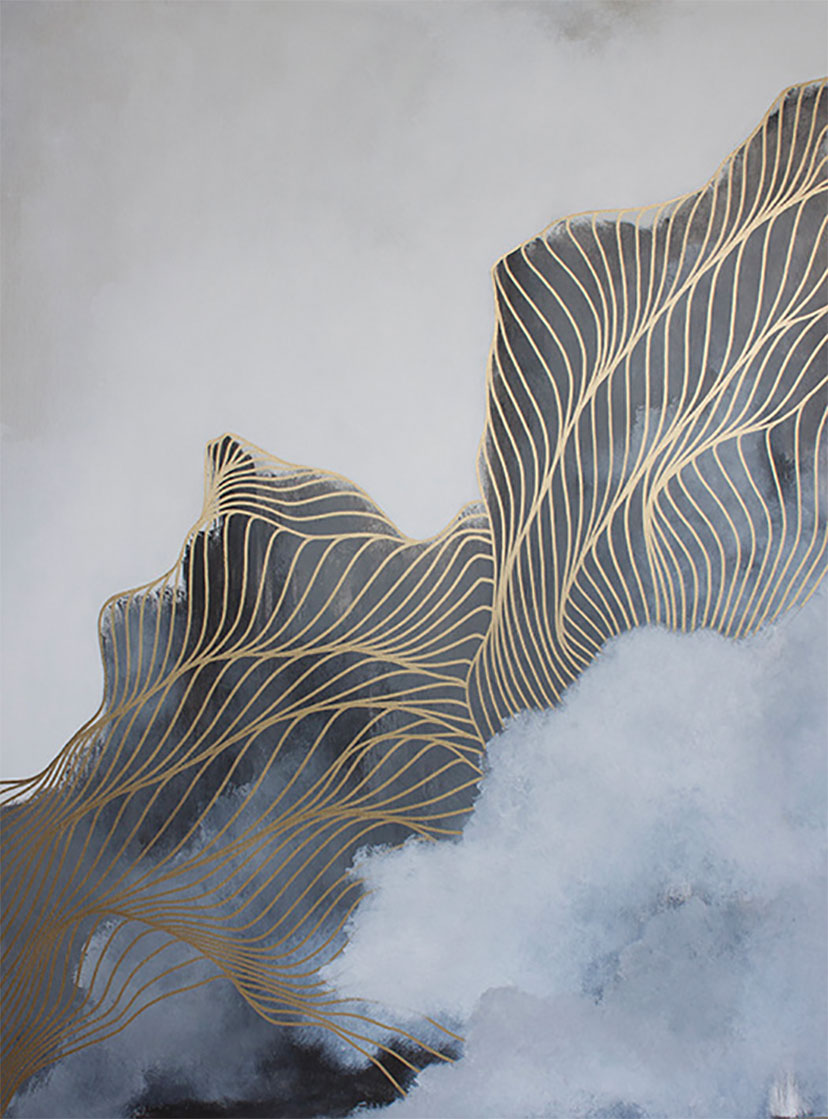 Q: Your artwork has a very signature palette, generally including blues, grays and gold accents. What is a color that you don't typically use in your art but love in the work of others? Is there a specific artist you admire who works in that color palette?
I currently adore muted, earthy colors—dusty rose, burnt sienna, the whole gambit of warm, desert tones—they immediately calm me. I've been learning to embrace the challenges that come with working with subtle difference in tones and color, and you'll see some of this in a collection of new originals I'm preparing for 10/28. Agnes Martin, her delicate texture, repetitive markings, and the colors she chose to use, highlight the beauty in simplicity and remind me to not rely solely on high contrast or exciting compositions, but to press into a "less is more" visual language.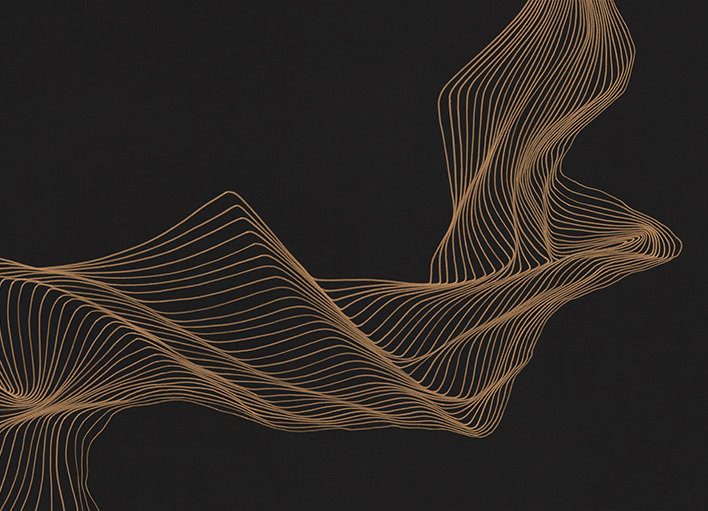 Q: It has been the longest 1 ½ years ever, has it not? As a working artist, a mom, and a partner, there have undoubtedly been challenges to maintaining your creativity— and sanity! What are some ways you have been able to find inspiration recently?
I've always been inspired by nature and by people's stories, and ever since the world shut down, my awareness and appreciation for both has grown tremendously. What used to just seep into my subconscious and turn into inspiration is now more of an intentional gathering of things I cherish and stories I want to tell. Every conversation with a friend, stranger, or loved one leaves me craving ways to hold onto the poignancy: the laughs that are shared, the wisdoms that are passed along, the grieving that transforms. Every walk has given me miracles to hold onto: the intricate patterns on a leaf, the rise and fall of the seasons, the mystery of the fog and the lightness of the rain. I've been approaching the canvas with more emotion and vision; that as I paint, stories will unfold and more beauty revealed.
Q: The season has changed and we are now officially in fall. Just for fun: what is your favorite fall treat?
Apple picking, apple cider donuts, kettle corn, and that crisp fall air that makes you want to take deep belly breaths forever.