Upon entering the lobby of The Godfrey Hollywood, guests are welcomed by an oversized print of a glamorous Hollywood ingenue peering into a geometric crystal, with additional crystal cascading down the wall. Printed on metal with sculptural stones cut out to add dimension and texture, the piece is one of many examples of work created by KBAA's in-house graphics team, one of KBAA's unique offerings.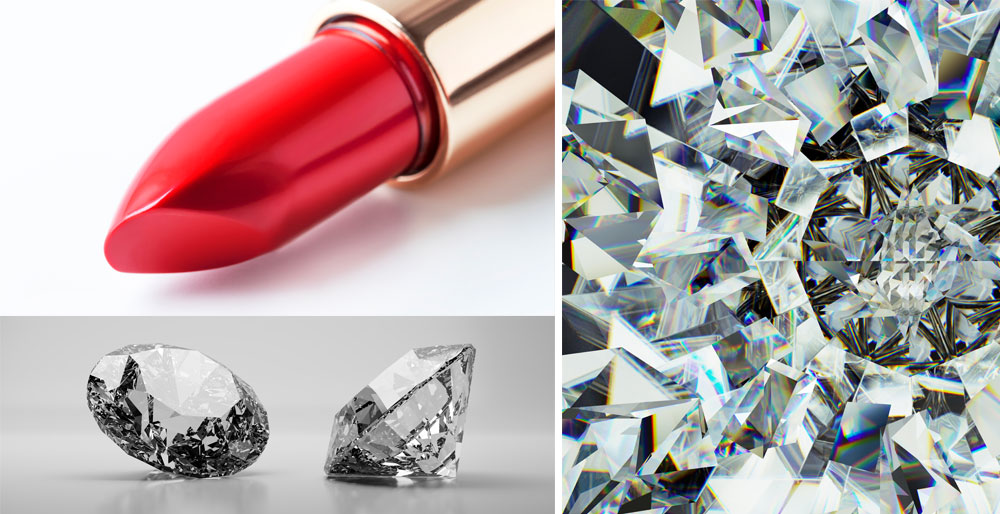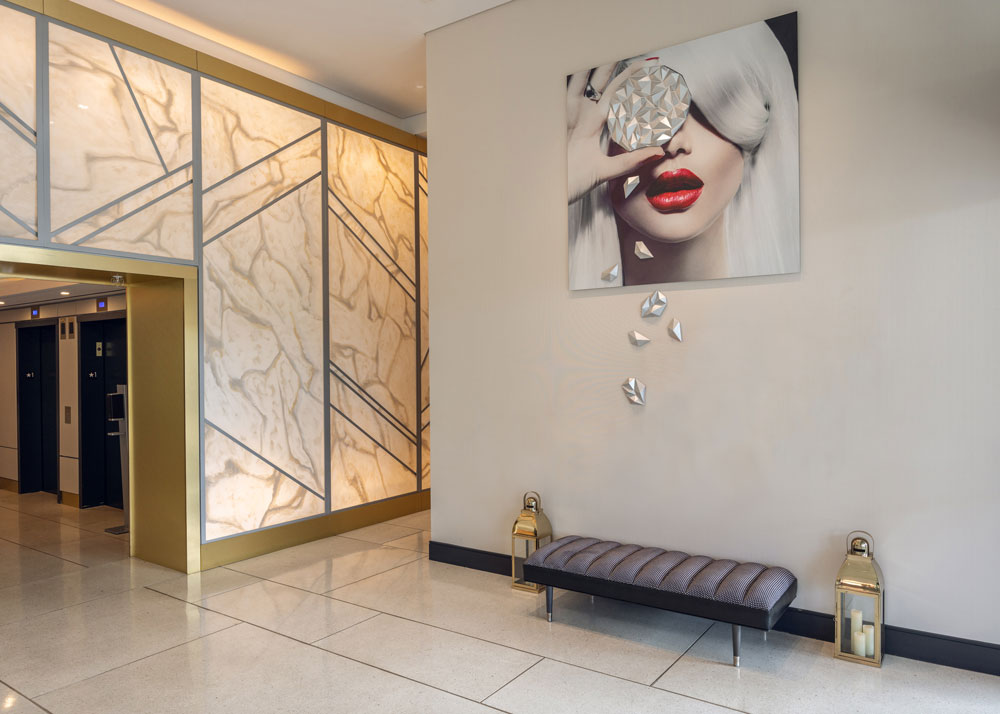 Be it a custom design or specific request, it's often KBAA's in-house team of graphic designers and artists who not only act as art curators and advisors, but creators, as well. From artist mock-ups and artist direction to hand sketches for client approval and even creating the art, the graphics team has a wealth of resources at its disposal to bring to life nearly any vision.
There are many reasons why the graphics team might be called into a project, including the ease of completing a piece in-house and the ability to communicate directly with our partners. The graphics team is trained for working on large-scale hospitality projects and speaks the language of those types of projects day in and day out. After the creative team sets the stage and the client presents the vision, it's the graphics team that comes in and adds an extra layer to elevate the work. In the case of "Through the Glass," that's the sculptural element of the crystal, which adds dimension and visual interest to the piece.
In the food and beverage space, cheekily named About Last Knife, the story of Hollywood fame and fortune continues with a large print also created by the KBAA graphics team of a sunglasses-bedecked woman, paparazzi flashes reflecting in her lenses. The print is surrounded by six custom metal-framed mirrors, finished in black semi gloss and gold leaf semi gloss with polished edges, all of which reflect the print around the stylish space.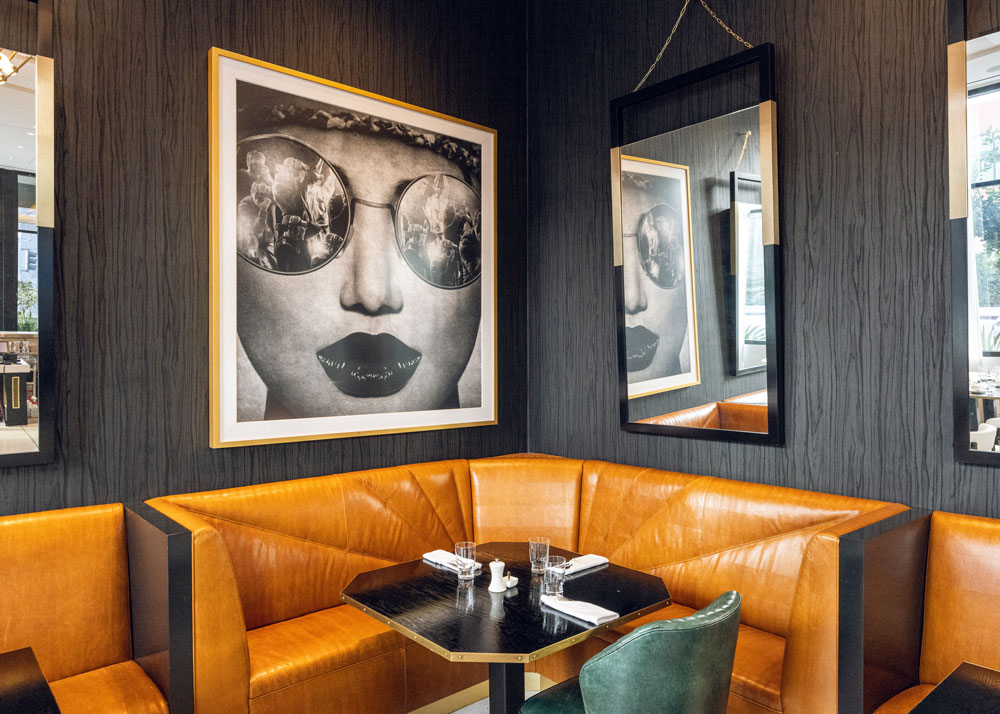 As guests head up to their rooms, they pass the final Nick Petronzio piece, "Angel Wings," in the elevator lobby. Hand painted in gold, the piece is the result of a collaboration between Petronzio and KBAA senior art advisor Ilyse Sandler to a client request for an Instagrammable moment. Meant to evoke the gilded wings of fame, the piece adds an interactive moment to an often-static room.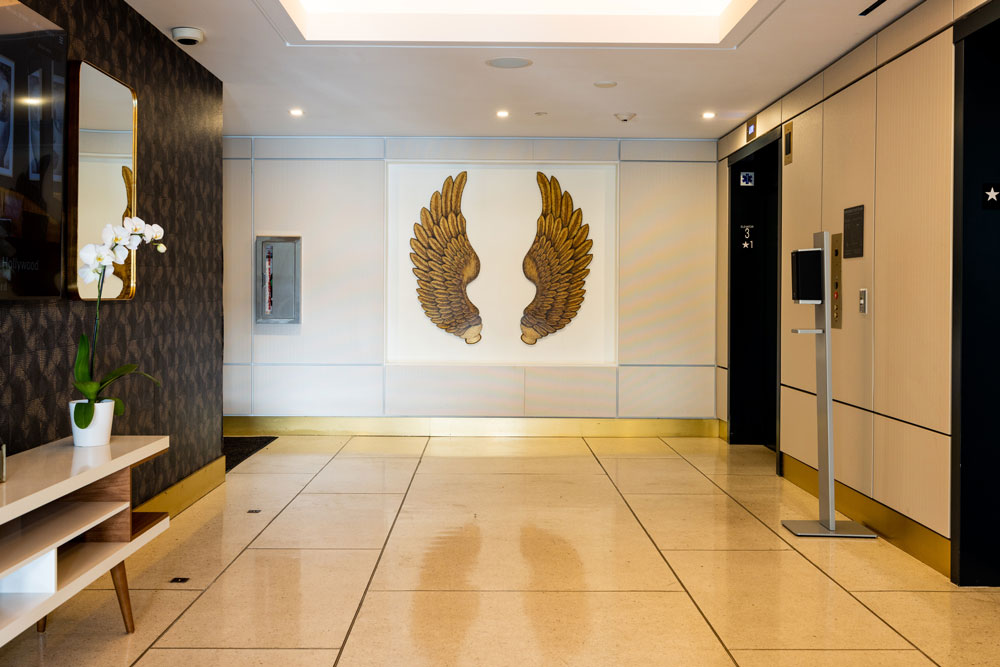 Finally, in the guestrooms, the giclee prints of a fashion-forward woman and man hung above the guest beds are a collaboration between the in-house graphics team and illustrator Inslee Farris. The couple's formal attire brings back memories of past awards shows, many of which take place mere blocks from The Godfrey Hotel. The woman's pink cape cascades over her shoulder into the print of the man in a tuxedo, creating cohesion between the two prints, which serve as the main art in the guest rooms