This month our featured artist is Scott Troxel, a Philadelphia-based painter and sculptor. He is best known for his work in the form of wood mixed media wall sculpture.
Scott identifies as a purely abstract artist, often starting out with a sketch or design and working through the rest of the creative process hands on.
Kevin Barry Fine Art has worked with Scott on several projects to date and we're excited to include him as a new addition to our stable of featured artists. We want you to get to know Scott more in-depth so we have a brand new Q & A we recently did with Scott to share with you.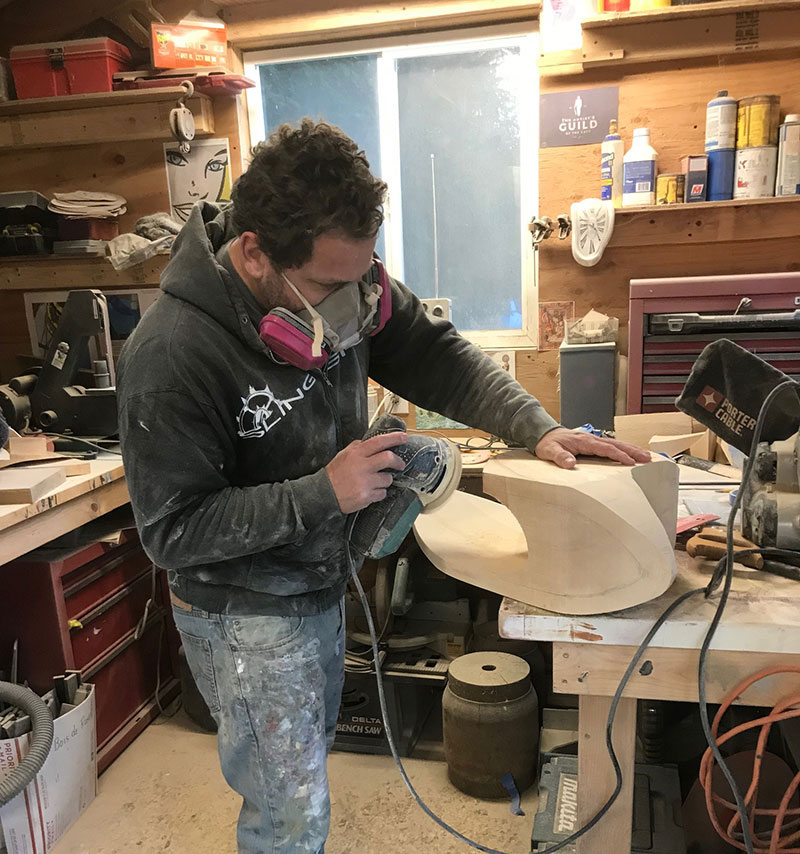 Q: You recently had your first exhibition at SCOPE in Miami. What was that experience like and what did you take away from it?
Scott Troxel: I was thrilled to show at SCOPE during Art Basel Week. For me I felt like it was another step towards growing as an artist. I have always envisioned that my work was good enough to be at SCOPE but to actually get the opportunity to show was remarkable. The center of the art world revolves around Miami for that week and it felt really good to participate and be part of it.
I walked a few of the other fairs and it was just really energizing to me. As a full-time artist, sometimes I feel like we spend too much time in our studios, making work in a vacuum. My favorite thing to do (besides making art) is to walk art fairs, museums and galleries. It really gets me inspired and fired up to make new work. There are just so many amazing artists out there and seeing new work, creative processes and construction techniques is very uplifting to me.
Q: Apart from the art itself, one of the most interesting things about you as an artist is that you only recently started making art again after several years of focusing on other things. Can you tell us a little bit about that journey?
Scott Troxel: Yes, it was quite a journey. I went to university for film after switching from art classes. During college I worked in the furniture industry then moved onto product development and brand management. I would go to China and make prototype samples for products and see them all the way through to retail. It was really fun to design and develop products from conception to finished products and actually see them in stores for sale.
After this role I stepped into more marketing and design-driven roles, but felt like I had a creative hole in my life. I wasn't physically "making" anything that lived outside a computer or print ad (something that was an actual physical thing). This is when I started painting again. I became obsessed and painted every night for a while.
My neighbor has a large woodshop and would constantly be throwing away scrap wood. One day I asked if I could use the wood and the machines in the woodshop to create some wood assemblage wall sculptures. Painting on canvas was fun but it did not resolve what I needed to create. With wall sculpture, it was both instant and perfect for me as a platform to do what I wanted to creatively. It just clicked for me and I never looked back. That was about five years ago. Since that time I have devoted my 99% of my art practice to wall sculpture, though sometimes I do sculpture and paintings to shake things up.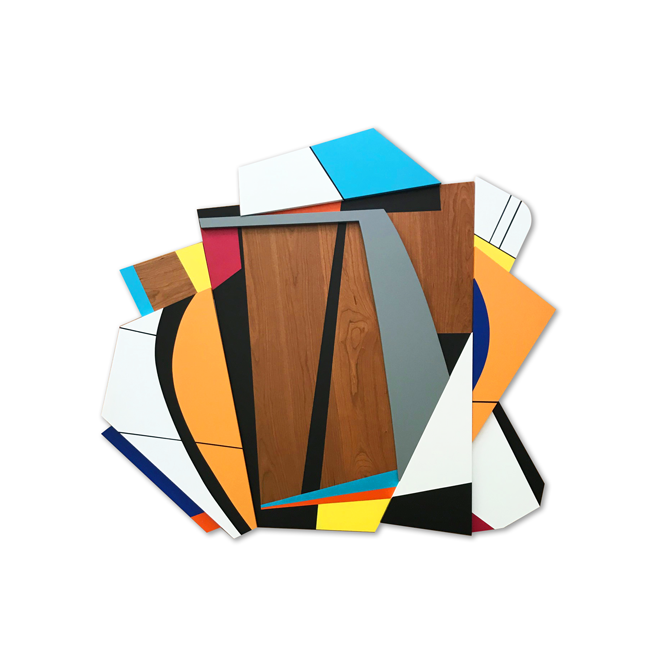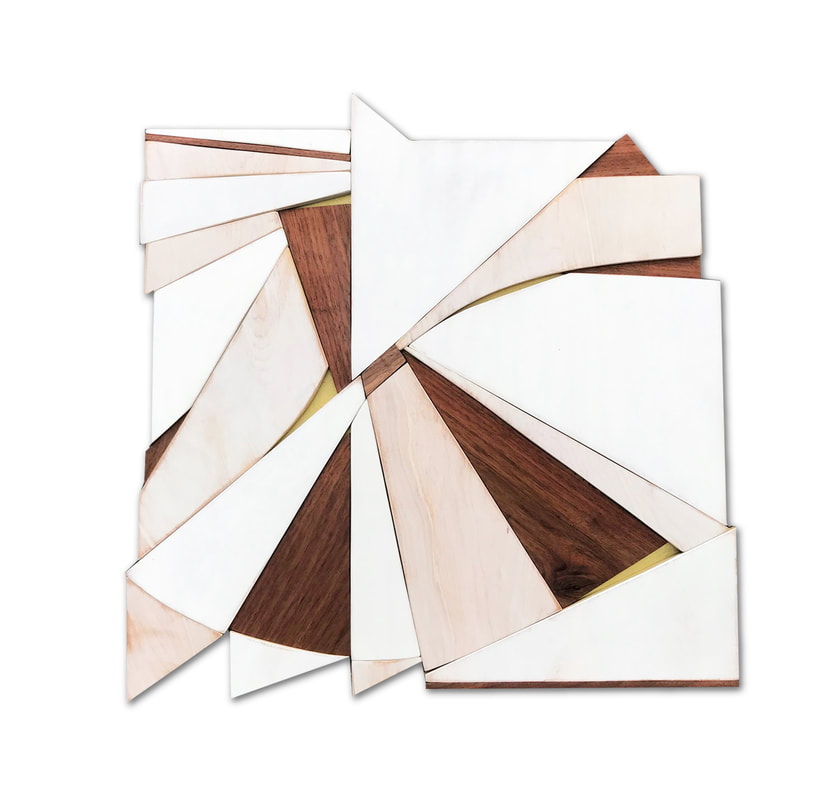 Q: Tell us about some of your early art inspirations when you were first developing your craft. Who did you admire and try to emulate?
Scott Troxel: I have always loved fine art, especially modern art and design; in my early days of painting, I would look to painters like Franz Kline, Clyfford Stil, Magritte, Giorgio de Chirico, Picasso, Léger, Motherwell and Leon Polk Smith to name a few. But it was really the early work of Frank Stella that really inspired me as a wall sculptor. Big, bold, graphic work like The Empress of India or Damascus Gate really opened my mind and helped me focus and funnel my work in that direction, which is where it wanted to go naturally. Those are still two of my favorite works of art.
Currently, I draw inspiration from all disciplines of art and design. I am very drawn to mid-century, art deco and Danish modern design. I love the way mid-century modern design incorporates wood but uses it in a way that makes it feel futuristic and sleek which is difficult to do with an organic material. I also really like the way MCM design feels both futuristic and retro and possibly dated at the same time — like it is suspended in time. This notion is what I try to install in my work. Something that is organically driven yet could be form the 1960's or from some time in the future.
Q: You're an artist best known working with wood, but if you couldn't work with wood ever again, what medium do you think you'd choose instead?
Scott Troxel: I would probably say plastics, sheet acrylics, foam and resin or possibly collage with fabrics. I love metal but I don't think I could work with it without the ability to incorporate wood. I have used metal, plastics and other man made materials in my work with wood and would really love to explore them in more depth.
Q: You name a lot of your art pieces. How do you come up with the names and do anything of them have interesting origins?
Scott Troxel: I usually don't name the pieces until they are finished. Sometimes the names just come to me. Since my work is pretty non-objective, it is usually a feeling or an emotion than comes to me when I am working through a piece. Or it could be something I see in the piece. I do also like to tie in the names with midcentury or atomic age terms like "Transonic" or "Parallax."
Q: Your work is meticulous, precise, and clearly time-consuming. What are some personality traits of yours that make it possible to do this kind of work over and over again?
Scott Troxel: It is difficult to pinpoint. I am not an overly precise or meticulous person outside of my artwork. I am definitely not a numbers person, I am definitely visually driven. I also think I am a little ADHD, so I tend to bounce around to different things or tasks when I get bored. But with my art it is completely different. I become hyper-focused and really analyze every single aspect of my work— almost to a fault. I will change things and change them again and again until it feels right. Because I am constructing with wood, this can be problematic (versus something like the painting process), so my diagrams and sketches that I begin with are so important to the final outcome. I have to have a pretty good idea of where a piece is going prior to starting it. Of course things will change during the creative process, but my sketches serve as a detailed guide.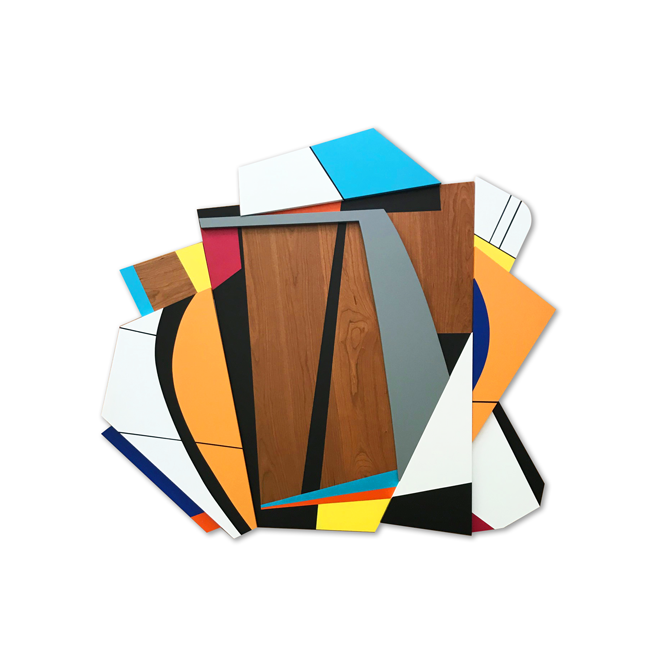 Q: You often use recycled or reused materials in your art. What's the most unusual place you've ever sourced materials from?
Scott Troxel: Yes, I do use repurposed materials when possible. I have used metals, found objects, plastics, and engineered building products like Azek. It depends on the project and the piece, of course. I routinely buy solid wood dining room tables from the 1940-60s to reuse as art. They are inexpensive because they are not in style and readily available. People will actually throw them out sometimes. For me it is gratifying because I really appreciate the old wood and love the fact that it is being re-used for art instead of going to a landfill.
I would say the coolest thing I have repurposed is walnut surplus boards from the gun maker Smith and Wesson. The boards were deemed to not have enough grain in them so they were cast off as seconds. I bought the wood and now it is being used for art rather than gun stocks.
Q: You're currently based in Philadelphia— what is your favorite place in the city to get inspiration?
Scott Troxel: My studio is about 45 minutes outside of Philly, along the NJ Coast. I spent a lot of time in the ocean which is very grounding. Additionally, I go to the city quite often as it is always inspiring. Philly is a great town with a terrific art scene. There is no shortage of things to do and see. My favorite place is the Art Museum area. The grounds around it are filled with large scale sculptures and incredible views of the Schuylkill River (Which Thomas Eakins painted). It is an old city with a very European feel.