Katie C. Gutierrez is known for artwork centering on nostalgia, optimism, and change, drawing inspiration from personal emotions, daydreams, and life experiences. She has a deep appreciation for working with various forms of wax, emphasizing texture and depth in her creations. Her pieces often combine encaustic, cold wax, ink, shellac, pigments, oils, and acrylic. Learn about Katie's artistic journey,  and the many "happy accidents" along the way.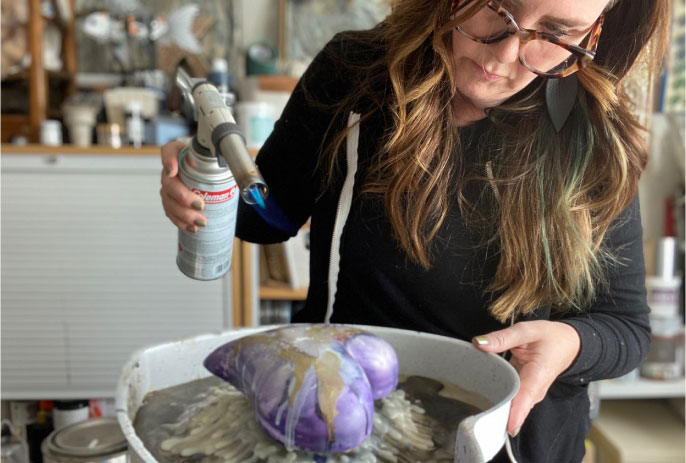 Hi Katie! Great to connect with you. First, we heard your art studio "Curly Tails Studio" has a fun backstory. Could you tell us about that? 
We got our first dog, a pug named Sukie, in 2006 and her favorite place to hang out was the room in our house that serves as my studio. Since then, I haven't made anything in that studio without a pug or three underfoot, and it made sense to pay homage to them.
Adorable. You're known for using unique materials like encaustic and cold wax. How did you originally explore these mediums? Why do you love working with them?
I had played around with different mediums for as long as I remember, but the real "a-ha" moment happened during a collage class I was taking at Stanford. It was a traditional paper and PVA glue type class, but the gal who sat next to me during class said "have you ever tried wax instead of glue to hold your pieces together?" And with that, the world of encaustic and cold wax opened up to me. I haven't looked back.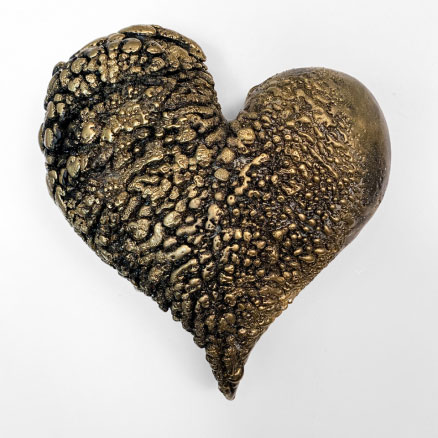 Texture and depth are important aspects of your work. How did you incorporate these elements into your pieces, and what feelings do you aim to convey? 
Since I tend to work on paintings for quite a while before I deem them "done" (and even then I will go back and rework a painting if it's been hanging around long enough), I love that the translucency of encaustic and cold wax allows some of the painting's layered history to show through. Past iterations are never really covered up, they are just under the surface.
Given your fondness for "happy accidents," tell us about the unexpected challenges or creative breakthroughs that occur when you work. 
It's pretty rare that I actually sketch out a painting before I start it. I tend to paint how I'm feeling or deal with something that's been on my mind, not necessarily a realistic depiction of a "thing". And when I do, like with my Heart series, I do it because the item is an icon of something I was trying to work through, not just because I wanted to paint hearts. Art is therapy for me. So when I get in the studio and start working, I just go until something feels right. Then I usually take a torch to it and see what happens, or cover it with a layer of wax and start carving through.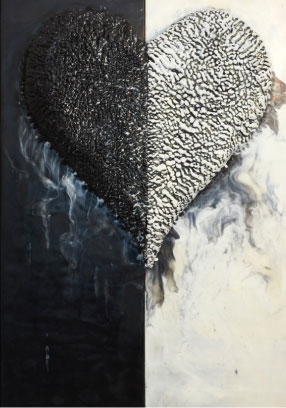 We loved working with you on our recent work with The Beacon Grand. Could you describe the inspiration behind the specific pieces that were reproduced for them? 
The piece chosen by KBAA to be reproduced for the Beacon Grand's guest rooms is "Reverie No. 1" and the original is cold wax, ink, and oil on gold Lotka paper. It was one of the first pieces I made after learning how to incorporate cold wax into my work during a class at the Marin MOCA back in 2017/18. On my early morning drives from San Jose to Marin for the two-day class, the light going over the Golden Gate was magical and foggy-yet-glowy, and made me reflect on the years and years of driving over that bridge with my beloved sister going to visit our dad in San Rafael. Some of those drives were happy, some not so much, but the bridge was always the portion of the trip that made us stop whatever we were talking about and take it in. I was thinking about those times the entire weekend as I made the pieces that eventually inspired my "Reverie" series.
A few years later when I was approached about the piece for this iconic hotel, it occurred to me that the lines and other marks carved into the wax to reveal the gold paper underneath, actually could be interpreted as an abstraction of the cables of the bridge I had so many memories of crossing and was unknowingly inspired by during my time in class. This was especially clear once I actually saw the piece installed in a guest room surrounded by other depictions of San Francisco icons. Happy accident?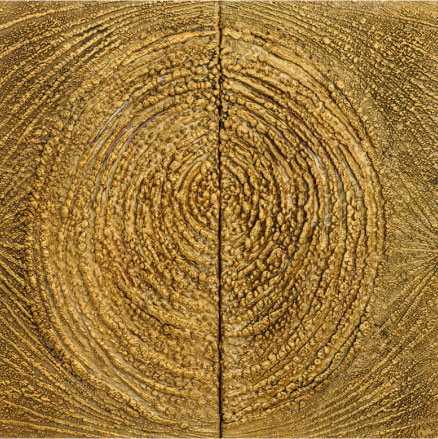 The hotel features a mix of contemporary art by local artists and historic moments. How do you feel your work fits into this balance, and which aspect of the project resonated with you the most?
For most of my adult life, I have worked for an architecture firm that has a specialty in historic architecture, and I have been exposed to many of the "greats" throughout the Bay Area. I think that with any historic rehabilitation, the fusion of the new and old makes is what gives a space new life and makes it interesting. So I was honored that my piece would be part of an iconic historic building's new history, and while my work is technically contemporary, I have always felt like it has an old soul…it fits right in!
Finally, as a local artist behind one of the pieces featured at The Beacon Grand, which aspect of the project are you most proud of, and what do you hope visitors will take away from experiencing your artwork in this historical setting?
One of my proudest and most surreal moments as an artist was walking into my guest room at the Beacon Grand last year and seeing my art on the wall and knowing that this piece is now part of this beautiful hotel's story. I am so grateful to the owners for featuring local artists and creating an eclectic space that honors a great city.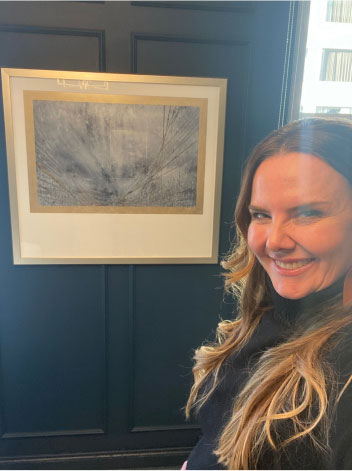 Be sure to check out more about Katie and her work via her instagram or website.