At Maison & Objet in Paris last month, the "Take Care!" theme was represented in numerous ways, highlighted in exhibitors' offerings and the fair's special feature areas. From the installation design for the Designer of the Year area, the scenarios for the curated What's New? Spaces, or the rest zones at the exhibition center, the show sparked inspiration and new ideas for the KBAA team.
While perusing the offerings from the more than 700 new brands that exhibited, the team noticed a number of trends emerge, several of which we even recognized from some of our favorite KBAA artist collaborators and hospitality projects. Below, we explore three of those trends, examples of artists whose work mirrors those ideals, and how we envision using the themes in our latest projects.
1) Stone Comfort
Although using various types of stone has been a staple of interior design, this year's Maison et Objet showed a new way of incorporating marble, selenite, granite, etc., to achieve a more cozy, warm aesthetic. From a selenite and bronze wall lamp to a multicolor-veined marble bench and even a cement- and stone-inspired wall covering, the designs emphasized using stone to achieve texture, contrast and even color, rather than the typical austere designs of the past.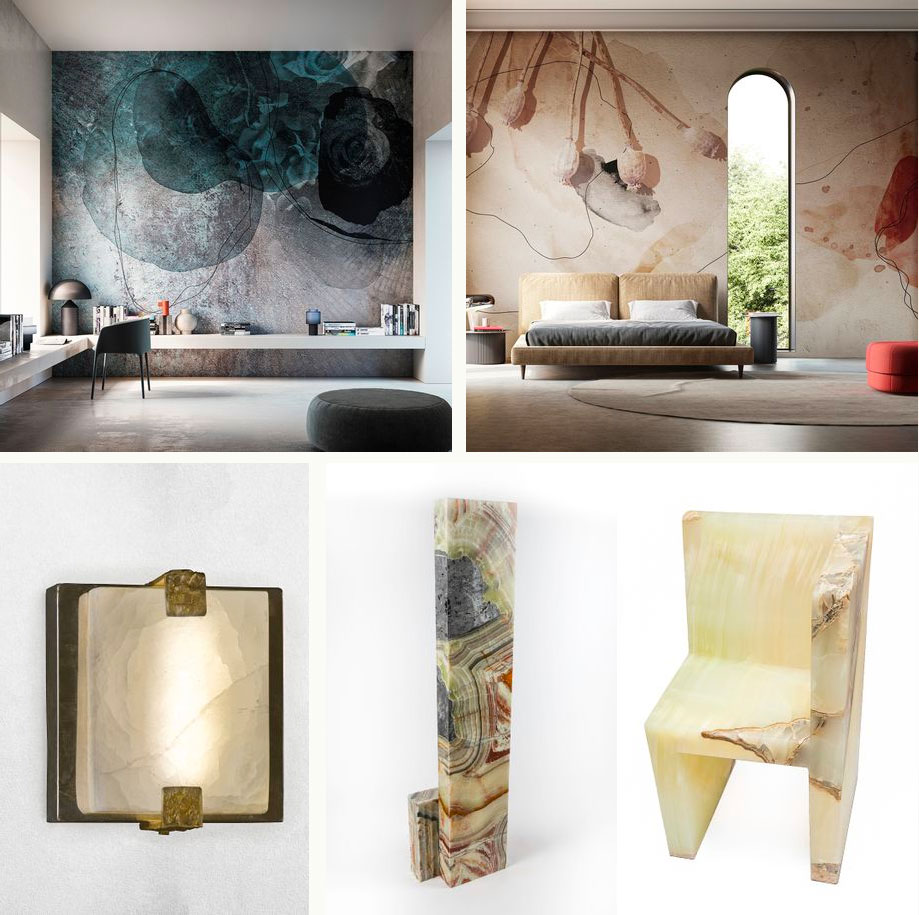 Frequent KBAA collaborator Mackenzie Jones embodies the soulful, textural qualities of stone—even in her canvas-and-cardboard pieces. Emotive and sustainable, Jones uses natural materials, ethical sourcing, and her signature texturing to create art that redefines a one-of-a-kind process into something that encompasses every bit of the earth's spirit.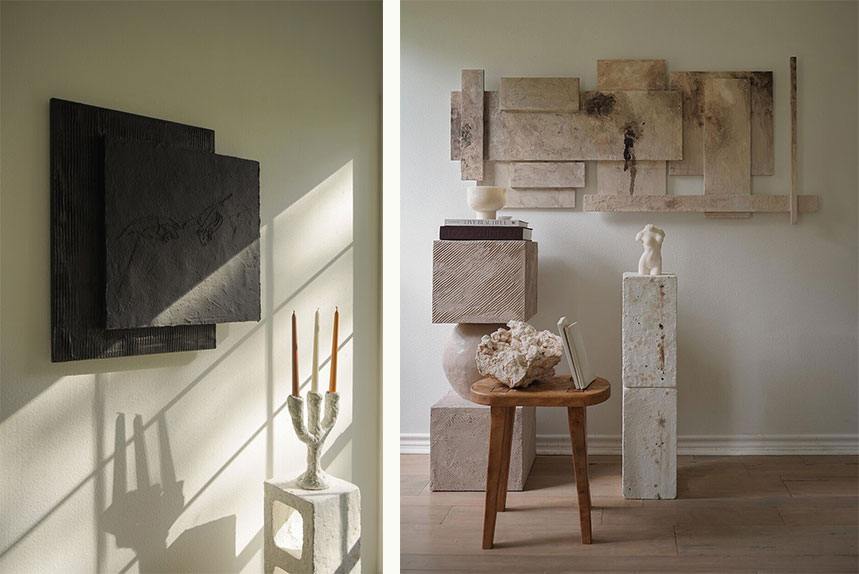 Mackenzie Jones
How to use the trend: KBAA Art Advisor Chelsea Herman is inspired to incorporate this new approach to stone in clean, minimal projects that err on the high-end residential and hospitality tier.
2) Child's Play
The 2023 Maison integrated imaginative whimsy through playful forms, youthful color palettes, and novel found objects. The trend ran from small touches (such as dinosaur-themed glassware) to a stuffed animal, well, stuffed chair and a pendant lamp that could be mistaken for a bird cage.
Feeling overwhelmed by the kitsch? Start small. For example, Barbadian artist Kraig Yearwood uses vibrant colors in his collages that pack a punch, but a certain simplicity keeps his work approachable. A graphic designer by trade, Yearwood now makes drawings, painting, prints and sculptures and is influenced by minimalist sensibilities, using structure and order, alongside symbolism and gesture to evoke a sense of precariousness, vulnerability, and meditative poetry in his works.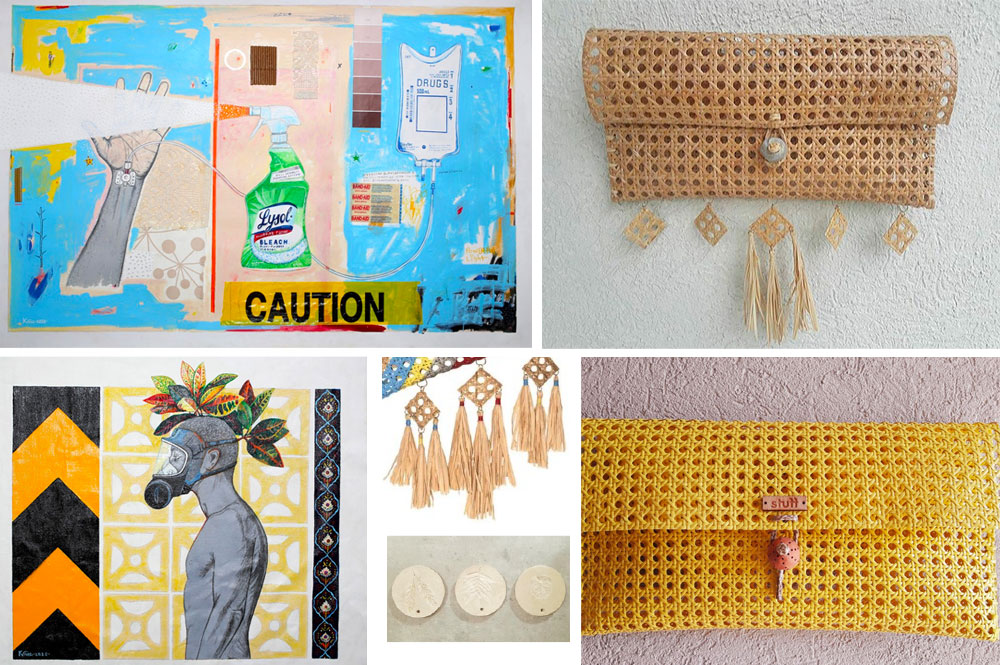 Kraig Yearwood
How to use the trend: KBAA art advisor Kasey Taylor envisions a touch of childlike imagination in contemporary public spaces to serve as an escape from chaotic city life and a reminder of joy and cheer.
3) Modernizing the Classics
Although they're called "classics" for a reason, that doesn't mean timeless design elements can't get a little upgrade occasionally. One of the most relevant upgrades is from a sustainability perspective, seen in the wallcoverings by Romanian brand VLADILA, which are made from natural, environmentally friendly, and biodegradable materials. That's why, in the production process, they use a Vlies base: a non-woven material, extremely resistant and easy to install. French brand Ibride also showcased its latest lighting, which incorporated neoclassical imagery printed on fabric and attached to a Dibond aluminum disc, allowing a uniform diffusion of light.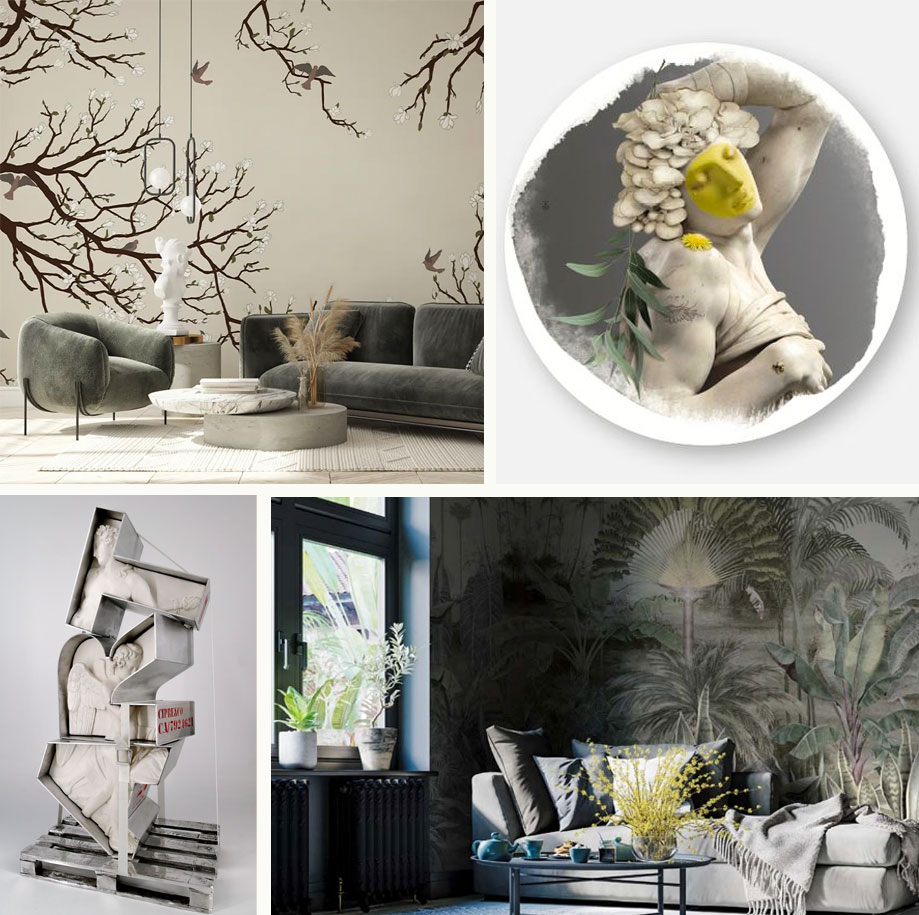 Sculptor and KBAA artist Hedgport is a perfect embodiment of this trend, creating pop art busts of Greek gods and goddesses. Similarly, Dave Pollot is a New York based artist who is known for his altered thrift art paintings. He finds unwanted artwork at thrift stores and adds his own touch—most often pop culture parodies—bridging the divide between classic and pop art.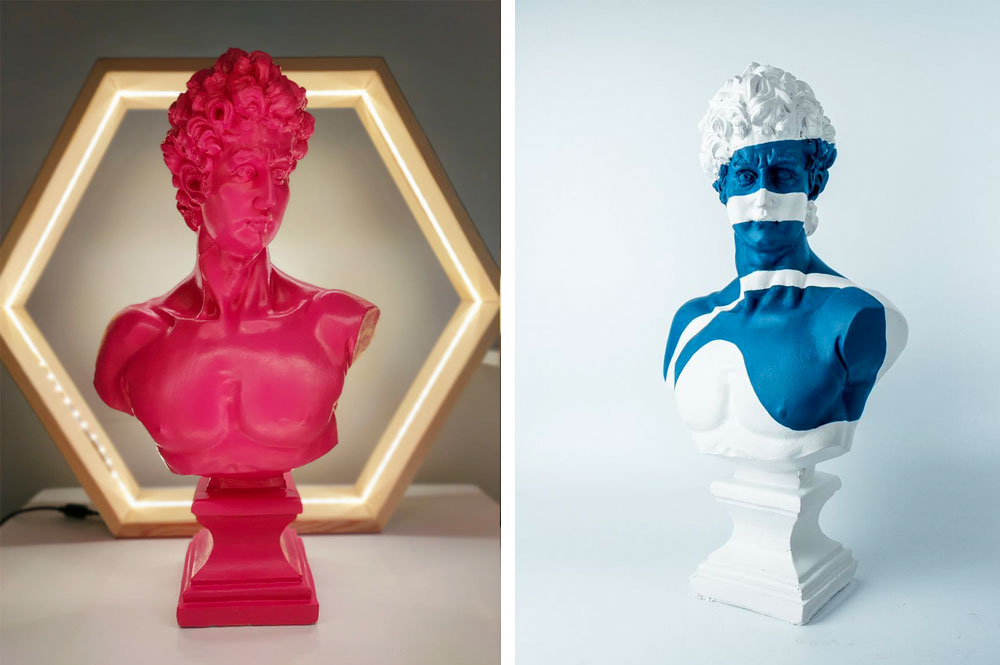 Hedgport
How to use the trend: KBAA Art Coordinator Alex Picern suggests this edgy, fun, and bold look would work well in an environment designed with Millennial and Gen Z in mind (think Moxy guestrooms and public space), or even a fun and quirky multifamily amenities space.