Following the debut of our work on the newly-opened Atelier Dallas multifamily residences, we wanted to take some time to share how this project came together. KBAA was brought into this project by our incredibly talented friends at One Line Design Studio, a full-service interior design studio helmed by co-founders Karrie Drinkhahn and Susan LaFleur.
We recently sat down with Karrie and Susan to talk about the design process, our collaboration, and the unique challenges of designing for a multifamily space. Read our Q&A below to find out what it takes to bring inspirational, art-forward luxury interiors like Atelier Dallas to life.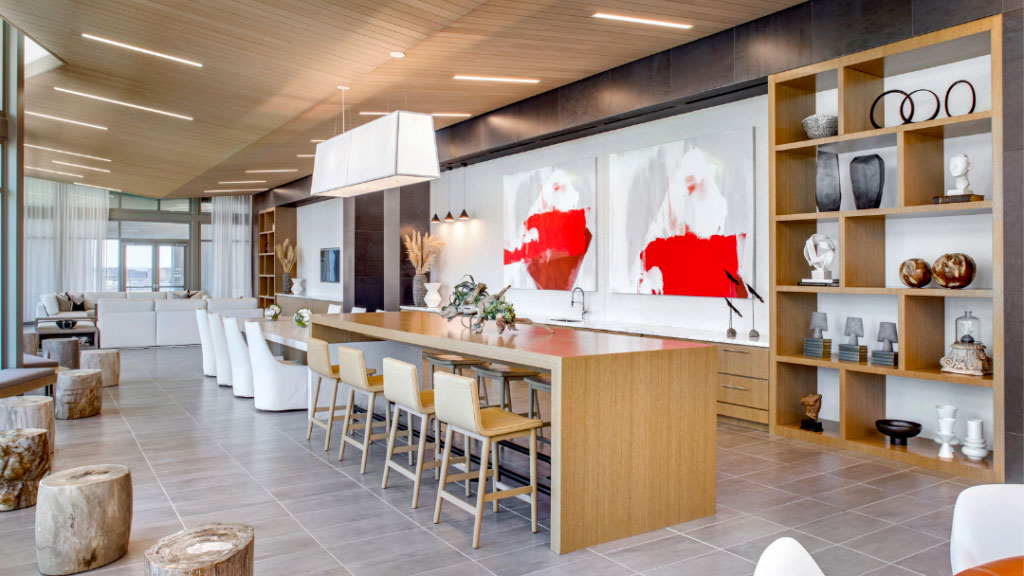 Atelier Dallas
Q: Tell us a little about One Line Design. How would you describe the company's vision for interior design and how do you think it sets you apart from other interior design firms?
A: One Line Design Studio was founded on the philosophy of providing leader-led design, aiming to tell a story with every detail we envision for our projects. Our vision for interior design is based on the unique blend of our team experience and the creative capital our team focuses on – both interior design and art play an important role. Our designs are driven by our sensibility to people and places and how they are affected by artistic moments and experiences.
(left) Karrie Drinkham during install at Atelier with work by Stevi Michner; (right) Finished view of Michner artwork
Q: We have been fortunate enough to work with your company on a few multifamily properties recently, including the Atelier Dallas. What do you like about working on multifamily properties? What are the unique opportunities and challenges that you see working in that kind of space?
A: Multifamily properties are each unique in that they are designed for numerous users with different preferences and backgrounds. The challenge is creating spaces that speak to each and every future resident positively as well as managing client expectations and their ability to lease units.
Often the future residents do not even know what they are missing or need in their extended home, until we provide it to them. Bringing in local, shopped accessories, impactful artwork and comfortable spaces is key to resonating with residents and designing to the expectation of our clients. It is an art, not a science and our team roles are to bring different perspectives to each project – making them uniquely specific for each location.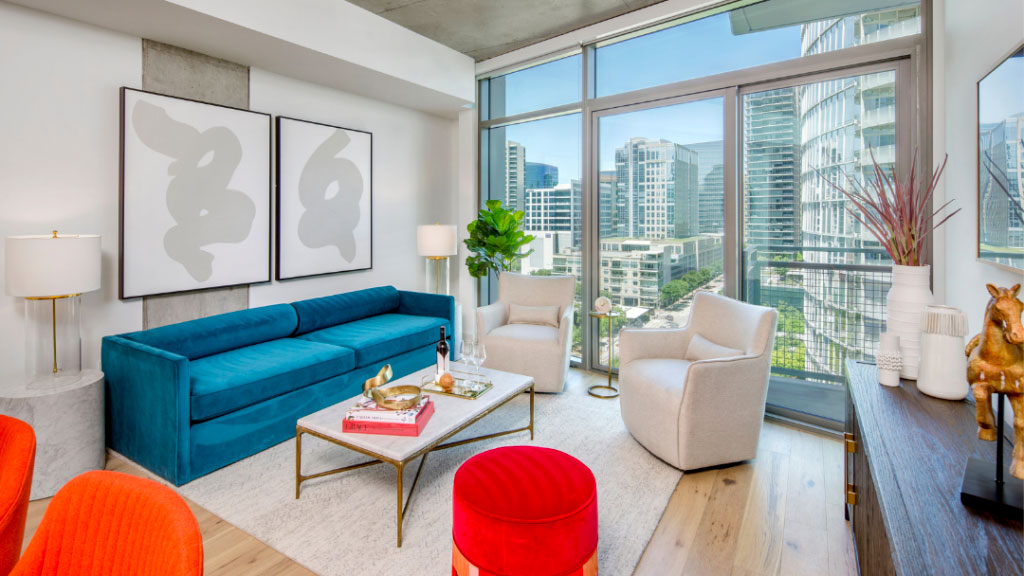 View of model room's living room at Atelier Dallas
Q: How would you describe your approach to beginning a design project? How did the team at One Line Design go about bringing Atelier's vision to life?
A: Pen to Paper. Atelier's architecture & interior architecture was created at our Co-Founder's previous firm, and our involvement in the onset made for a smooth transition to designing and completing the furniture and art selections for the Interior. The location of the building also fits our firm profile perfectly blending art and design, as it is in the heart of the Dallas Art District – just across the street from the Nasher Sculpture Center.
Our collective team vision came to life as One Line completed the installation phase of Atelier, placing each piece of art, custom furniture, hand-picked accessories and 1LD in-house artist commissioned murals. Our approach to the design of any project taps into our collective 35+ years of varied experience, immersing ourselves into the footprint of the building and designing it visually to fulfill its character and purpose.

(left) Susan LaFleur during install at Atelier with fiber artwork by Laura Stewart; (right) Finished view of Stewart piece
Q: What design directive were you given at the start of the project, and how did it develop once you started?
A: The building's focus has always been on the fusion of interior design and art due to its location in the Dallas Art District and the planned expansive gallery on the first-floor welcoming residents and locals.
This concept extended at every corner of the building incorporating impressive art throughout the public spaces and in the model units. The design of the gallery floor includes massive moveable walls to change the landscape as you walk through the space and allows for art to be seen from every angle. Our design directive and programming requirements developed over the lifetime of the project, but the identity of the building remained constant.

(left) Karrie Drinkham in the midst of install at Atelier Dallas; (right) Finished view of an Atelier Dallas model room
Q: At what point in the design process did you begin thinking about what your art needs were for this project?
A: Early in the initial concept and design stage of any project, art components are planned throughout. From placement, commissions, and development, much thought is put into these moments. Art is such an integral part of our 1LD interior design process, and we make sure to develop these ideas with artists and art advisors from the very beginning.
Q: How much of the development of this art collection was collaborative and how much of it was pointing us in a direction and seeing where we took things?
A: Our team has a strong art background, so we enjoyed pulling our initial ideas and seeing how Kevin Barry Art Advisory was able to make that vision come to life. Knowing that KBAA has the expertise to pull together a great collection of pieces makes for a fluid process. Communicating to KBAA what we are looking to accomplish is a key part of that collaboration – together it was a perfect combination of our in-house muralist, of artists we know, and incredible artists that KBAA introduced us to.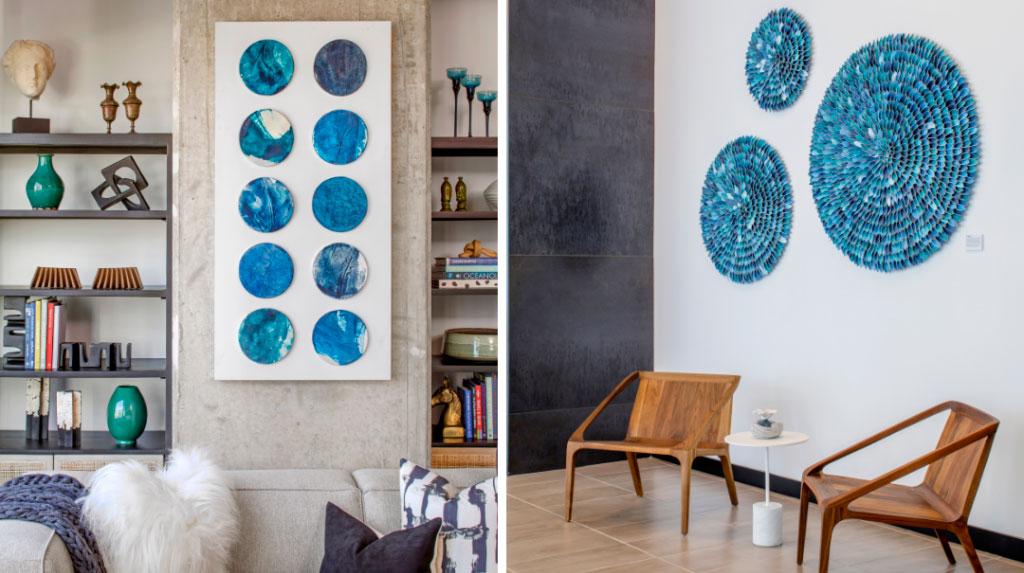 Artwork by Emily Mann (Ink and Indigo) at Atelier Dallas
Q: What would you say are some of your favorite art moments on the property?
A: Favorite art moments— that really depends on the mood of the day. We are especially fond of an Emily Mann (Ink and Indigo) original that is placed as soon as you walk in the doors. It was originally supposed to be located elsewhere in the gallery but once we saw it in person, we made a game day decision and placed it above a custom wood bench in a prominent location. Additionally, there is a unique concrete ribbon sculptural piece in the main lobby that includes naturally sourced wood from California's beach shores. It is intriguing because it is hard to know what the material is, and no one would ever guess that the 'ribbons' are actually concrete.
---
Discover more ways KBAA makes every multifamily property a unique art experience.