November's featured artist is Las Vegas-based Eric Vozzola. He has shown studio work in solo and group shows locally and nationally, and has multiple public artworks around Vegas. Vozzola has created murals and public art for the City of Las Vegas, Life Is Beautiful festival, Meow Wolf at Area 15, and various private residences and local businesses. After a near decade-long design career alongside his fine art and mural practice, he quit his job to pursue his thriving art career, full-time.
Fresh off of completing a custom mural with us for the new Circa Resort and Casino in Las Vegas, we want to reach out to Eric Vozzola to feature his work this month. In addition to the Q & A below, you can see his new featured artist page now live on our website.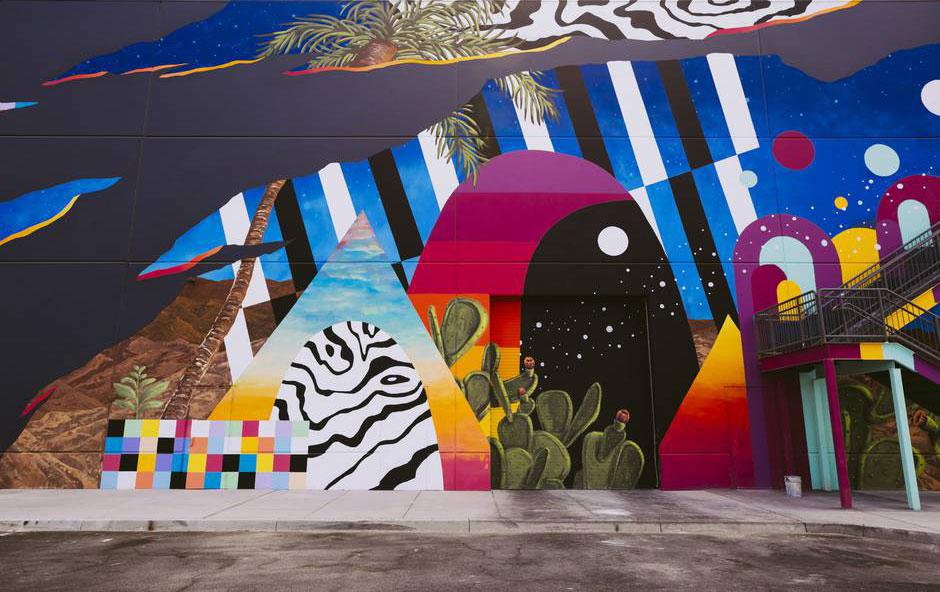 Q: For those who aren't familiar with your work, how would you describe your artwork?
My work is a balance between traditional art and design, fusing the natural world with the digital world. I combine organic mark-making with geometric patterns, or mix desert landscapes and desert flora with flat graphical elements, and other combinations in between. Most of my work contains vibrant full-spectrum color palettes, lots of gradients, and high-contrast black & white pattern work. It's all about contrast for me— whether it's in the content of the work itself or the technical/color aspects of the work.
Q: You create your works in a vibrant color scheme— what is it about bright, saturated colors that particularly inspires you?
Vibrant, saturated colors have always brought me joy— whether it's in my work or others'. I feel the same can be said for an audience viewing my work; I hope that the colors bring joy to them as well. Color is a simple way for me to spread positivity in that sense.
Growing up in Las Vegas and exploring the surrounding area, I'm infatuated with the vibrant colors of our sunsets, as well as the browns, tans, and natural tones of the desert. There's a lot of vibrancy to be found when looking deeper into our environments. I also enjoy psychedelia, psychedelic art, and motion graphics synced with live music, which all have their own super bright color palettes and unique color theories. I love the way certain colors are juxtaposed to create a "vibrating" effect or blur the lines from when one color begins and another ends.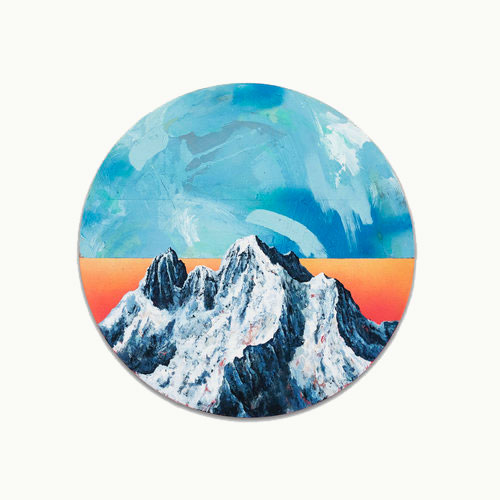 Q: As a native of Las Vegas and as someone who is clearly deeply connected to the natural world, how do you think Nevada's desert landscape influences you as an artist?
Like I mentioned previously, the vibrancy found in the desert is like none-other. The natural tones are beautiful in their own right, but if you look closer the amount of vibrant color hidden in the desert is phenomenal. Probably the number one influence from the Nevada desert that shows in my work are our sunsets – we have some of the most colorful, full-spectrum sunsets in the Mojave desert. In a more conceptual sense, the desert landscape brings me serenity and calmness. At the same time, there's a rugged and powerful feeling in the rock formations, mountains, and in some of the flora – like cacti, joshua trees, yuccas, etc – that resonate into my work.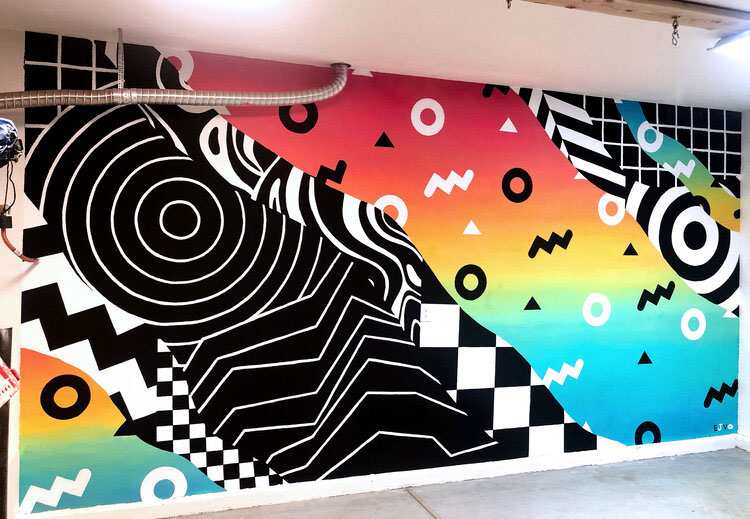 Q: You recently worked with KBAA on a commissioned mural for the new CIRCA Resort and Casino Las Vegas. Your piece is part of their underground Garage Mahal. Tell us a little bit about your experience working on this commission with us.
This commission was definitely a milestone in my career. It was the longest amount of time working on a project (just over 10 weeks) and the most amount of coverage of work. The three areas of walls I worked on were around 300 ft, 200 ft, and 100 ft wide respectively, and up to 22ft tall in some areas. And I worked on about 95% of all of this myself, only needing an assistant or two for a few days to help me fill in large areas of color. I felt like I was chipping away at a mountain each and every day I went to work on the pieces; it was a very powerful feeling. I would constantly think about how I'm leaving my mark – a huge mark at that – at a new space that will be a landmark in Las Vegas for decades to come. I would also think about how this work I am creating is right next door to pieces from world-renowned artists like Shepard Fairey and D'Face on the sides of the Plaza. This commission was also a huge learning experience, from working in a heavy construction zone and all the intricacies involved with that beyond the work itself, to fine-tuning my painting techniques on a huge scale. This experience gave me the opportunity to learn some new techniques and tricks that I'll be able to use on future projects. Now that it's completed, I'm extremely honored that I was given an opportunity to create the work that I did at this scale.
Q: Apart from your recent mural work with us, you have done many mural commissions over the years. Can you share the story behind a recent commission that was particularly memorable?
I've worked on some pretty large projects as of late, but when I think about a particularly memorable piece my mind goes to a much smaller commission. I created a small mural (about 12′ x 20′) for a wedding and event venue in downtown Las Vegas, called the Doyle. This space is absolutely beautiful – a timeless yet rustic yet contemporary space that makes you feel like you aren't in Las Vegas even though you're surrounded by Downtown. I painted a fun collage-style piece, with lots of color (of course), fun geometry and flora. The main subject of the piece were silhouettes of two alpacas, Olaf and Bob, that lived on premises. The memorable part about all of this is that this is the venue that my now wife, Kira, and I got married in January 2020, so having painted this piece and then being able to interact with it at our wedding was extremely special.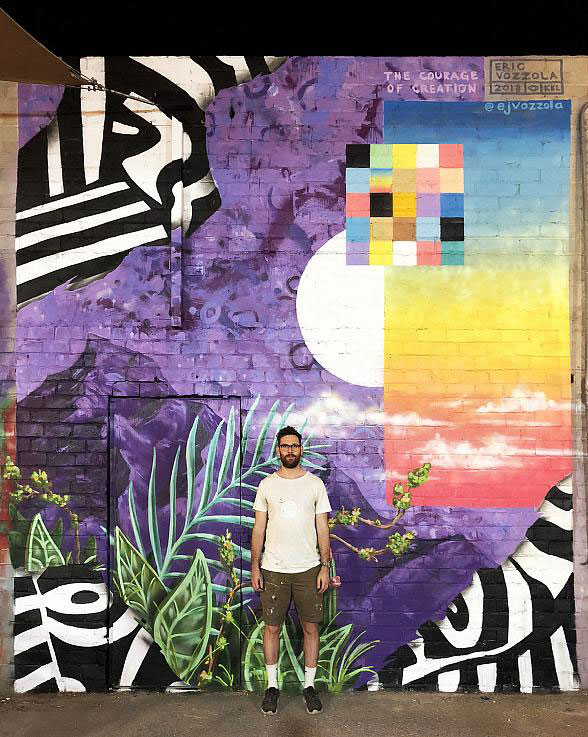 Q: In addition to being a working artist you are also Lead Designer & ARTivist for the ocean conservation organization, PangeaSeed Foundation. Tell us a little about how you came to blending your art with activism and how you incorporate your practice into the work of the foundation?
I'm always on the search for deeper meaning and purpose within my art as I navigate my career, and working so closely with PangeaSeed Foundation has allowed me to do this on a regular basis. I met the founders of PangeaSeed, who are based in Hawaii, when they were out at a diving convention in Las Vegas of all places, back in 2015. I had been following PangeaSeed for a while at that point because I loved how they incorporated art with their purpose of protecting our oceans and environment. In particular, they have a world-renowned mural festival program where they have some of the most talented artists from around the world paint murals in different cities raising awareness for the oceans. I ended up introducing myself over Instagram while they were in Las Vegas, and they invited me to hang out with them for the week they were here, and then the rest was history. They asked me to help them with some graphic design projects, and that turned into them creating a position for me to work remotely and help with their everyday design needs, as well as participate in featured artist projects – like creating poster art and illustrations. I have a decade-long graphic design career under my belt, so lending my design expertise to their needs is straightforward and fulfilling for me. I've always loved poster art, so whenever they need an illustration or want to partner on some artwork, I enjoy creating work with the purpose of protecting the environment and our oceans. When it comes to my locale and their mission, I've always said that even though I'm a desert dweller, there's a symbiotic relationship between the desert and the ocean because without the ocean, there would be no desert.
Q: You describe two of the biggest motivators behind your work as "wonder" and "mindfulness". Tell us a little more about how those two values direct your art-making.
I work towards creating visuals that an audience has never seen before or images that are visually arresting or stimulating, in the sense that when one views my work, they are captured by the color, contrast, patterns, textures, etc. I sometimes create new worlds within my work that I myself get lost in, and furthermore, hope my viewers get lost in. This is the "wonder" behind my work – showing viewers something new, as well as creating something new for myself, that opens our eyes and our minds. This then leads to the mindfulness aspect, because once we have open eyes and an open mind (and an open third eye), we are able to enter a meditative and transcendental state. I achieve mindfulness when in the process of creating work, as well as meditating on a completed work. I hope by creating such profound visual imagery, it allows my audience to enter a state of meditation, relaxation, connection, etc. It's about creating something with depth, and more to digest than what may be interpreted at face value. With these values in mind when creating my work, it allows me to create an end product that has a slightly deeper meaning, purpose, positivity, and mental awareness.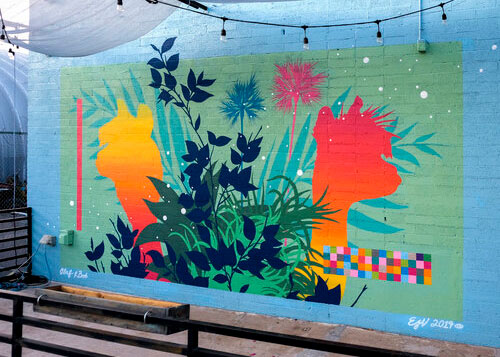 Q: Las Vegas is obviously a major tourist destination, but we're always curious to ask locals what their recommendations are for visitors to their city. When things get back to something a little more normal, what are some places you think everyone should visit the next time they are in Las Vegas?
Firstly, now that Area-15 is open, I highly suggest everyone check out this place — tourists and locals! In its current state it's only about half-way open, yet it's still a much different space than anywhere else in town. They call it an "experience mall" of sorts, filled with different art exhibits and high tech experiences. Once Area-15 fully opens, including Meow Wolf's Omegamart exhibit, it's going to be a next level experience for Las Vegas. My wife and I, along with some friends, visited Meow Wolf's flagship exhibit in Santa Fe, NM in 2018, and it's completely mind-blowing. Once the exhibit in Las Vegas opens, it's going to be the talk of the town.
I also would recommend Circa, because after experiencing their pre-opening event, it's one of the most high-tech and fun casinos I've been in. It also captures that timeless feel of downtown Las Vegas, but in a Strip-sized resort. Circa is beautifully designed and decorated, and the food is terrific.
For more of a local recommendation, I think spending time downtown in general is always a hit. There's so many great restaurants to choose from. Some of my favorite restaurants/bars are more central/south side of downtown, which include Komol (Thai), Starboard Tack (great oysters and food), Guerrilla Pizza inside Hard Hat Lounge (Detroit-style pizza), Bajamar (best fish tacos in town!), and Atomic Liquors is one of the most classic bars in all of Las Vegas.